California Dreamin' and the Surfer's Paradise
California's coastline, decorated by the majestic Pacific Ocean, is a surfer's playground like no other.
From the northern shores to the sun-kissed beaches in the south, the Golden State boasts a renowned surfing culture that beckons wave riders from around the globe. 🌊
But amidst the endless waves and sun-soaked beaches, choosing the right surfing spot can be as critical as perfecting that ultimate bottom turn.
That's where this guide comes to your rescue. Welcome to "The Ultimate Guide to the Best Surfing Beaches in California." 🏄‍♂️
Importance of Choosing the Right Surfing Beach
Every wave has its own story, its character, and its secret to tell. Just like every surfer has their own level of expertise and style.
The perfect wave for a seasoned pro may be a daunting challenge for a beginner.
This guide is your passport to understanding the nuances of California's diverse surf spots, whether you're a newcomer looking for a gentle break to hone your skills or an experienced wave chaser seeking the next big thrill. 🌅
Factors to Consider when Choosing a Surfing Beach
Wave Type and Consistency
When choosing a surfing beach in California, the first rule of thumb is to understand the waves. The type and consistency of waves can vary greatly from one beach to another. Some spots offer long, gentle rollers perfect for beginners, while others deliver powerful, barreling waves that challenge even the most seasoned surfers.
Crowds and Local Surf Etiquette
Surfing is as much about the community as it is about the waves. Every beach has its own local surf culture and unwritten rules. Understanding the etiquette and respecting the locals is crucial. Some beaches may be packed with surfers during peak hours, while others offer a more secluded, intimate experience.
Accessibility and Amenities
The ease of access to your chosen beach can make or break your surfing experience. Whether it's parking facilities, restrooms, or nearby cafes for post-surf fuel, amenities play a significant role in your overall comfort. Accessibility is also crucial for surfers of all skill levels, as you want to spend more time in the water and less time getting there.
Water Conditions and Safety
Safety always comes first in the world of surfing. Understanding water conditions, tides, and any potential hazards is essential. California's beaches can present a range of challenges, from strong rip currents to hidden rocks.
The Top Surfing Beaches in California
1. Surfrider Beach (Malibu)
Malibu Surfrider Beach, a quintessential California surf spot, beckons surfers with its iconic waves and picturesque setting.
Overview: Located along the Pacific Coast Highway near Los Angeles, the beach offers convenient access with the Malibu Pier as a scenic backdrop.
Best Time to Surf: Year-round, but prime conditions prevail in fall and winter, delivering consistent, rideable waves.
Wave Characteristics: Known for its long, right-hand point break, Malibu boasts smooth, quality waves, perfect for traditional longboarding.
Local Surf Scene: Malibu has a rich surfing history and a welcoming surf community. Be prepared for some competition in the lineup, but you'll find a friendly atmosphere and shared surf passion.
Malibu Surfrider Beach encapsulates the heart of California's surf culture, offering waves for all levels and a vibrant, inclusive surf scene. 🌊🏄‍♂️✨
2. San Onofre State Beach (Trestles)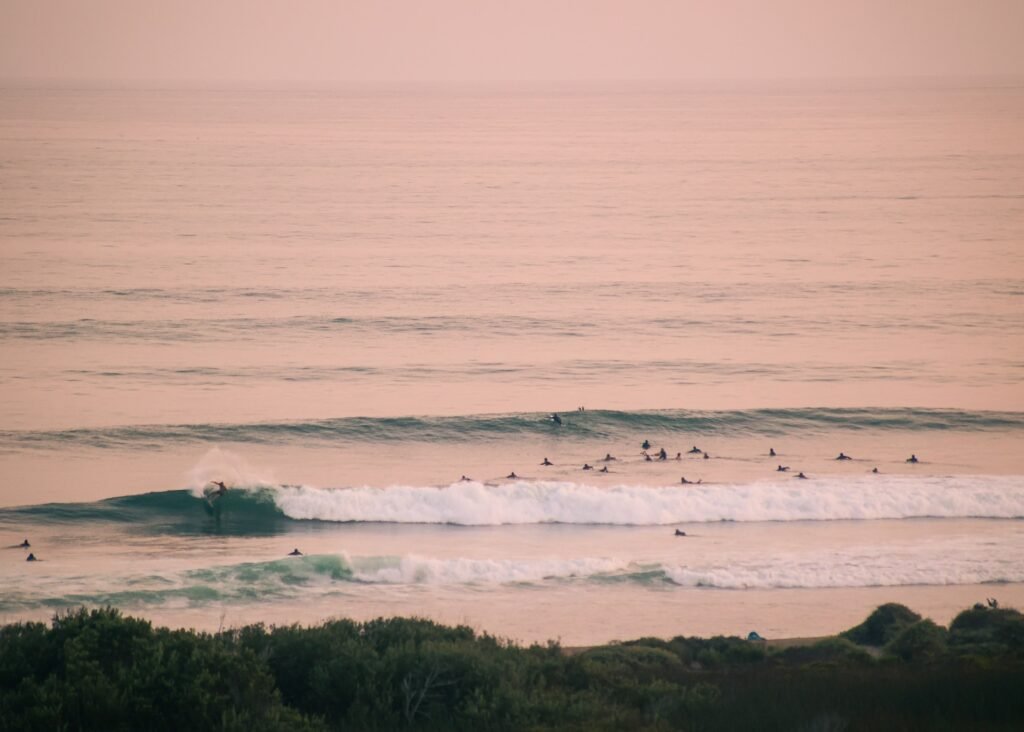 Trestles, part of San Onofre State Beach, is a popular surf spot with diverse waves and accessibility.
Description and Accessibility: Found in the northern section of San Onofre State Beach, Trestles is easily accessible within a short walk from the parking area.
Wave Types and Skill Levels: Trestles suit all skill levels, offering a range of waves from mellow rollers to challenging breaks.
Popular Breaks and Spots: It consists of various breaks, including Lower Trestles for high-performance waves, Upper Trestles for a mellower experience, and spots like The Church and Cottons.
Environmental Conservation Efforts: Trestles emphasizes environmental preservation, encouraging visitors to respect nature and support local conservation initiatives.
Trestles at San Onofre State Beach welcomes surfers of all levels and champions nature conservation. 🌊🏄‍♂️🌿
3. Huntington Beach (Orange County)
Huntington Beach, known as "Surf City, USA," is a surf mecca with a rich history.
Surfing History: This beach played a pivotal role in West Coast surfing's rise and houses the International Surfing Museum.
Wave Quality and Consistency: Expect dependable waves year-round, suitable for various skill levels, including beach break and point break waves.
Events and Surf Culture: Home to the US Open of Surfing, it's a hub for surf culture. Explore the Huntington Beach Pier and its vibrant scene.
Local Attractions: Beyond the waves, explore the International Surfing Museum, the iconic Huntington Beach Pier, and Main Street's dining and shopping scene. 🌊🏄‍♂️🌴
4. Mavericks Beach (Half Moon Bay)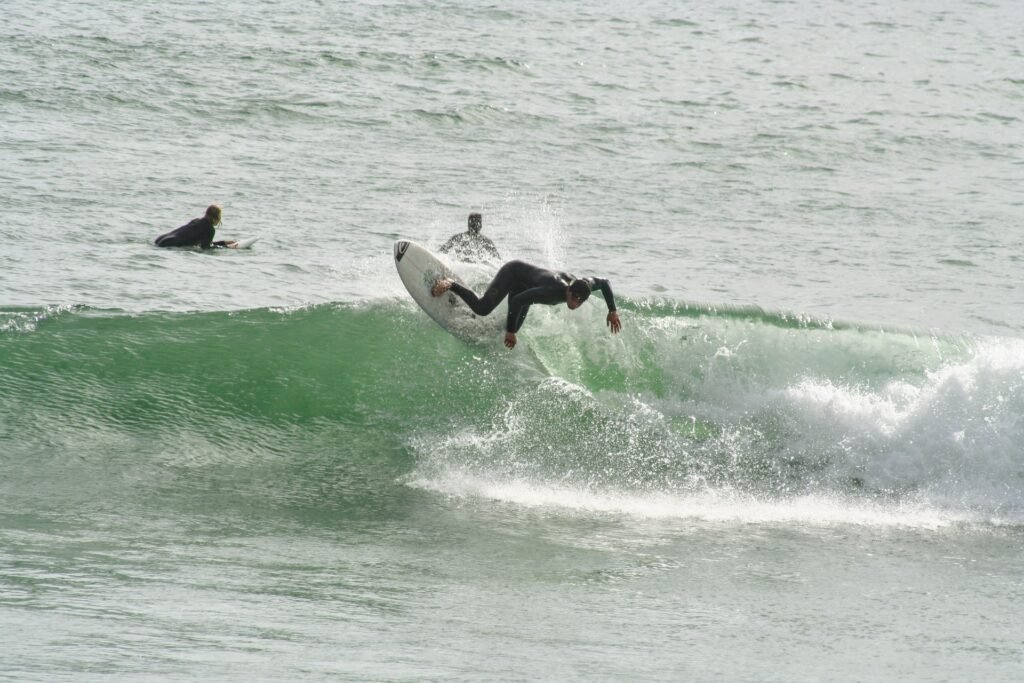 Mavericks Beach, located near Half Moon Bay in Northern California, is a renowned big wave spot.
Wave Size and Challenges: These monstrous waves can reach heights of 60 feet or more, presenting significant challenges, including massive drop-ins and perilous wipeouts.
Legendary Rides: Mavericks has witnessed epic rides, with surfers like Mark Foo and Jay Moriarity etching their names in surfing history.
Safety Considerations: Safety is paramount at Mavericks. Surfers require specialized equipment, rigorous training, and a profound understanding of the spot's risks. Vigilant water safety teams are ever-ready during big swells.
Mavericks Beach stands as a revered destination for big-wave surfers, a place where legends are forged. Yet, safety and thorough preparation remain non-negotiable prerequisites. 🌊🏄‍♂️🌊
5. Santa Cruz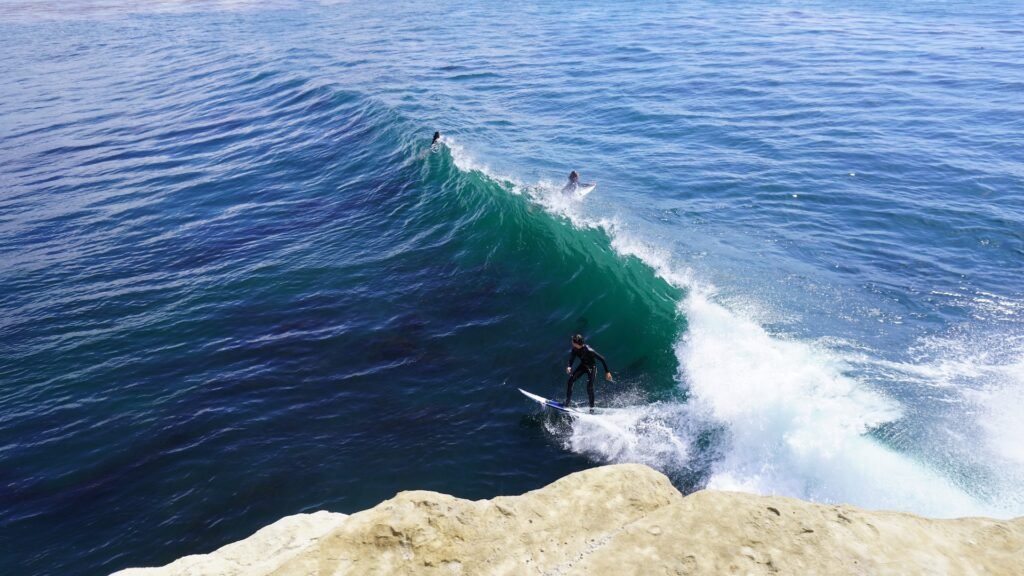 Santa Cruz, a surfing haven, offers a variety of surf spots, local shops, and unique experiences.
Surf Spots: From iconic Steamer Lane to beginner-friendly Cowell's Beach and gems like Pleasure Point, 26th Avenue, and The Hook, Santa Cruz caters to all surf levels.
Shops and Schools: Local surf shops include O'Neill and Freeline, while surf schools like Richard Schmidt Surf School and Club Ed offer expert guidance.
Rentals and Gear: For gear, Pacific Wave and Cowells Surf Shop provide board rentals and equipment for all surfers.
Unique Experiences: Explore Santa Cruz's surf culture at the Santa Cruz Surfing Museum and connect with the rich history through the Santa Cruz Surfing Club Preservation Society.
Santa Cruz is the ultimate destination for surfers, offering diverse waves, local support, and a rich surfing culture. 🌊🏄‍♂️🌞
6. Rincon Point (Ventura/Santa Barbara County)
Rincon Point, near Carpinteria, offers exceptional waves and accessibility.
Location and Accessibility: Easily accessible via the 101 Highway with nearby parking.
Wave Quality and Directions: Rincon's long, consistent right-hand point break is among the West Coast's best.
Nearby Attractions: Explore Carpinteria State Beach, camp, or visit Ventura and Santa Barbara for more options.
Surfing Tips: Respect local etiquette, be mindful of your skill level, and consider tide and swell conditions.
Rincon Point is a must-visit for surfers, delivering remarkable rides and access to California's coastal beauty. 🌊🏄‍♂️🏞
7. Manhattan Beach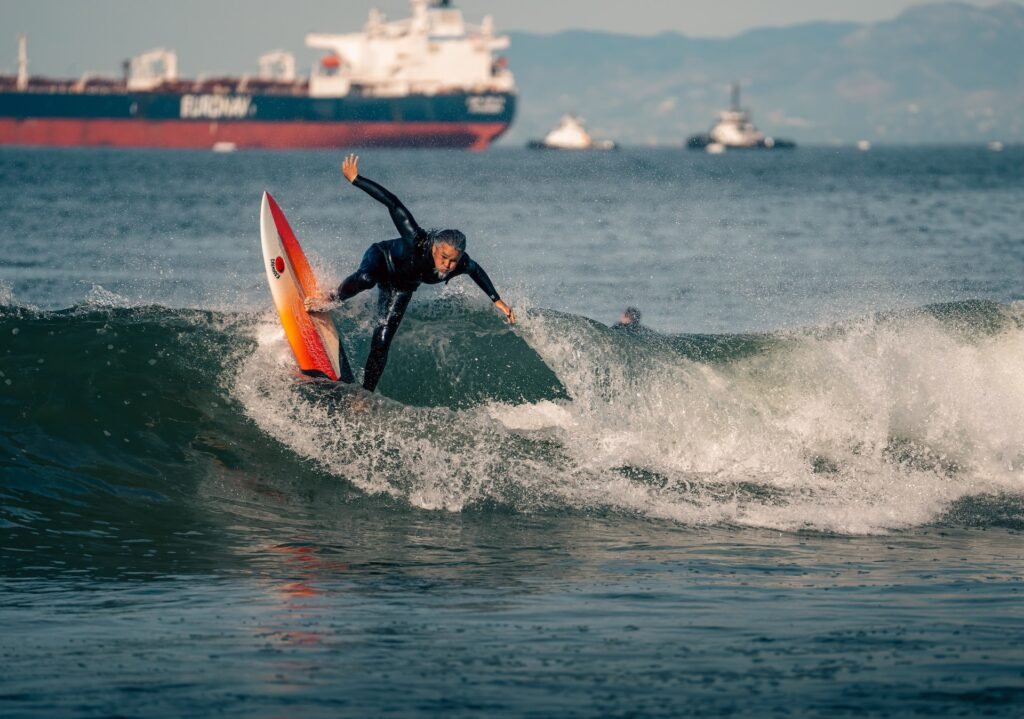 Manhattan Beach, a surfer's paradise, offers a blend of culture, quality waves, amenities, and exciting surf events.
Surfing Culture and History: With a rich surfing culture and history, Manhattan Beach is home to numerous iconic surfers and influencers. The beach embodies the California surf spirit and has contributed significantly to the sport.
Wave Quality and Consistency: Manhattan Beach provides consistent waves, ideal for surfers of all levels. The beach break offers dependable, manageable waves that make it an excellent spot for both beginners and experienced riders.
Beachfront Amenities: The beachfront is well-equipped with amenities. You'll find surf shops, cafes, and restaurants to fuel up before or after your session. The nearby Strand Walk offers a picturesque stroll along the coast.
Surf Events and Competitions: Manhattan Beach hosts a variety of surf events and competitions, including the International Surf Festival and local contests. These gatherings celebrate the sport's spirit and bring the community together.
Manhattan Beach is a surfer's haven with a rich history, consistent waves, beachfront amenities, and a thriving surf event scene. It embodies the heart of California's surf culture. 🌊🏄‍♂️🌞
8. Pacific Beach (San Diego)
Pacific Beach in San Diego offers a vibrant beach scene with diverse waves and a lively coastal atmosphere.
Overview of the Area: Nestled in San Diego, Pacific Beach is known for its beautiful sandy shores and a bustling boardwalk. It's a hub of beach activity, making it a hotspot for visitors and locals alike.
Wave Types and Skill Levels: Pacific Beach caters to surfers of all skill levels. The waves vary from gentle, rolling sets ideal for beginners to more challenging breaks for advanced riders. It's the perfect spot to progress your surfing skills.
Beachfront Bars and Restaurants: The boardwalk along Pacific Beach is lined with a tempting array of beachfront bars and restaurants. Whether you're looking for a post-surf meal, a refreshing drink, or simply a place to relax and take in the ocean views, you'll find it here.
Surf Shops and Rentals: You'll discover numerous surf shops along the beachfront where you can rent equipment, purchase gear, and get expert advice. Options like Pacific Beach Surf Shop and Surf Monkey Bikes cater to your every surfing need.
Pacific Beach in San Diego offers a dynamic beach scene with waves for all levels, a lively boardwalk filled with beachfront bars and restaurants, and plenty of surf shops for your convenience. It's the epitome of Southern California beach culture. 🌊🏄‍♂️🍹
9. PISMO BEACH PIER (Pismo Beach)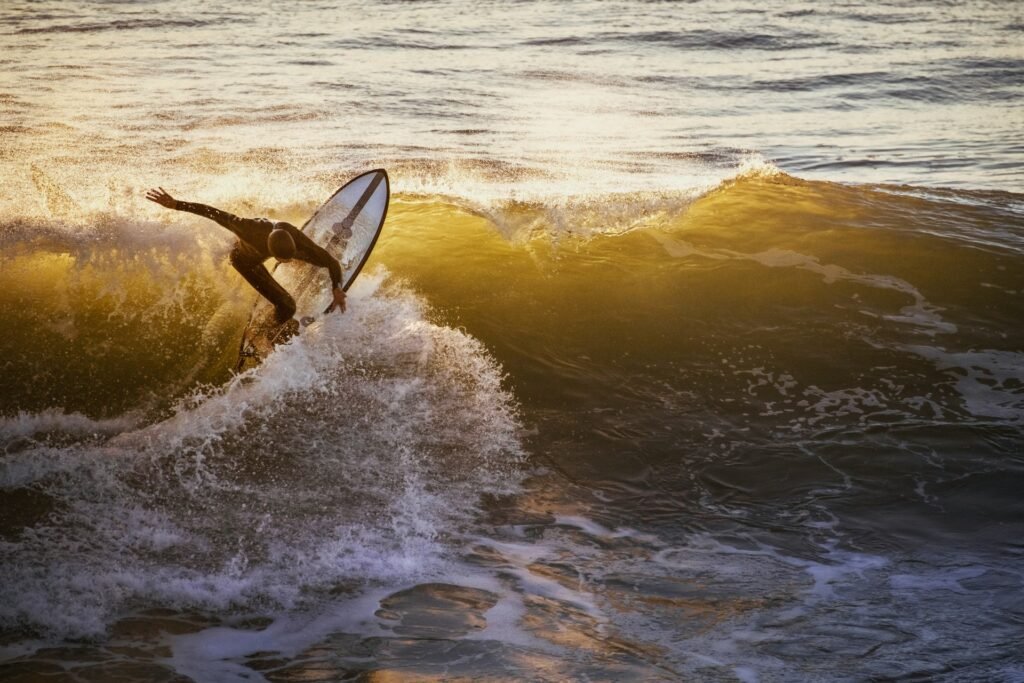 Pismo Beach is a coastal gem, known for its scenic beauty, surf, and seaside experiences.
Scenic Beach Description: Pismo Beach boasts a breathtaking coastline with vast sandy shores and a dramatic cliff backdrop. The enchanting views and gentle sea breeze make it an ideal setting for a relaxing day at the beach.
Wave Quality and Consistency: Pismo Beach offers varied waves, accommodating surfers of different skill levels. The waves can range from mellow to challenging, depending on conditions. The consistency here makes it a versatile spot for riders.
Beachfront Camping Options: For an immersive experience, Pismo Beach offers beachfront camping options. Wake up to the sound of crashing waves, enjoy a beach bonfire, and fall asleep under the stars. It's a unique way to connect with nature.
Local Attractions: Beyond the beach, explore local attractions like the Pismo Pier, Monarch Butterfly Grove, and the charming downtown area. The region is also known for its clam chowder and annual Clam Festival.
Pismo Beach is a coastal haven with stunning scenery, surf variety, camping under the stars, and an array of attractions to enjoy. It's the quintessential California beach destination. 🌊🏄‍♂️🌅
10. County Line Beach (Ventura County)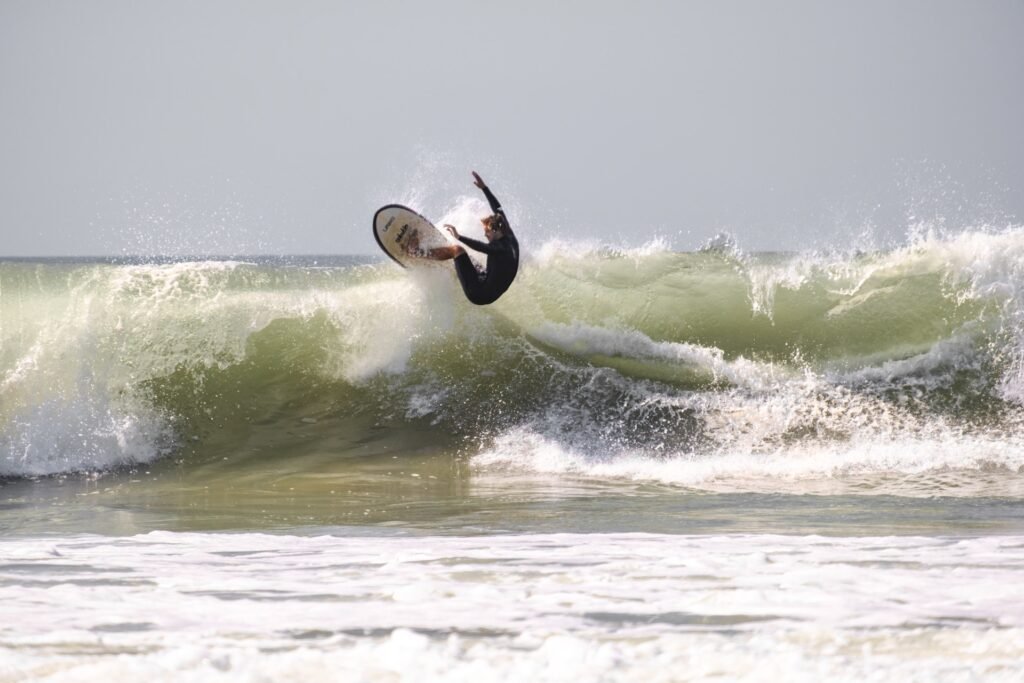 County Line Beach in Ventura County offers surf, seaside dining, and access to the beautiful Californian coast.
Location and Accessibility: Located in Ventura County, County Line Beach is easily accessible from the Pacific Coast Highway. It's a convenient spot for both locals and visitors.
Wave Characteristics and Break Details: County Line Beach features a beach break with consistent, fun waves. The waves here cater to surfers of various skill levels, from beginners looking to catch their first wave to experienced riders seeking a dependable break.
Beachfront Dining: There are beachfront dining options nearby, where you can enjoy a meal with stunning ocean views. These spots offer the perfect setting to relax and refuel after a surf session.
Surf Schools and Lessons: If you're looking to improve your skills or catch your first wave, County Line Beach is home to surf schools and instructors ready to offer lessons and guidance.
County Line Beach is a delightful coastal spot, offering accessibility, fun waves, beachfront dining, and opportunities to learn and perfect your surfing skills. 🌊🏄‍♂️🍽️
11. Ocean Beach (San Francisco)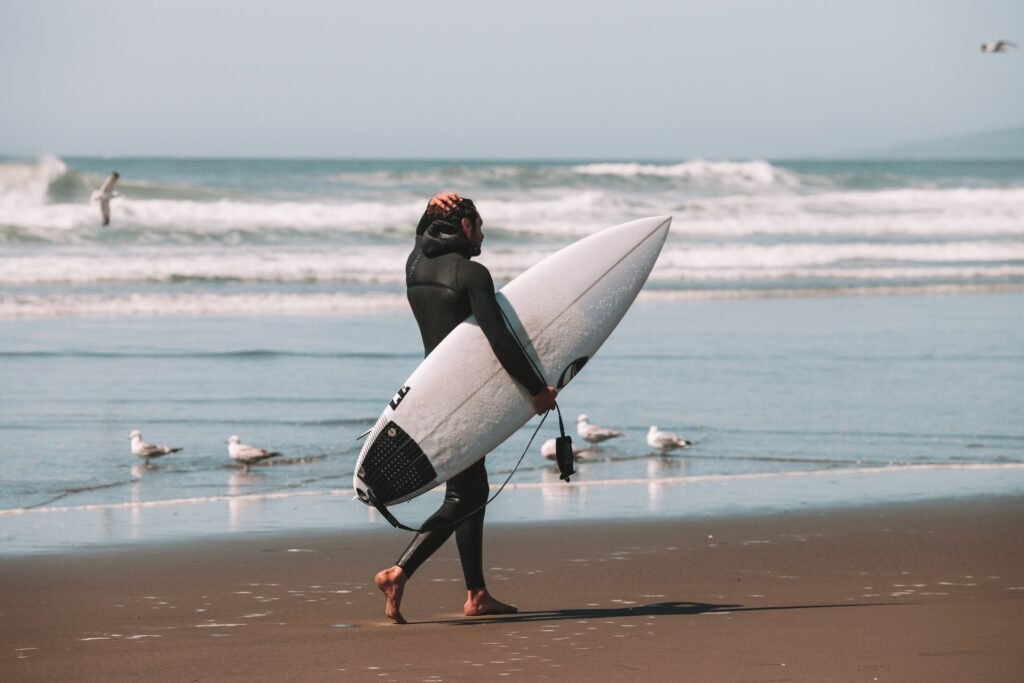 Ocean Beach in San Francisco is a unique coastal destination, known for its beauty, waves, and historical significance.
Introduction to the Location: Nestled along the western shore of San Francisco, Ocean Beach is a stretch of coastline renowned for its expansive sandy shores, stunning sunsets, and proximity to the city. It offers a serene escape from the urban hustle.
Wave Quality and Skill Levels: Ocean Beach provides a range of waves, with conditions that can be challenging even for experienced surfers. The beach break delivers dependable, sizable waves, making it suitable for intermediate to advanced riders.
Local Surf Events and Competitions: Ocean Beach has its fair share of local surf events and competitions, often attracting a dedicated community of surfers and spectators. These gatherings celebrate the spirit of the sport and the unique conditions of this beach.
Historic Aspects of the Beach: Ocean Beach holds historical significance, from the Sutro Baths ruins to the iconic Cliff House. These remnants of the past add character and depth to the beach, making it a place where you can surf amidst history.
Ocean Beach is more than just a surf spot; it's a slice of San Francisco's natural beauty, offering waves for seasoned surfers and a connection to the city's historical roots. 🌊🏄‍♂️🏛️
12. Newport Beach (Orange County)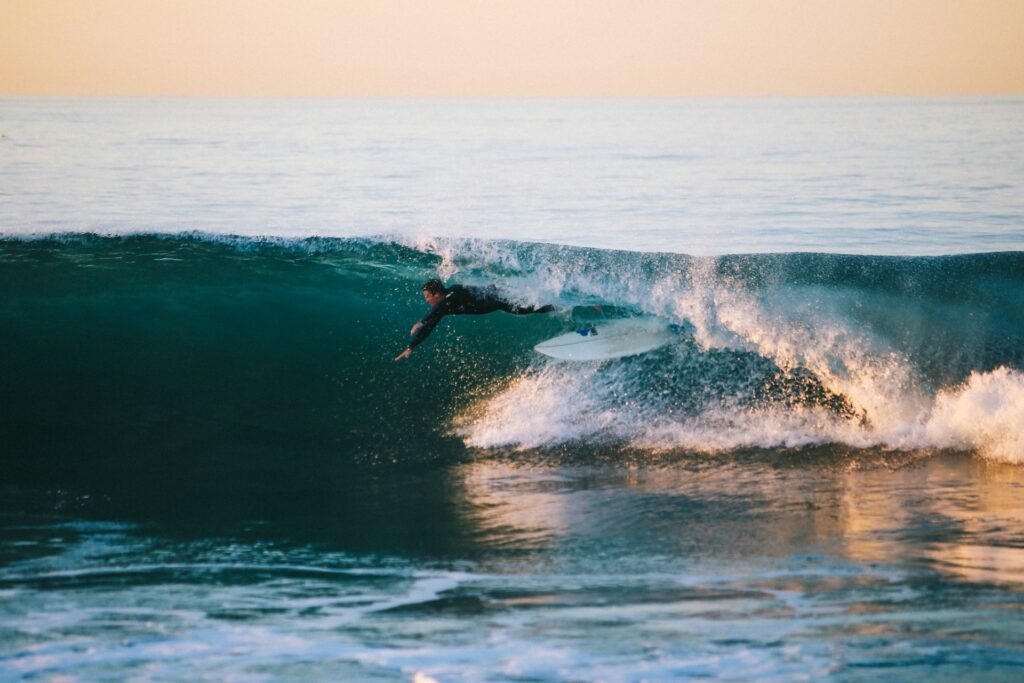 Newport Beach, a Southern California gem, offers a unique coastal experience, quality waves, and a vibrant surf culture.
Overview and Atmosphere: Newport Beach exudes a relaxed and upscale coastal vibe. The atmosphere is a blend of luxury and surf culture, creating a unique and welcoming beach environment.
Wave Quality and Consistency: Newport Beach boasts consistent and manageable waves suitable for surfers of various skill levels. The gentle breaks make it an ideal spot for beginners while still providing entertainment for experienced riders.
Newport Pier and the Wedge: Newport Pier is an iconic spot, serving as both a surf focal point and a place to enjoy the views. The Wedge, located nearby, is famous for its massive waves, attracting thrill-seeking bodyboarders and bodysurfers.
Local Surf Culture and Activities: Newport Beach is home to a thriving surf culture, with surf shops like Newport Surf Co. and a multitude of surf schools offering lessons. Beyond surfing, explore the Balboa Peninsula, take a harbor cruise, or enjoy the pristine beaches.
Newport Beach offers a unique coastal blend of luxury and surf culture, with quality waves for all levels, iconic spots like Newport Pier and the Wedge, and an array of activities to savor the beach lifestyle. 🌊🏄‍♂️🌴
13. Cardiff State Beach (San Diego)
Cardiff State Beach, situated in North County San Diego, offers a coastal escape with a variety of features.
Description and Facilities: Cardiff State Beach is a beautiful stretch of shoreline with golden sands and scenic views. It provides facilities like picnic areas, restrooms, and showers, ensuring a comfortable beach experience.
Wave Types and Skill Levels: The waves at Cardiff State Beach vary in size and style, accommodating surfers of different skill levels. You'll find mellow sections ideal for beginners and more challenging breaks for advanced riders.
Seaside Camping Options: The beach offers seaside camping at San Elijo State Beach Campground, where you can fall asleep to the sound of the waves and wake up to stunning ocean views. It's an immersive way to enjoy the coast.
Birdwatching Opportunities: Cardiff State Beach is not just for surfers; it's a birdwatcher's paradise. The San Elijo Lagoon Ecological Reserve adjacent to the beach is home to diverse bird species, making it a great spot for birdwatching.
Cardiff State Beach combines scenic beauty, versatile waves, seaside camping, and birdwatching, offering a multifaceted coastal experience for all beach enthusiasts. 🌊🏄‍♂️🦅
14. Pacifica State Beach (Pacifica)
Pacifica State Beach, a coastal gem near San Francisco, offers a diverse coastal experience with surf, scenery, and outdoor exploration.
Overview of the Location: Located in Pacifica, just south of San Francisco, Pacifica State Beach is a picturesque coastline with a dramatic backdrop of cliffs and headlands. It's a serene escape from city life.
Wave Quality and Consistency: Pacifica State Beach provides a mix of waves, making it suitable for surfers of different skill levels. The beach offers consistent waves, ensuring dependable surf sessions for both beginners and experienced riders.
Surfing Events and Contests: The beach often hosts local surfing events and contests, attracting a dedicated community of surfers and spectators. It's a great opportunity to witness the surf talent that the area nurtures.
Nearby Hiking and Attractions: Beyond the waves, Pacifica State Beach is surrounded by scenic hiking trails, including the Pacifica Pier and Mori Point. The nearby Devil's Slide Trail offers spectacular views of the rugged coastline.
Pacifica State Beach is a coastal haven with waves for all levels, serene scenery, surf events, and a range of outdoor attractions, making it a well-rounded coastal destination. 🌊🏄‍♂️🌲
15. Bolinas Beach (Marin County)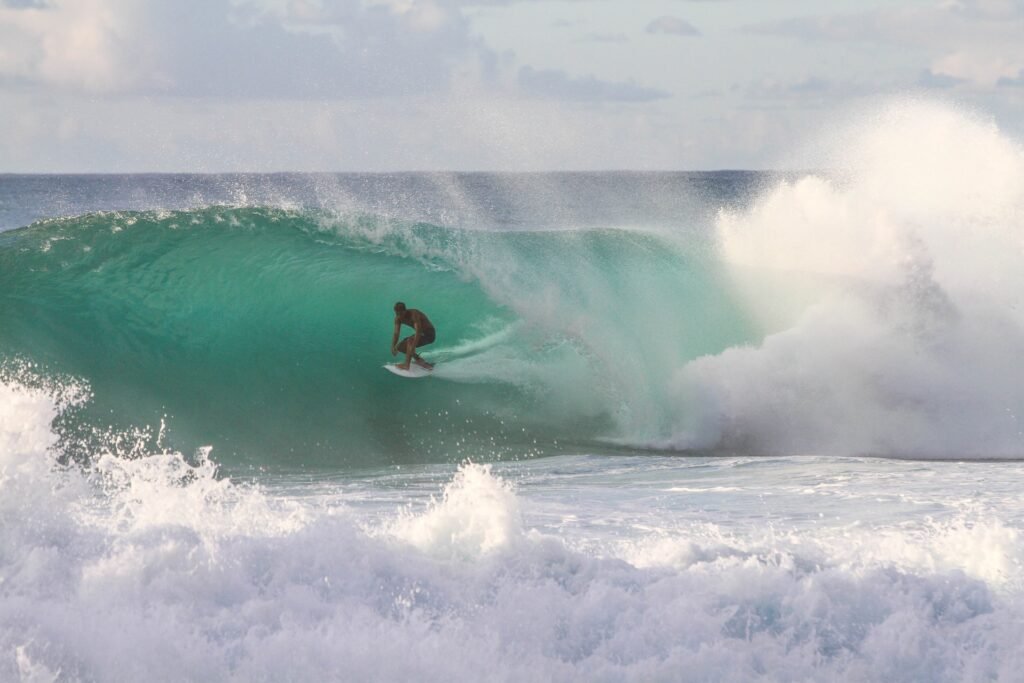 Bolinas Beach, nestled in Marin County, offers a tranquil coastal experience with unique waves and a creative atmosphere.
Beach Introduction and Vibe: Bolinas Beach is known for its laid-back and artistic ambiance. The beachgoers here appreciate a low-key atmosphere, with an emphasis on nature, community, and self-expression.
Wave Characteristics and Consistency: The waves at Bolinas Beach are renowned for their distinct and challenging nature. The beach delivers sizable waves, but conditions can be fickle. Surfers often embrace the inconsistency as part of the beach's allure.
Arts and Culture in Bolinas: Bolinas has a rich arts and culture scene. You'll find local galleries, art studios, and cultural events throughout the town. The bohemian spirit of Bolinas has attracted artists and creative minds for decades.
Surfboard Rentals and Surf Schools: While the beach is not teeming with surf shops, you can find surfboard rentals at nearby locations in Bolinas and surf schools offering lessons for those eager to tackle the waves.
Bolinas Beach is a unique coastal escape with an artistic vibe, challenging waves, a thriving arts scene, and opportunities for those looking to explore the surf culture. 🌊🏄‍♂️🎨
16 Waddell Creek Beach (DAVENPORT)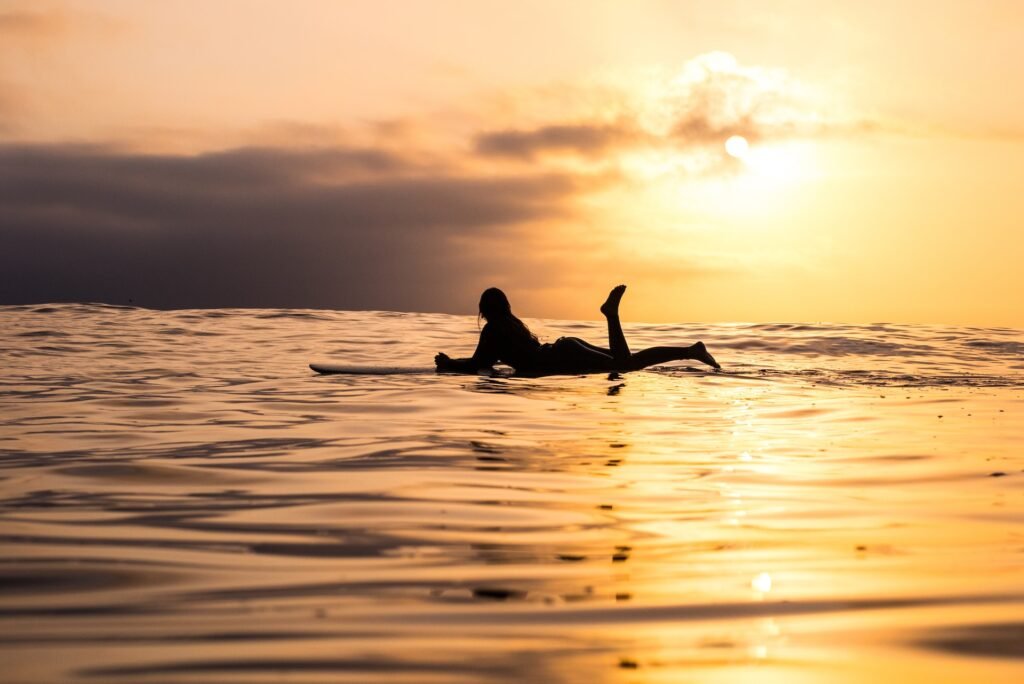 Waddell Creek Beach, a hidden gem in Northern California, offers a coastal escape with diverse activities.
Description and Location: Nestled within Big Basin Redwoods State Park, Waddell Creek Beach is a serene and secluded coastal haven. It's located along Highway 1, providing easy access to nature enthusiasts.
Wave Types and Challenges: Waddell Creek Beach is known for its powerful waves and wind-driven swell. While it's a challenging spot for traditional surfing due to the strong currents, it's a haven for experienced kite surfers who relish the wind and waves.
Kite Surfing Opportunities: Kite surfers frequent Waddell Creek Beach for its consistent wind conditions and vast stretches of open water. The beach is considered one of the premier kite surfing spots in Northern California.
Birdwatching and Hiking Trails Nearby: Nature lovers can explore the nearby trails within Big Basin Redwoods State Park, renowned for its towering redwood trees. Birdwatching is also a popular activity, with a variety of bird species found in the area.
Waddell Creek Beach is a coastal gem within a redwood forest, offering kite surfing adventures, hiking trails, and birdwatching, making it an outdoor enthusiast's dream. 🌊🏄‍♂️🌲🦅
California Surfing Beaches for Beginners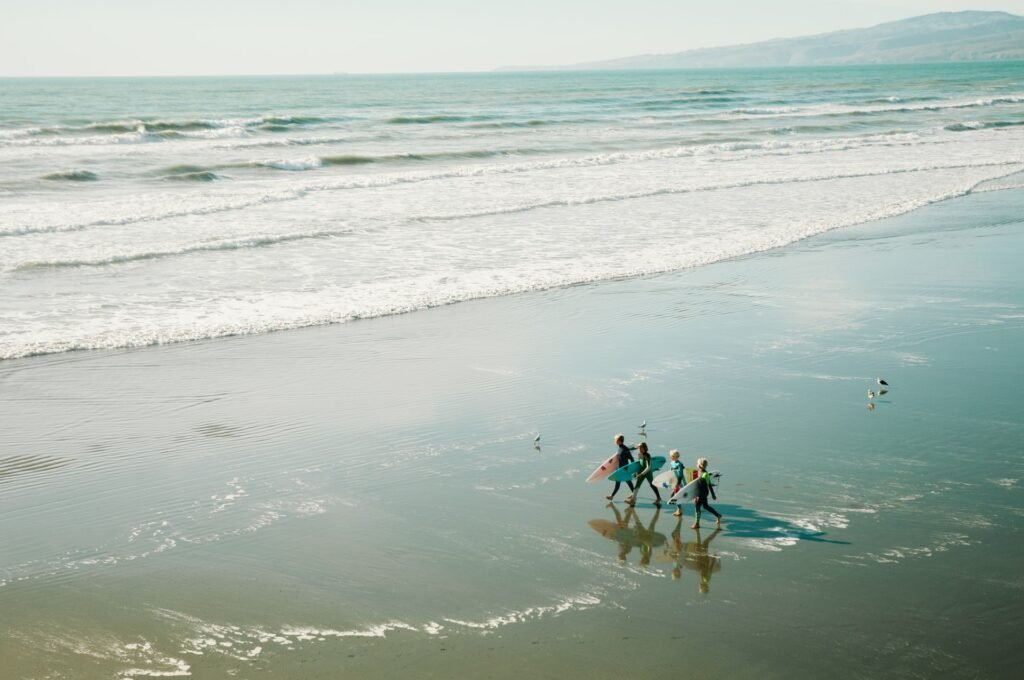 If you're new to surfing and looking for the best beaches in California to catch your first waves, here's a guide to the top spots, surf schools, safety tips, and essential gear to get you started.
Best Beaches for Novice Surfers
Cowell's Beach, Santa Cruz, CA: Known for gentle, rolling waves, it's an ideal spot for beginners. Santa Cruz is also home to numerous surf schools, making it a great place to start your surfing journey.

La Jolla Shores, San Diego, CA: With a sandy bottom and consistent waves, La Jolla Shores is perfect for beginners. You'll find many surf schools nearby to provide lessons.

Pismo Beach, CA: Pismo Beach offers manageable waves and a relaxed atmosphere, making it a welcoming destination for novice surfers.

Manhattan Beach, Los Angeles, CA: Manhattan Beach provides consistent waves and an accessible beach break suitable for beginners.

Bolinas Beach, Marin County, CA: Bolinas Beach offers a more mellow atmosphere with waves suitable for those learning to surf.
Surf Schools and Lessons
Enrolling in surf lessons can accelerate your progress and ensure a safe and enjoyable experience. Look for certified surf schools and experienced instructors who can teach you both the basics and essential safety measures.
Safety Tips for Beginners
Always Wear a Leash: A leash keeps your board close and prevents it from drifting away, making it easier to catch waves and stay safe.

Start Small: Begin with small, manageable waves and gradually progress to larger ones as your skills improve.

Learn About Rip Currents: Understand rip currents and how to identify them. If caught in one, swim parallel to the shore to escape its pull.

Respect Local Surf Etiquette: Familiarize yourself with local surf etiquette and adhere to right-of-way rules to avoid collisions with other surfers.

Don't Surf Alone: Surfing is safer and more enjoyable when you have a buddy to watch out for you.
Essential Gear for Newcomers
Soft-Top Surfboard: These boards are more stable and forgiving for beginners, helping you catch waves and maintain balance.

Wetsuit: In cooler waters, a wetsuit keeps you warm and comfortable while also providing some buoyancy.

Leash: A leash connects you to your board, ensuring it doesn't float away.

Surf Wax: Apply surf wax to your board for better grip and traction while riding.

Sunscreen: Protect your skin from the sun's rays by applying sunscreen before heading into the water.

Safety Gear: Consider wearing a life jacket, especially if you're not a confident swimmer.
With the right beach, gear, and lessons from experienced instructors, you'll embark on a safe and enjoyable surfing journey. 🌊🏄‍♂️🤙
California Surfing Beaches for Advanced Surfers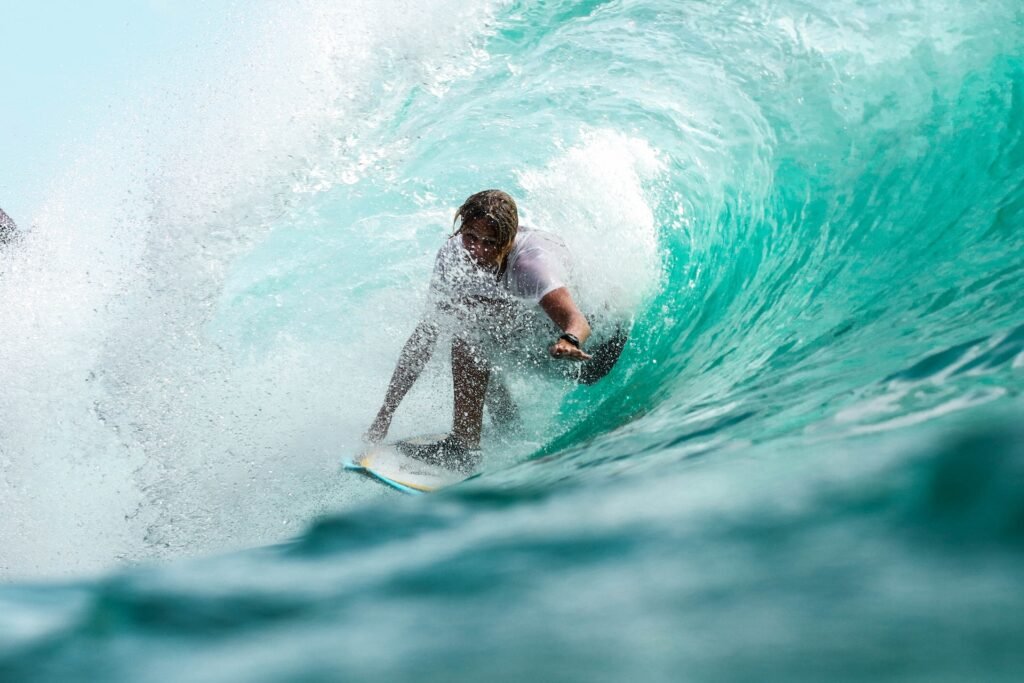 Advanced surfers seeking thrilling challenges in California will find a variety of options, from challenging breaks to big wave spots. Here's a guide to the most challenging surf spots, insights into localism and etiquette, and a look at seasonal variations and big wave opportunities for pros.
Challenging Surf Spots
Mavericks, Half Moon Bay: Mavericks is legendary for massive, powerful waves that can reach heights of 60+ feet. It's a globally renowned big-wave spot and should only be attempted by seasoned professionals.

Rincon Point, Santa Barbara: Rincon Point offers a long right-hand point break with powerful, fast-moving waves. Respect for local surfers is key in this challenging spot.

The Wedge, Newport Beach: The Wedge is famous for its massive and unpredictable shore break. It's a demanding break suited for experienced bodyboarders and bodysurfers who are comfortable in heavy surf.

Ghost Trees, Pebble Beach: Ghost Trees is an expert-only spot, known for colossal waves and dangerous conditions. It's one of California's heaviest waves.

Ocean Beach, San Francisco: Ocean Beach can deliver heavy, powerful waves with strong rip currents and challenging paddle-outs. It's recommended only for highly experienced surfers.
Localism and Etiquette
Advanced surf spots often come with strong localism and specific surf etiquette. To thrive in these conditions, observe the following:
Respect the Lineup: Wait your turn and avoid "dropping in" on other surfers.

Right of Way: Understand and respect right-of-way rules to prevent collisions.

Local Surf Culture: Embrace and respect the local surf culture and traditions.

Know the Break: Take time to observe a new break before entering to understand its dynamics.
Seasonal Variations in Conditions
Advanced surfers should be attuned to seasonal variations that impact conditions at their chosen surf spots:
Swell Season: Different breaks have peak swell seasons. Be aware of when to catch the biggest waves.

Wind Patterns: Local wind patterns can affect wave quality. Understanding them is vital for successful sessions.

Tide Variations: Tides can dramatically alter the shape and size of a wave. Learning the ideal tide for your chosen spot is crucial.
Upcoming Surfing Events in California
California hosts a variety of annual surfing competitions. Here's a concise list with event details and accommodation options:
1. Mavericks Challenge
Location: Half Moon Bay (Mavericks Invitational)
Date: Nov – Mar
Prestigious big-wave competition
Spectators welcome
Accommodations in Half Moon Bay
2. Vans US Open of Surfing
Location: Huntington Beach (US Open of Surfing)
Date: July
One of the world's largest surf competitions
Free for spectators
Abundant accommodations in Huntington Beach
3. O'Neill Coldwater Classic
Location: Santa Cruz (O'Neill Cold Water Classic)
Date: October
Part of the World Surf League's Championship Tour
Spectators enjoy cliffside views
Various accommodations in Santa Cruz
4. Hurley Pro at Trestles
Location: Trestles, San Onofre State Beach (Hurley Pro Sunset Beach)
Date: September
Major surf competition
Spectators can watch from the beach
Accommodations available in San Clemente
For specific dates and further details, visit the official event websites. Book accommodations early as they fill up quickly during peak surf seasons. Enjoy the thrilling surf action and vibrant culture! 🌊🏄‍♂️🏆
Surfing Gear and Equipment
When it comes to surfing, the right gear and equipment are essential for an enjoyable and safe experience. Here are some recommendations for surfboards, wetsuits, essential accessories, and surfboard maintenance and repair.
Surfboards
Choosing the right surfboard depends on your skill level, the type of waves you'll be riding, and your personal preferences. Here are some common types:
Longboard: Great for beginners due to their stability and ease of catching waves.
Shortboard: Ideal for advanced surfers looking for maneuverability and speed.
Fish: A versatile board suitable for a wide range of conditions, often favored by intermediate surfers.
Funboard: A hybrid option that combines stability and maneuverability, suitable for a range of skill levels.
Gun: Designed for big-wave surfing and experienced riders who want to tackle substantial waves.
Wetsuits and Surf Attire
Selecting the right wetsuit is crucial, especially in California's diverse water temperatures. Consider these factors:
Full Suit: In cooler waters, a full wetsuit is recommended to keep your entire body warm.
Spring Suit or Shorty: In milder conditions, a spring suit or shorty provides flexibility and comfort.
Booties: Protect your feet from cold water, sharp rocks, and reefs.
Rash Guard: Provides sun protection and reduces chafing.
Surf Hat: Shields your face and head from the sun.
Essential Accessories
Surfing often requires a few key accessories:
Leash: Essential for keeping your board close and preventing it from drifting away.
Wax: Apply surf wax to your board for improved grip and traction.
Surfboard Bag: Protects your board during transport and storage.
Sunscreen: Always apply sunscreen to protect your skin from the sun's rays.
Surfboard Maintenance and Repair
Proper maintenance extends the life of your surfboard:
Rinse After Use: Rinse your board with fresh water after each session to remove salt and sand.
Check for Damage: Regularly inspect your board for dings, cracks, or fin issues.
Ding Repair Kit: Learn basic ding repair or keep a repair kit on hand.
Resin and Fiberglass: For more extensive repairs, consider professional services.
Remember, the right gear enhances your surfing experience, so choose equipment that matches your skill level and the conditions you'll encounter. 🏄‍♂️🌊