If you're looking for a stunning natural escape, look no further than Lake Tahoe.
This majestic mountain lake straddles the California-Nevada border and offers something for everyone, from outdoor adventurers to families looking for a relaxing getaway.
In our guide to Lake Tahoe, we'll cover everything you need to know before planning your trip, including things to do around the area.
So pack your bags and get ready for an unforgettable adventure!
Where Is Lake Tahoe?
Lake Tahoe is a large, deep freshwater lake in the Sierra Nevada mountains of the western United States.
It is one of the largest alpine lakes in North America, and at 400 feet (122 meters) deep, it is also one of the deepest.
The lake is fed by several rivers, including the Truckee River, which flows south of Reno, Nevada. 
Lake Tahoe is located in both California and Nevada, and its shores are dotted with towns and villages, including South Lake Tahoe, Tahoe City, and Incline Village.
The lake is a popular tourist destination, and its clear waters and dramatic mountain setting attract visitors from all over the world.
What Is Lake Tahoe Like?
A popular destination for adventure lovers, families, and anyone wanting to reconnect with nature, Lake Tahoe is a stunning mountain lake that offers something for everyone.
With its crystal-clear waters and picturesque surroundings, it's easy to see why Lake Tahoe is a favorite destination for visitors from all over the world.
At an elevation of 6,225 ft (1,897 m), Lake Tahoe is the highest alpine lake in North America.
Lake Tahoe Average Temperature
The average annual water temperature on the coast of Lake Tahoe is 52°F, but it varies depending on the season: in winter and spring it's 44°F, in summer it's 63°F, and in fall it's 58°F. The minimum water temperature of 37°F happens in May, while the maximum of 70°F occurs in July.
Is Lake Tahoe Man-Made?
No, Lake Tahoe is a natural lake formed more than two million years ago. The lake's deepest point is roughly 900 feet (275 meters) deep.
When Is Ski Season in Lake Tahoe?
The ski season in Lake Tahoe typically runs from November to April, although the exact dates can vary depending on the year.
The best time to ski is usually after a fresh snowfall when the powder is still light and fluffy.
However, conditions can also be good later in the season, when the sun has had a chance to compact the snow and create a smoother surface.
What To Do in Lake Tahoe
A spectacular place like Lake Tahoe is hard to find.
Its clear blue waters and stunning scenery make it a popular destination for both tourists and locals alike.
There are plenty of things to do in Lake Tahoe, regardless of what time of year you visit.
Lake Tahoe Winter Activities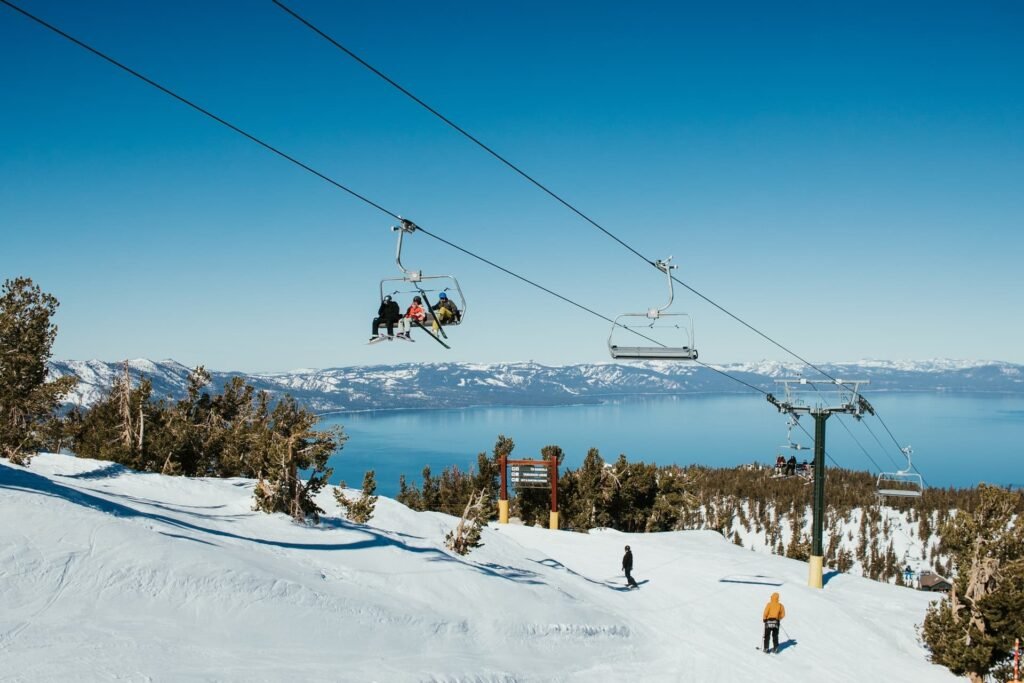 Ski
Lake Tahoe is world-renowned for its ski resorts – the views are breathtaking, the slopes are thrilling, and the average winter temperature is perfect for a day of skiing.
With its snow-capped mountains and pristine forests, Tahoe is truly a winter wonderland.
Gondola Rides
Skiing down the slopes of Lake Tahoe is a thrilling experience, but it's not the only way to enjoy the area.
The Heavenly Gondola is one of the most picturesque ways to take in the views of Lake Tahoe.
This 2.4-mile-long gondola ride stops at an observation deck, so you can enjoy the views with friends and family.
Dog Sledding
If you're looking for a unique winter experience, consider dog sledding!
Companies like Running Creek Dog Sled Rides and Sierra Adventures offer tours of the area with experienced mushers.
You don't need any prior experience – just be excited to spend some time with some furry friends.
Tubing
Who needs a waterpark when there's so much snow to play with?
Tubing is one of the most fun activities you can do in the snow, and luckily Squaw Valley and Heavenly Lake Tahoe are two great places to go tubing.
With plenty of hills to slide down, you're in for a good time!
Lake Tahoe Summer Activities
Kayaking
If you're looking for a fun and adventurous way to spend your time outdoors, kayaking is a fantastic option for you.
With around 75 miles of shoreline to explore, the eastern side of the lake is especially renowned for its beauty.
You'll find massive boulders that reflect the tranquil waters, providing an amazing backdrop as you paddle along.
The best time to go kayaking is in the morning before the afternoon winds arrive.
Jet Skiing
If speed is your poison, rent a jet ski!
You'll be able to zip around the lake at high speeds, with the wind in your face and the sun warming your skin.
As you fly by, you'll get to see more of the lake than you would on any other mode of transportation – it's an adventure like no other.
Paddleboarding
The clear waters of Lake Tahoe offer a unique opportunity to experience all types of water sports,
but the natural beauty of the area is arguably best appreciated through silent, non-motorized sports.
In addition to kayaking and other options, paddleboarding is a great way to explore the North Shore and its typically calm, glassy waters.
Hiking
Not only is the scenery on and around the water beautiful, but the land offers just as much to explore.
If you've taken the gondola ride, you have a good idea of what awaits. The Lake Tahoe region is famous for its impressive views all around the shoreline and in the surrounding mountains.
For an even better view, hike to the top of Mount Tallac and see Cascade Lake, Desolation Wilderness, and South Lake Tahoe stretched out before you.
Whether you're visiting Lake Tahoe for the first time or have been coming here with your family since you were a child, you're sure to find something to enjoy in Lake Tahoe.