It is an undeniable fact that winters are beyond magnificent.
Snow enchants us with its hypnotic and breathtaking beauty, especially if you live in a hot climate, seeing snowfall may be a fantastic experience.
Some California cities are even more spectacular in the winter when snow covers the rooflines and turns valleys and mountains into powdered, white fairy tales.
If you want to get away from your everyday life and immerse yourself in some snowy experiences, you've come to the right place.
We've compiled a list of the best 16 places in California to visit for a captivating snowfall experience.
When Does Snow Fall in California?
In general, snowfall in California is most likely to occur between December and February.
While snow may seem like a winter wonderland to some, others know it can be a bit of a nuisance- especially when you're trying to drive in it!
Snowfall in California usually occurs in the mountains, where snow accumulation can reach several feet.
However, snow has also been known to fall in other parts of the state- though it's much less common.
Where Does it Snow in California?
Believe it or not, snow is not necessarily a rare sight in California! In fact, snowfall occurs in some parts of the state every year.
The Sierra Nevada mountain range, which runs through the middle of California, is one of the snowiest places in the state.
Snow usually begins to fall in the Sierra Nevada in October and can continue all the way through May. Some of the most significant snowstorms in California have been known to drop over 10 feet of snow in a single week! Even lower-lying areas of California can occasionally see snowfall.
In 2019, for example, snow fell in Los Angeles – something that hasn't happened since 1962!
So next time you're dreaming of a white Christmas, remember that you might just get your wish – if you're in California.
| Snow in Southern California |
Mount Baldy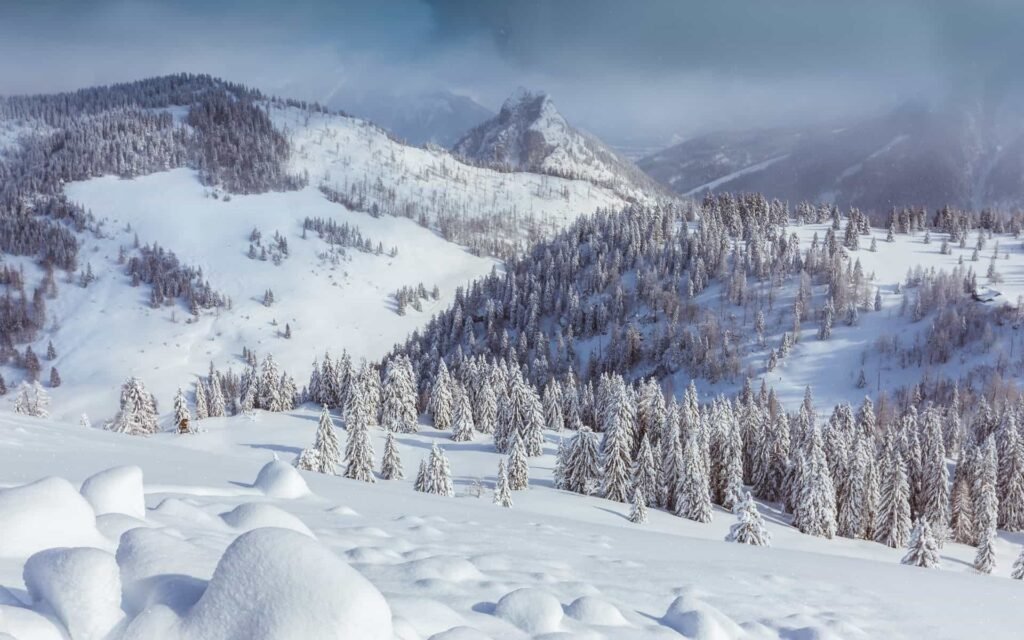 Mount Baldy, also known as Mount San Antonio, is one of the greatest sites in California to enjoy the snow season.
Only 45 miles from Los Angeles, the summit of Mount Baldy is a favorite winter paradise for Los Angeles residents looking for a little snow!
The Mount Baldy Ski Lifts claim to be California's steepest ski resort, so you can be sure you'll have a blast on these slopes! It's a family-friendly resort that's ideal for a snowy getaway.
Hikers should not miss the spectacular Ice House Canyon trek, a challenging almost 10-mile loop with breathtaking views of the winter scenery.
Where to Stay in Mount Baldy
Big Bear Lake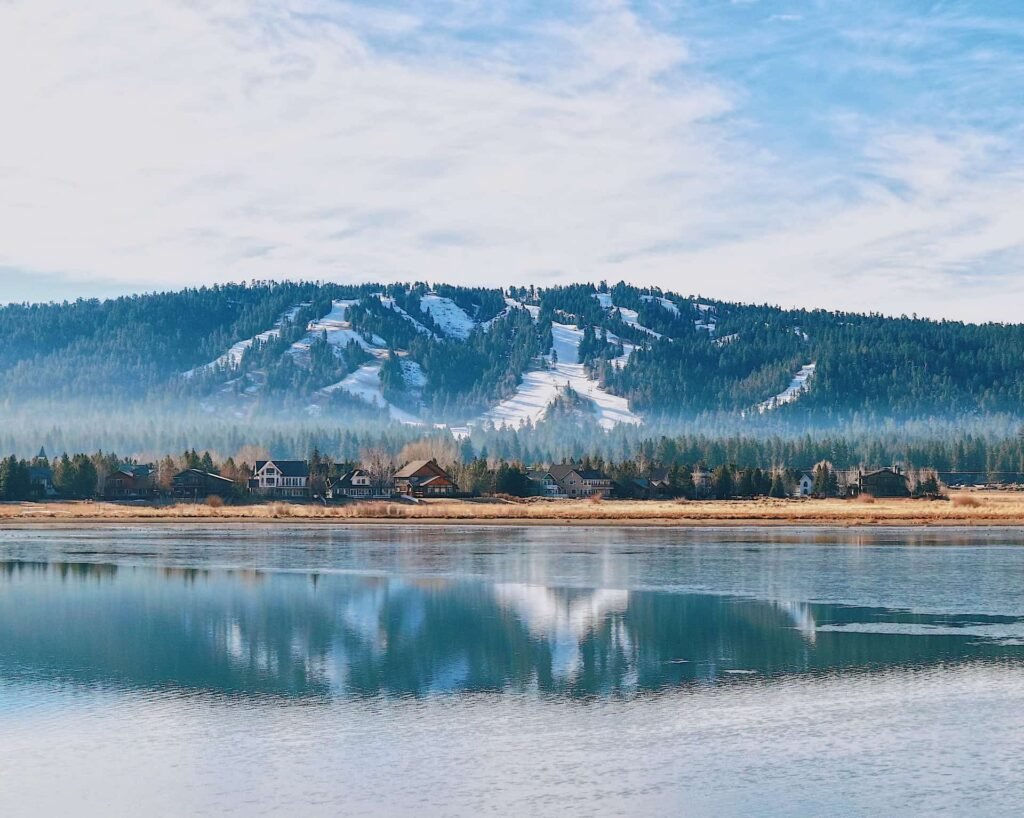 Winter is a great time to visit Big Bear Lake.
This mountain community, located around two hours north of Los Angeles, welcomes all snow-hungry visitors.
The snow-capped mountains, ice lakes, and cozy hotels are just a few reasons winter is so popular with locals and tourists.
Big Bear Lake has snow from December to April each year, so you'll have plenty of time to plan.
Even if you're not a huge fan of winter sports, the breathtaking scenery will be more than enough motivation to visit.
Where to Stay in Big Bear Lake
Julian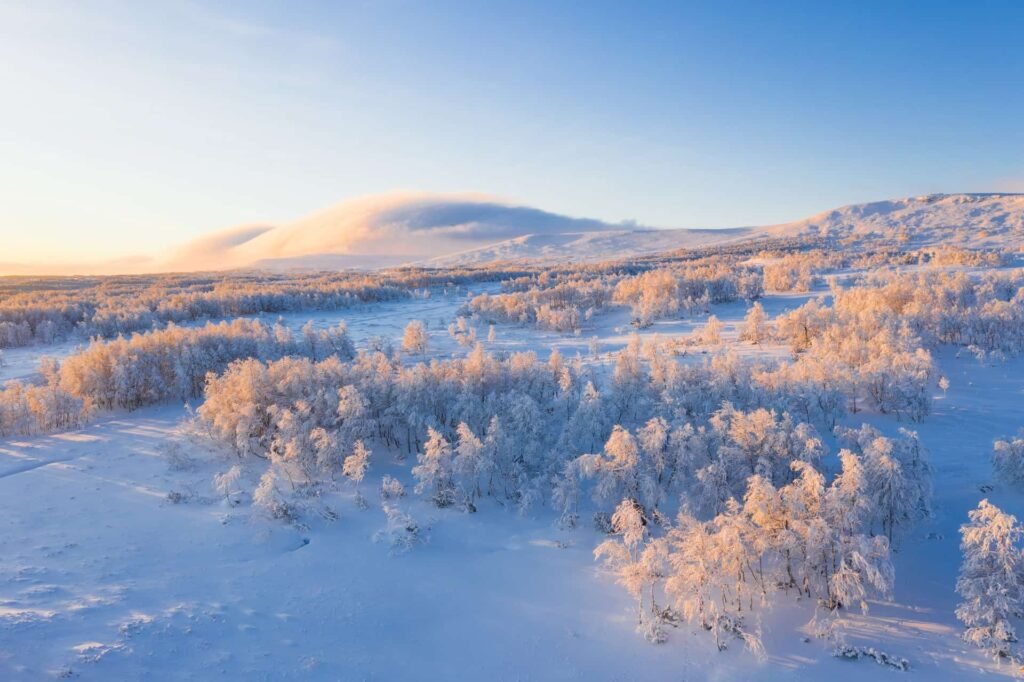 Julian is a majestic small town situated between the Cuyamaca and Volcan Mountains, only a short drive from San Diego.
There are just a few spots in San Diego County that experience snow. Julian is one of those exceptional locations.
Julian receives 22 inches of snow every year on average. With an elevation of 4,226 feet, it is one of the county's highest points.
The town is famous for its apple pie and the Julian Apple Festival, which was established in 1949.
You can tour the fully restored mines, such as High Peak and the Eagle Gold Mines. The Julian Pioneer Museum is an excellent place to learn about Julian's history through a wide range of exhibitions.
Where to Stay in Julian
Lake Arrowhead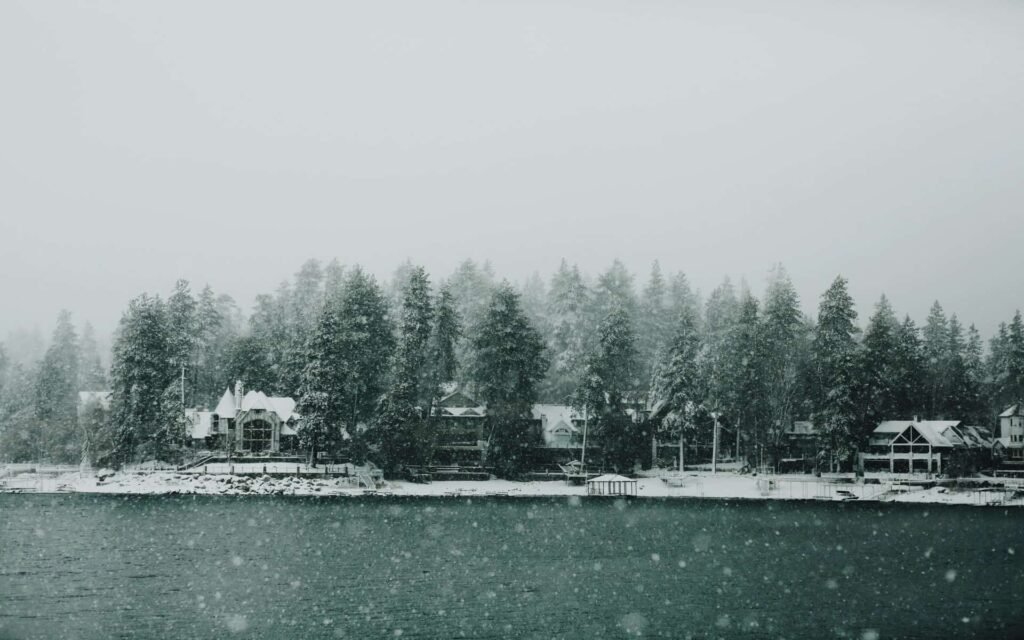 Lake Arrowhead is a stunning, charming sanctuary nestled in the San Bernardino National Forest's mountain range.
A true winter wonderland, Lake Arrowhead is known as "The Alps of Southern California".
This gorgeous village situated on a deep-blue alpine lake will make you feel as if you've gone to another universe.
The high-altitude lake is warm and pleasant most of the year, but from December to February it transforms into a winter wonderland.
A gorgeous alpine village, Lake Arrowhead is ideal for a snowy winter escape.
Where to Stay in Lake Arrowhead
Wrightwood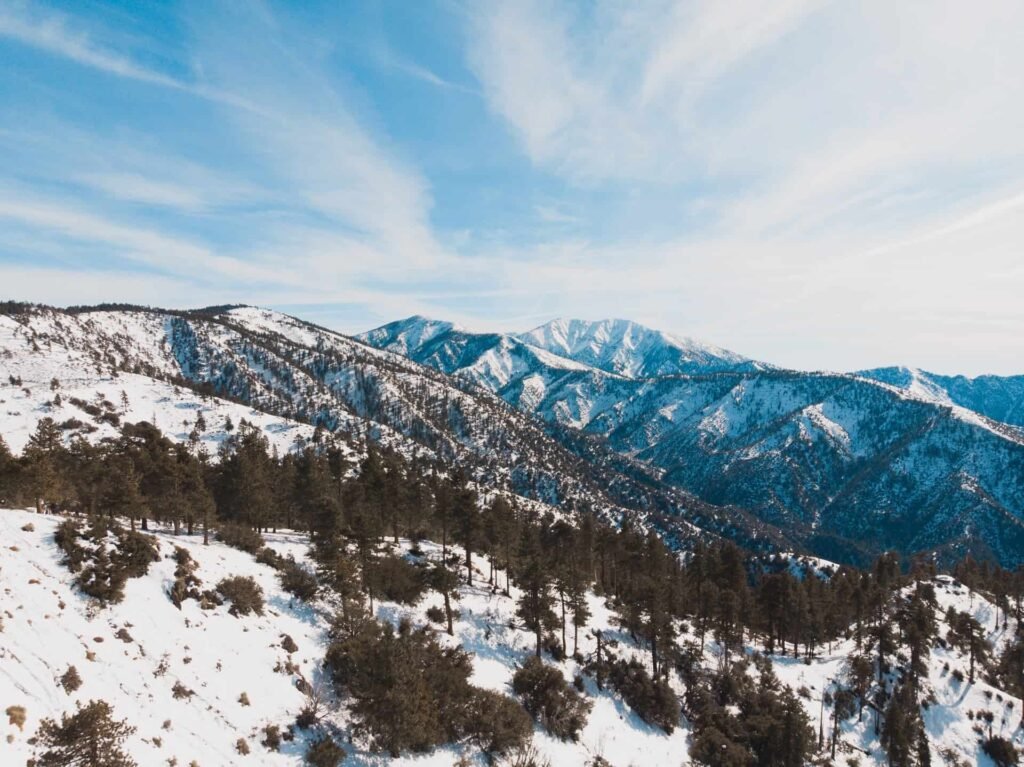 Wrightwood is a small, southern Californian town about 76 miles northeast of Los Angeles.
If you want to reconnect with nature or partake in thrilling, adrenaline-pumping outdoor activities, Wrightwood, California is the place to be.
Wrightwood is a great place for a winter holiday. It is known for its ski mountain, dirt biking, zipline experiences, and other outdoor sports.
It is situated at an altitude of 5,935 feet in a pine-covered valley in the San Gabriel Mountains.
Where to Stay in Wrightwood
Mt. Laguna
There's something magical about snow-covered mountains.
They seem to take on a life of their own, and it's easy to imagine all sorts of creatures lurking in the shadows.
Mt. Laguna is no exception. In winter, the mountain is blanketed in snow, and the air is crisp and cold.
The trees are laden with snow, and the silence is broken only by the sound of snowflakes falling.
It's a beautiful sight, and it's easy to see why so many people flock to the mountain in winter.
Whether you're looking for a place to sled or ski, or just enjoy the quiet beauty of snow-covered mountains, Mt. Laguna is the perfect place to be.
Find amazing hotels near Mt. Laguna on Tripadvisor
Palm Springs
Snow is fun to look at from the warm indoors, but there's nothing quite like playing in it.
Palm Springs may be best known as a desert oasis, but during wintertime, it transforms into a snow-capped wonderland.
The snowflakes start falling around Christmas and continue through February, covering the mountains in a blanket of white.
Locals and visitors alike can't resist the urge to get outside and play, whether it's snowshoeing through Joshua Tree National Park or sledding down Snow Creek Falls.
And of course, no visit to Palm Springs in winter would be complete without taking a dip in one of the natural hot springs.
So if you're looking for a winter getaway that's guaranteed to snow, head to Palm Springs!
Find amazing hotels near Palm Springs on Tripadvisor
Mount Whitney
Mount Whitney is one of the most popular snowboarding destinations in California.
The mountain offers riders a chance to snowboard in some of the deepest snow in the state.
The average snowfall at Mount Whitney is around 20 feet, and the snow often doesn't start melting until late June.
This makes it the perfect place to snowboard well into the spring. In addition to the deep snow, Mount Whitney also offers riders a variety of terrain, from beginner-friendly slopes to challenging cliffs and chutes.
Whether you're looking for powder or packed snow, Mount Whitney is an excellent choice for a winter snowboarding adventure.
Find amazing hotels near Mount Whitney on Tripadvisor
| Snow in Northern California |
Lake Tahoe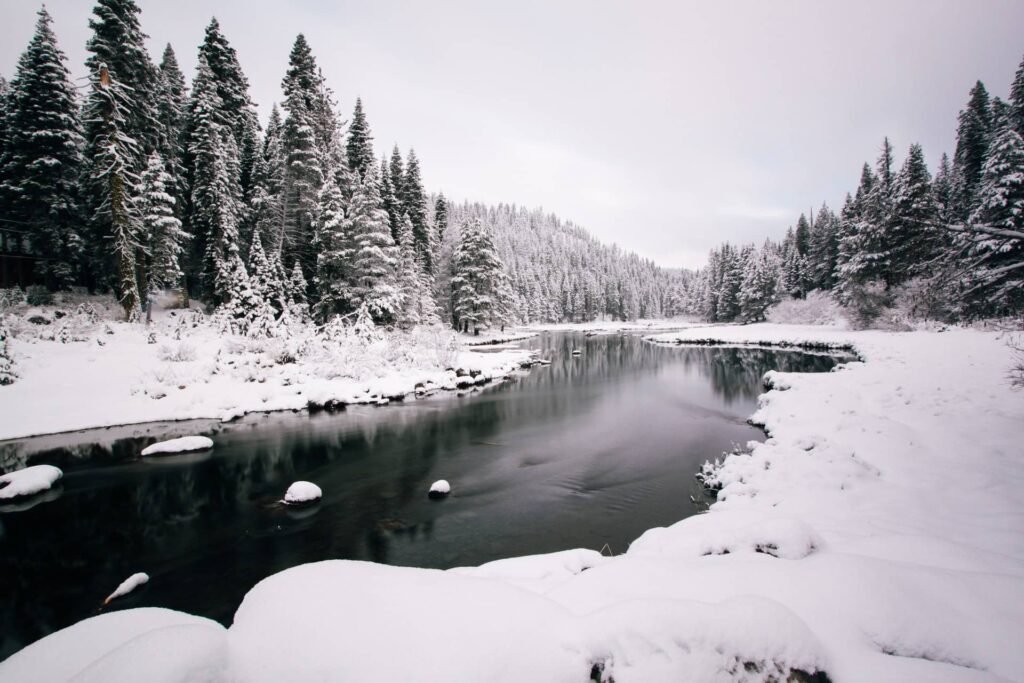 In the winter, Lake Tahoe is absolutely stunning. It's a breathtaking sight to behold. Mountainsides coated with snow and turquoise-hued seas.
High in the Sierra Nevada Mountains, Lake Tahoe is a heavenly retreat that encompasses California and Nevada. The majority of people regard it as a place from a fairytale.
Whether you feel most alive when thousands of feet in the air or climbing gigantic boulders, Skiers and snowboarders of all levels can enjoy the lake.
One thing is certain: Lake Tahoe is the place to be in the winter for adrenaline junkies.
Where to Stay in Lake Tahoe
Lassen Volcanic National Park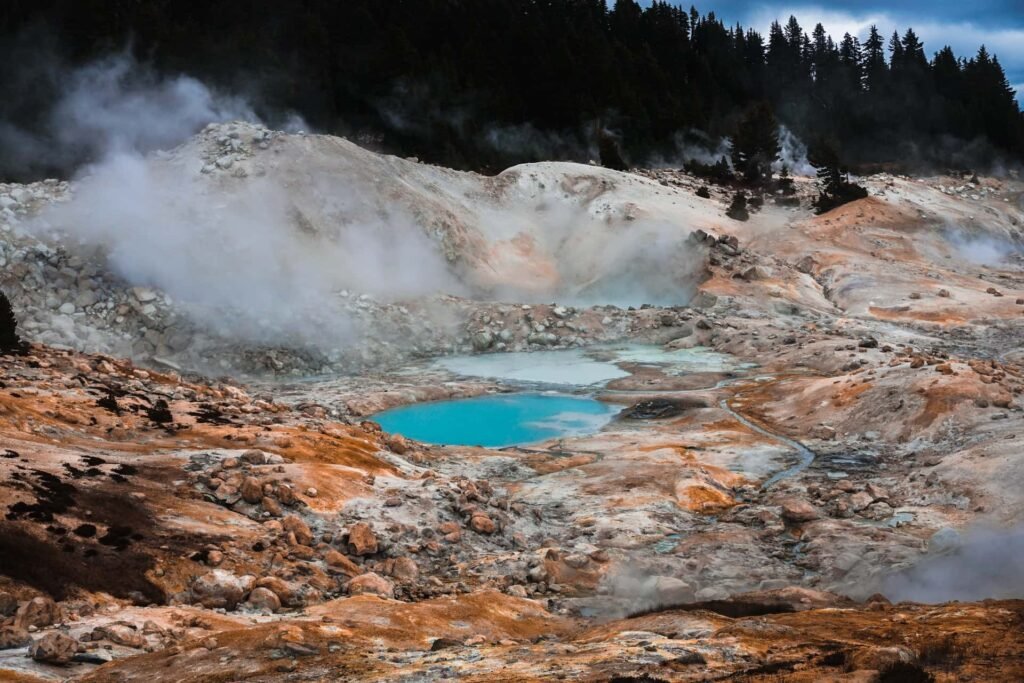 Lassen Volcanic Park is stunning at any time of year, but it is especially enchanting when blanketed in snow.
The winter months provide a plethora of fun activities around the park. There are some of the top cross-country skiing and snowshoeing trails in the region.
With a high level of snowfall throughout Lassen Volcanic National Park, it is one of the snowiest spots in California.
Whether you come to snowshoe, cross-country ski, camp, or simply enjoy a hot cup of chocolate in the lodge, we guarantee you'll find the ideal Lassen winter experience for you.
Where to Stay in Lassen Volcanic National Park
Mount Shasta
Mount Shasta, standing 14,000 feet above the pine forests of Northern California, gets snow on its higher slopes in winter.
And, unlike other mountains, this one rises from the flat plains with such towering, snow-capped magnificence that it appears almost unreal—like a child's vision of what a mountain should be.
With its spiritual character, Mount Shasta is the fastest-growing destination for the winter holidays! and is ideal for both nature lovers and adventure seekers.
Mt. Shasta and Siskiyou County provide numerous enjoyable activities for any tourist! Visitors may enjoy a variety of activities, including hiking, skiing, and snow tubing.
Where to Stay in Mount Shasta
Sequoia National Park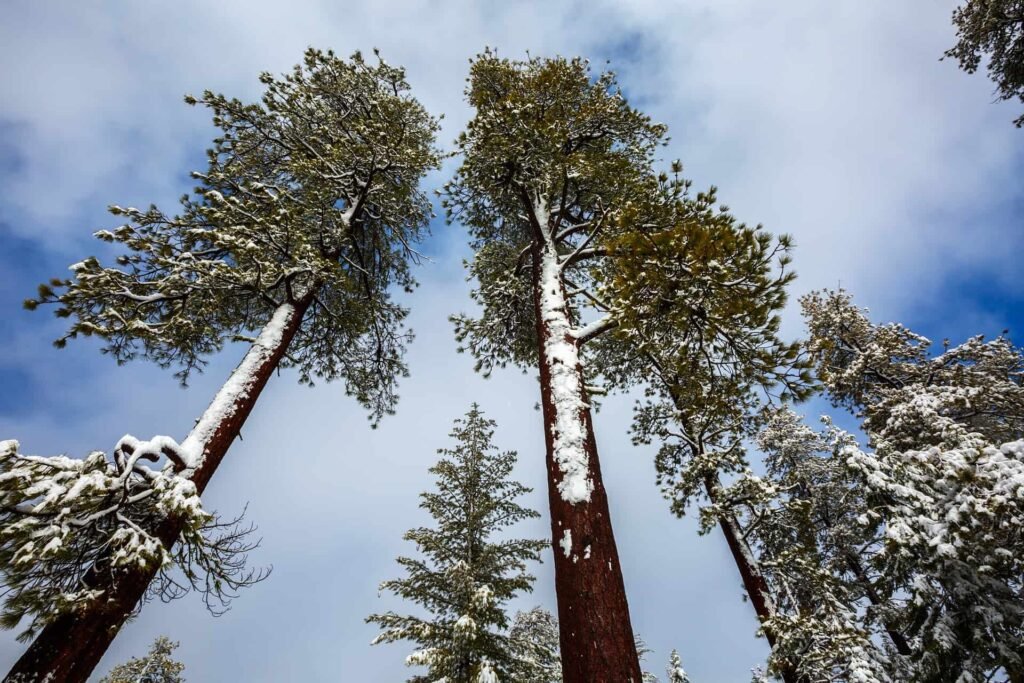 The gorgeous Sequoia National Park is another stunning national park nestled in the Sierra Nevadas.
While the park is normally open all year, snow can fall as early as November and all the way to May.
It's a fantastic location to visit all year round, but there's something special about going in the winter. The marvelous red giants are blanketed in gleaming white snow, creating an astounding view.
We highly recommend a visit to the General Sherman Tree, the world's largest tree, which can be easily accessed by a short trail off of General's Highway, a few miles south of Wuksachi Lodge.
Where to Stay in Sequoia National Park
Mammoth Lakes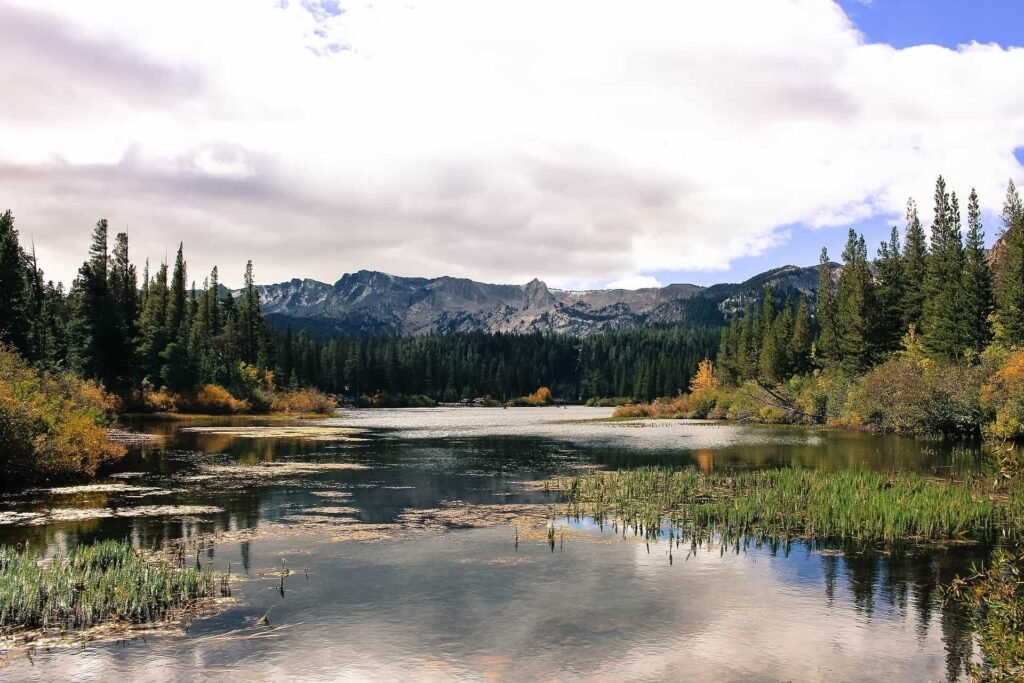 Mammoth Lakes is one of the best lakes in California, widely popular for winter holidays and outdoor adventures.
It has one of the longest ski seasons and is usually open from November to June.
With over 3,500 acres of skiable terrain, 28 lifts (including three gondolas), and an average snowfall of 33 feet per year, Mammoth Mountain is one of the top alpine skiing mountains in the world.
Whether you're a seasoned skier or have no clue how to put on a pair of skis, this is an exciting place worth at least a few days of your vacation time.
Where to Stay in Mammoth Lakes
Sequoia & Kings Canyon National Park
Winter is a magical time at Sequoia and Kings Canyon National Park.
The snow blankets the ground, turning the landscape into a winter wonderland. The air is crisp and fresh, and the skies are clear and blue.
You can go snowshoeing, cross-country skiing, or ice skating. There are also ranger-led snowshoe walks and snowmobiling trips.
Winter is a great time to explore the park, as there are fewer crowds and the scenery is breathtaking.
So if you're looking for a place to enjoy the snow, be sure to head to Sequoia and Kings Canyon National Park.
Find amazing hotels near Sequoia & Kings Canyon on Tripadvisor
Truckee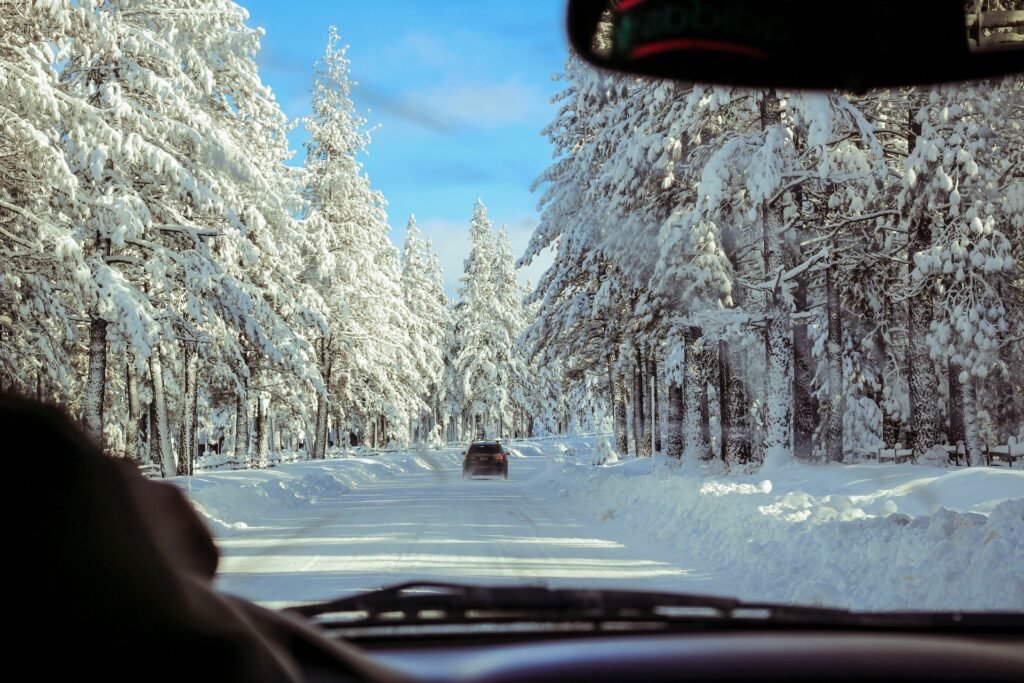 There's something special about a Truckee winter.
Maybe it's the snow-capped mountains that tower over the town or the way the snow transforms the landscape into a magical wonderland.
Whatever the reason, there's no doubt that Truckee is a winter wonderland.
From snowshoeing and cross-country skiing to sledding and snowman building, there are endless ways to enjoy the snow.
And when night falls, the snow takes on a whole new level of beauty.
With the sparkling lights of town, it's like being in a scene from a holiday movie. There's truly no place like Truckee in wintertime.
Find amazing hotels near Truckee on Tripadvisor
Yosemite National Park
One of the best things about wintertime in Yosemite National Park is the snow.
The snow-covered mountains and forests are simply breathtaking, and there are plenty of opportunities for snow activities like sledding, snowshoeing, and skiing.
Even if you don't enjoy cold weather, it's worth braving the elements for a chance to see Yosemite in all its winter beauty.
And after a long day of exploring, you can warm up by the fireplace in one of the park's cozy lodges.
Whether you're looking for a snow-filled adventure or simply want to appreciate Yosemite in a different light, wintertime is the perfect time to visit this iconic national park.
Find amazing hotels near Yosemite National Park on Tripadvisor
Snow in California: Frequently Asked Questions
Where Does It Snow the Most in California?
The region that typically receives the most snowfall in California is the Sierra Nevada mountain range. This expansive mountain range runs along the eastern side of the state and encompasses popular destinations such as Lake Tahoe, Mammoth Lakes, and Yosemite National Park. These areas experience heavy snowfall during the winter months, making them popular destinations for skiing, snowboarding, and other winter activities.
What is the Coldest City in California?
The coldest city in California is Truckee, a charming town nestled in Nevada County near Lake Tahoe. It's high elevation and proximity to the majestic Sierra Nevada mountains contribute to its chilly climate. However, other cold destinations in California include South Lake Tahoe, Mammoth Lakes, and Big Bear Lake. These frosty havens offer picturesque snowy landscapes and opportunities for winter activities, making them popular among adventure seekers and nature enthusiasts.