Embark on a journey into the heart of nature's grandeur, where awe-inspiring landscapes and exhilarating adventures in Yosemite National Park.
Are you ready to unleash your inner explorer? Look no further, for we have curated an exhilarating list of 23 fun-filled activities that will leave you spellbound.
Yosemite is one of the most remarkable national parks in California.
Whether you seek adrenaline-pumping escapades or serene moments of tranquility, Yosemite has something extraordinary in store for everyone.
These 23 fun and exciting things to do in Yosemite National Park are sure to provide an adventure like no other!
Yosemite National Park Interactive Map
Where is Yosemite National Park Located?
Yosemite National Park is located in the western United States, specifically in the state of California. It is situated in the Sierra Nevada mountains and includes sections of Tuolumne, Mariposa, and Madera counties. Spanning an expansive 759,620 acres (1,187 sq mi; 3,074 km2) across four counties, the park envelops a vast and awe-inspiring landscape.
When is the Best Time to Visit Yosemite National Park?
Yosemite National Park is a breathtaking destination, no matter what time of year you visit. Each season offers a unique experience, making it difficult to choose just one as the "best."
Spring (March to May)
Spring brings milder temperatures and blooming wildflowers. The waterfalls are at their peak flow due to melting snow, creating stunning cascades throughout the park. Crowds are generally smaller compared to the summer months.
Summer (June to August)
Summer is the peak season at Yosemite. The weather is warm, and all areas of the park are accessible. However, it's important to note that the park can get crowded, and popular sites may have heavy foot traffic. Reservations for camping and accommodations should be made well in advance.
Fall (September to November)
Fall brings cooler temperatures and vibrant foliage, especially in October. The park is less crowded compared to summer, and hiking conditions are favorable. Waterfalls may have reduced flow, but the iconic granite cliffs and scenic views remain breathtaking.
Winter (December to February)
Winter transforms Yosemite into a winter wonderland. Snow blankets the landscape, creating a stunning sight. Lower elevation areas like Yosemite Valley remain accessible, but higher elevations may have limited access due to snow and closures. The park is significantly less crowded during this time, but some facilities and services may be limited.
No matter the season, Yosemite always delivers a stunning display of nature's beauty.
Yosemite National Park 101: What You Need to Know Before Your Adventure
Are you planning a trip to Yosemite National Park? Get ready for stunning views, awe-inspiring hikes, and unforgettable memories!
Before you pack your bags and hit the road, there are a few things you should know.
Access Points
Yosemite National Park can be accessed through various entrances. but the most popular and accessible one is through the Yosemite Valley, which can be reached via Highway 41 from the south, Highway 120 from the west, or Highway 140 from the northwest.
Entry Fees
Private Vehicle: $35 for a 7-day pass, which allows entry for a private vehicle and all its occupants.

Motorcycle: $30 for a 7-day pass, allowing one motorcycle and its riders to enter.

Individual Entry: $20 per person for a 7-day pass, applicable to individuals entering on foot, bicycle, or non-commercial organized groups.
Camping and Accommodation
Campgrounds fill up quickly, so make advance reservations. Lodging options like hotels and cabins are available but book up early.
Wildlife and Safety
Yosemite is home to diverse wildlife. Practice wildlife safety and keep a safe distance. Be aware of hazards like cliffs and swift rivers.
Leave No Trace
Follow Leave No Trace principles, pack out your trash, stay on trails, and minimize your impact on the environment.
Pets
Pets are generally allowed in developed areas, campgrounds, picnic areas, and along paved roads and designated bicycle paths. However, Pets must be on a leash no longer than six feet (1.8 meters) at all times.
Cell Service
Cell service in Yosemite National Park can be limited and unreliable in many areas due to the park's remote and mountainous terrain.
23 Top Things to Do and See in Yosemite National Park
---
1. Visit Glacier Point for an Unforgettable View of Half Dome
If you're looking for a thrilling adventure in Yosemite National Park, then Glacier Point is exactly what you need.
This picturesque overlook provides an unforgettable view of Half Dome, towering 4,800 feet above the valley below.
Not only is the view stunning but there are plenty of fun and exciting things to do in the area.
Take a hike on one of the nearby trails, have a picnic in the lush meadows, or bask in the sun and snap some photos of the stunning scenery.
It's no wonder why Glacier Point is one of the most popular destinations in the park.
Don't miss out on the opportunity to experience this epic vista for yourself!
2. Enjoy the Incredible Views From Tunnel View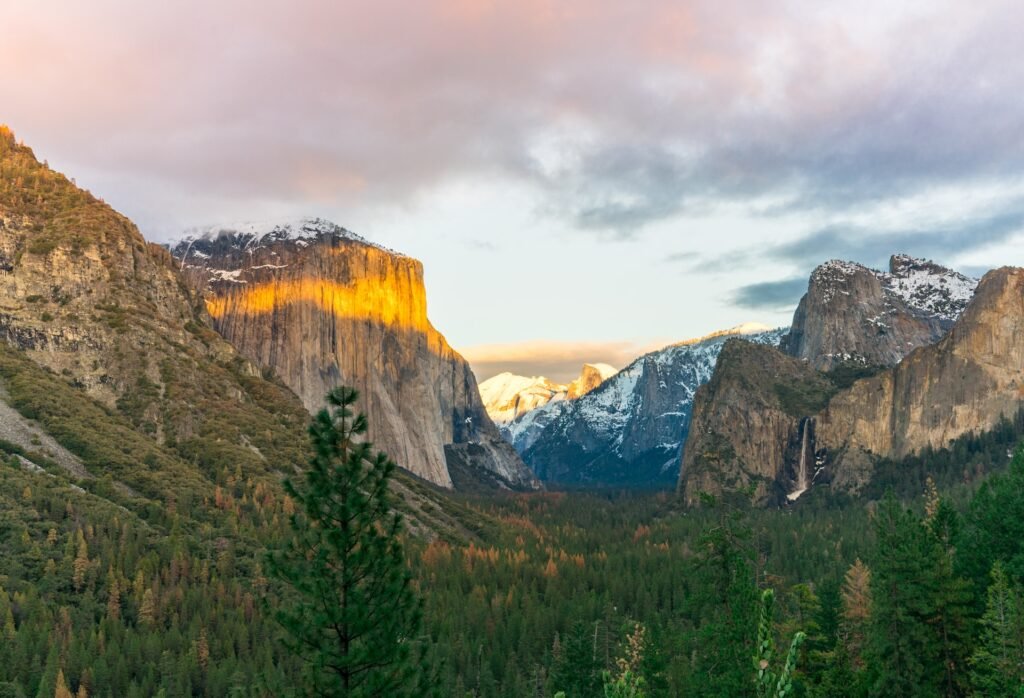 Are you ready for an adventure that's packed with breathtakingly beautiful sights?
Then you need to check out Tunnel View at Yosemite National Park!
Nestled in the heart of California, this stunning vista will take your breath away and leave you completely in awe.
With views of some of the most iconic landmarks in Yosemite, including El Capitan, Half Dome, and Bridalveil Fall, Tunnel View provides a picture-perfect backdrop for every photo you snap.
And if you're feeling adventurous, you can even hike to the top of one of these famous landmarks!
So what are you waiting for? Grab your camera and head on over to Tunnel View—adventure awaits!
3. Spend a Day Exploring Tuolumne Meadows
Hey adventure-seekers, have you ever considered spending a day exploring the magical Tuolumne Meadows at Yosemite National Park?
Get ready to breathe in some fresh mountain air, hike along scenic trails, and take in stunning views of the wilderness.
This playground of natural beauty has everything from picturesque hikes to crystal-clear rivers and streams where you can dip your toes and cool off.
Exploring Tuolumne Meadows is an experience like no other!
When you're out here, don't forget to keep an eye out for the amazing wildlife that calls this place home; deer, marmots, and foxes are just some of the animals you might spot on your adventure.
4. Hike Around Yosemite Falls and Take in The Breathtaking Scenery
Are you ready for an adventure in Yosemite National Park?
Hiking around Yosemite Falls is one of the most fun and exciting things to do in the park. The scenery is simply breathtaking as you take in the beauty of the cascading waterfalls surrounded by lush greenery.
As you hit the trails, make sure to bring your camera to capture stunning photos and memories that will last a lifetime.
Explore the rugged terrain and enjoy the fresh mountain air as you trek through the wilderness.
Whether you're an experienced hiker or just starting out, Yosemite Falls is sure to be an unforgettable experience.
5. Feast Your Eyes on the Beauty of El Capitan From up Close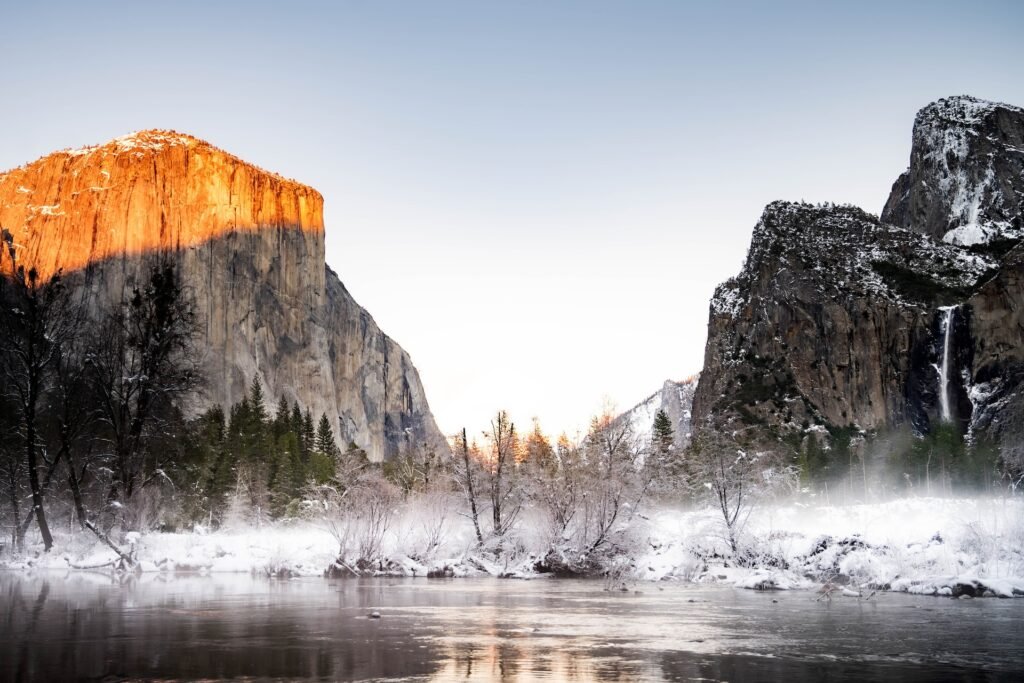 Grab your binoculars and a picnic basket because we're heading to El Capitan!
The beauty of this majestic rock formation is something that you just have to see up close to believe!
It's like looking at a painting that's come to life right before your very eyes.
Take a closer look at the rugged, exposed rock face, or sit back and watch as the sun sets, turning the granite into a warm red-orange hue.
You won't be disappointed with the view or your stomach as you chow down on some tasty snacks while taking in the gorgeous scenery.
Come on, what are you waiting for? The view of El Capitan is calling your name!
6. Visit Olmsted Point and Take an Unforgettable Picture of Half Dome
If you're ready for a fun adventure that will leave you with an unforgettable memory, head over to Olmsted Point for a snap of a lifetime!
This is a prime location to capture a beautiful picture of one of the most iconic landmarks in Yosemite National Park, Half Dome.
Trust me, your social media followers will be absolutely green with envy once they see your shot.
So grab your camera, pack a picnic, and let's get going!
While you're there, take a stroll along the walking trail and enjoy the breathtaking views of the mountains around you.
Don't forget to stop and smell the wildflowers!
Olmsted Point is a hidden gem that truly highlights the natural beauty of Yosemite, so don't miss out on the opportunity to capture the perfect picture.
7. Check Out The Gorgeous Hetch Hetchy Reservoir
Hey there, adventure seekers! Looking for the next stunning spot to add to your bucket list?
Look no further than the Hetch Hetchy Reservoir at Yosemite National Park.
Trust us, you won't be disappointed. With its crystal-clear waters and magnificent mountain backdrop, this natural gem is an absolute must-see.
Whether you're up for some hiking, fishing, or just a leisurely stroll, the Hetch Hetchy Reservoir has got you covered.
Don't forget to bring your camera, because the views are truly breathtaking.
So what are you waiting for? Pack your bags and head on over to Yosemite to experience the beauty of the Hetch Hetchy Reservoir firsthand!
8. Stop By the Yosemite Valley Visitor Center
Ready to have some fun? Stop by the Yosemite Valley Visitor Center for an adventure you won't want to miss!
This lively hub offers everything from interactive exhibits to informative ranger talks, providing visitors with abundant knowledge about the natural wonders that make Yosemite National Park truly one-of-a-kind.
Whether you're an experienced park-goer or a first-time visitor, the knowledgeable staff will guide you through the countless sights and experiences that Yosemite has to offer.
The Visitor Center is the perfect starting point for a day of adventure in the great outdoors.
9. Take a Drive On Tioga Road to Appreciate Its Beauty
Buckle up and get ready for a ride that will take your breath away!
Tioga Road at Yosemite National Park is not only an incredible piece of engineering, but it is also a genuine slice of heaven on earth.
The road provides some of the most stunning views of the Sierra Nevada range, and you will want to stop several times to take it all in.
From granite cliffs to cascading waterfalls, from wildflowers to giant sequoias, this road is an adventure that you don't want to miss.
Get your engines started, grab your favorite people, and hit the road!
10. Walk Around Mirror Lake & Admire The Reflections Of The Surroundings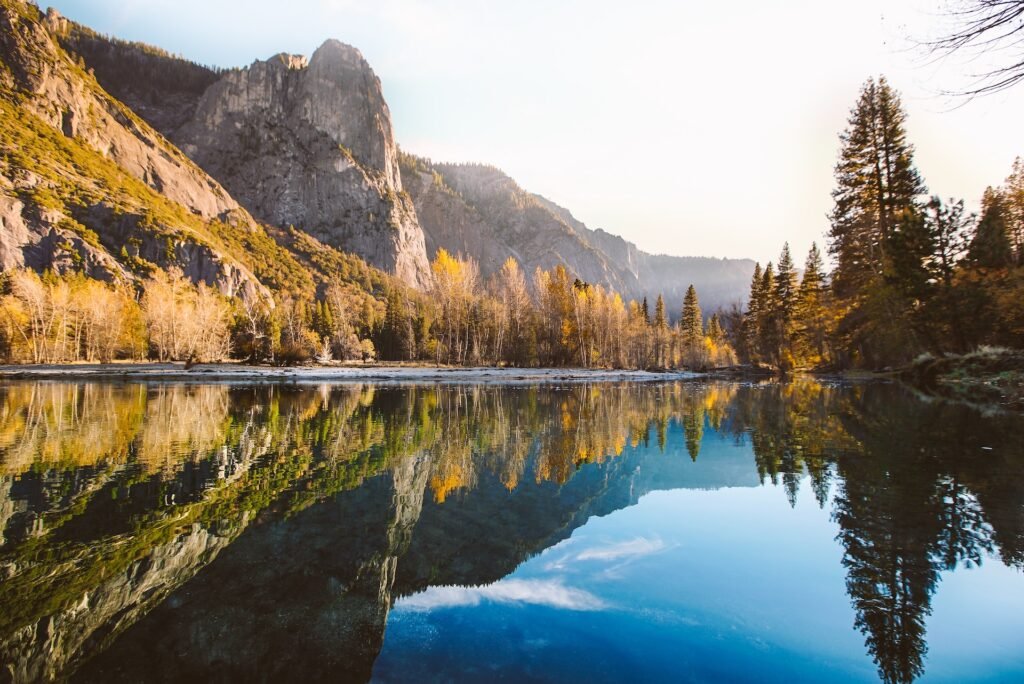 Are you ready to take a leisurely stroll around Mirror Lake and soak up the natural beauty of Yosemite National Park?
Trust us, you won't want to miss the chance to admire the stunning reflections of the surroundings on the crystal-clear waters of Mirror Lake.
Whether you're an experienced hiker or just looking for a relaxing walk, the path around Mirror Lake is perfect for all skill levels.
Don't forget to bring your camera to capture the incredible scenery and maybe even sneak in a selfie or two.
11. Check Out the Historical Sights Like Yosemite Village and the Ahwahnee Hotel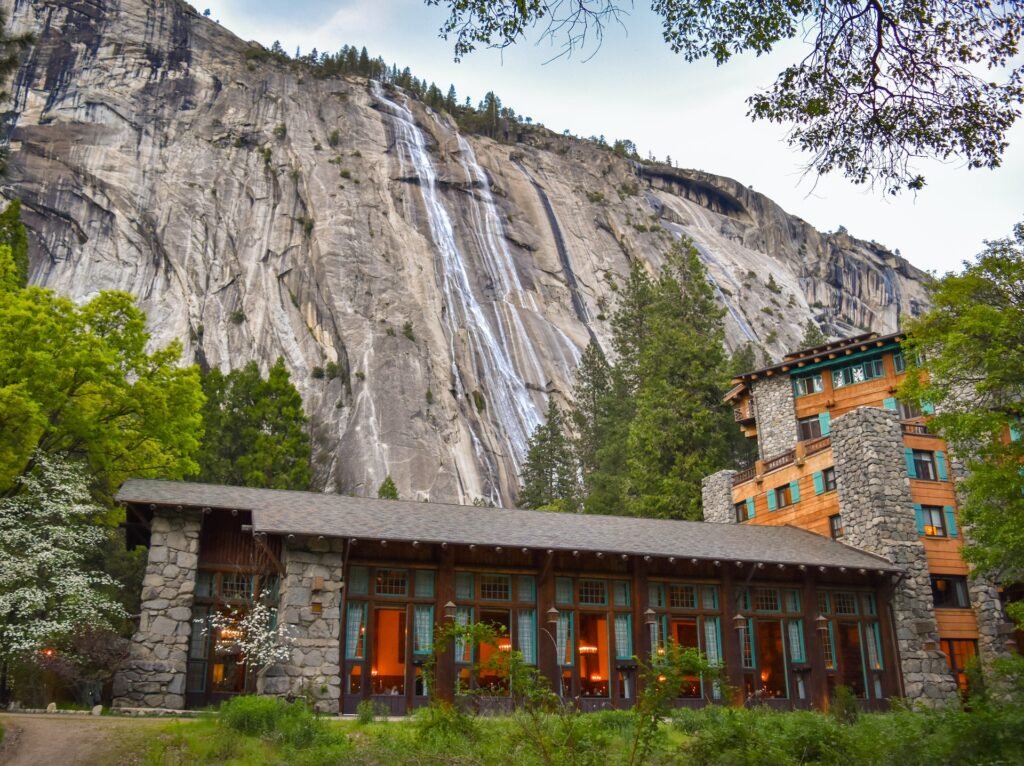 Get ready for a voyage back in time as you explore the historical sights of Yosemite National Park!
From the quaint Yosemite Village to the grand and luxurious Ahwahnee Hotel, there's something for everyone.
Take a stroll through the charming village, where you can catch a glimpse of how life was in the early days of the park.
Then, make your way to the majestic Ahwahnee Hotel, which has welcomed presidents and celebrities alike.
With its stunning architecture and rich history, you'll feel like you're living in a bygone era.
So don't miss out on the chance to step back in time and discover the fascinating history of Yosemite!
12. Witness The Fire Fall Phenomena At Horsetail Fall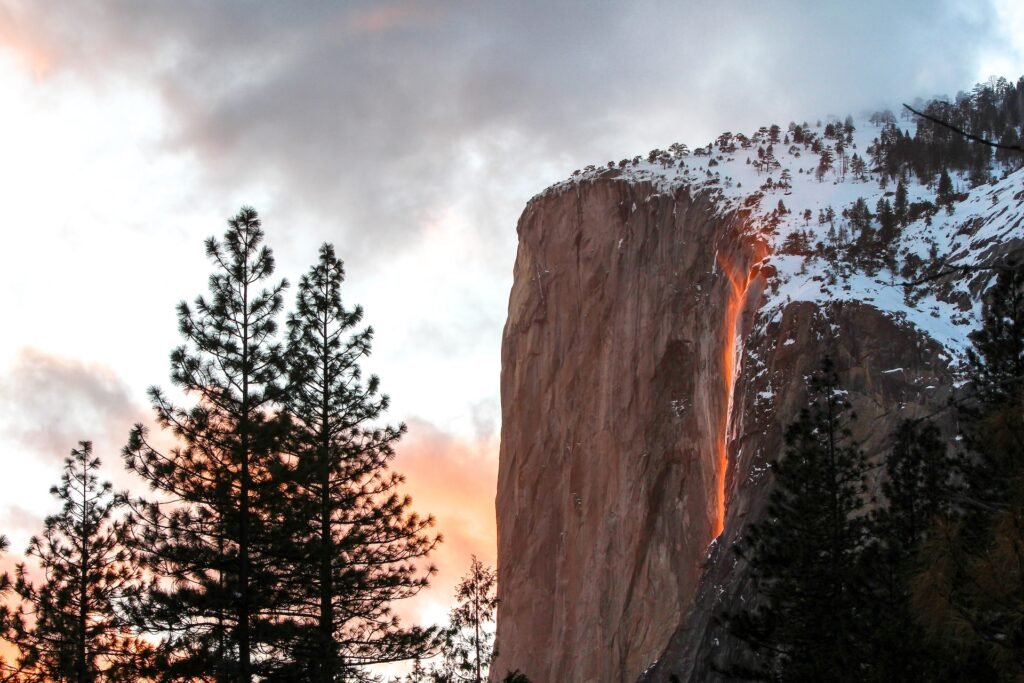 Get ready to witness a fiery show like no other!
Horsetail Fall at Yosemite National Park is home to one of the most spectacular natural phenomena in the world – the fire fall!
As the sun sets, a streak of red and orange light pours down the face of the waterfall, making it look like it's on fire.
It's a sight that you'll never forget!
Pack your bags, grab your camera, and make sure to bring some marshmallows for a bonfire afterward.
Who knew flames and waterfalls could make for such an unforgettable combination?
Don't miss out on this magical experience—witness the fire fall at Horsetail Fall!
13. Visit Bridalveil Fall or Vernal Falls and Feel Their Powerful Energy
There are so many fun and exciting things to do in Yosemite National Park, but visiting Bridalveil Falls or Vernal Falls definitely has to be near the top of the list!
These waterfalls are absolutely breathtaking, and you can feel the energy and power they exude just by standing in their presence.
It's a truly exhilarating experience that you don't want to miss out on!
Whether you're with your family, your significant other, or just by yourself, this is an activity that will leave you feeling energized and refreshed.
14. Visit the Fascinating Ansel Adams Gallery in Yosemite Village
Are you ready for a dose of natural beauty? Look no further than the Ansel Adams Gallery in Yosemite Village!
As soon as you step through the doors, you'll be transported to a world of awe-inspiring black-and-white landscapes captured by the legendary photographer himself.
From towering trees to rushing waterfalls, every image is a masterful tribute to the incredible natural wonder of Yosemite.
Plus, there are plenty of knowledgeable staff members happy to chat with you about photography, art, and all things Yosemite.
So pack a camera and your sense of adventure, because the Ansel Adams Gallery is waiting for you to unlock its secrets.
15. Take a Day Trip to Nearby Mariposa Grove and Explore the 500+ Giant Sequoias
Blow off the steam in nature's ultimate playground; take a stroll through the beautiful Mariposa Grove and get lost in the lush greenery of the humongous 500+ Giant Sequoias.
Perfect for a quick nature getaway, a day trip to this grove offers a great opportunity to connect with the outdoors while still staying close to civilization.
Satisfy your sense of adventure and feel the earth beneath your feet, surrounded by an ambiance of quiet and peace.
And if you're lucky enough, you might even chance upon a bear or two! So pack a lunch, throw on those hiking shoes, and let the good times roll.
16. Take a Boat Ride on Lake Tenaya and Enjoy the Stunning Scenery Around You
Ready for a splashin' good time? Hop on a boat ride on Lake Tenaya in Yosemite and let the natural beauty keep you mesmerized the whole way.
Whether you're a seasoned adventurer or a first-time explorer, there's something to delight in for everyone on this water adventure.
Feel the cool breeze whipping through your hair as you take in the stunning scenery around you, and let yourself unwind with the peace and tranquility of the open lake.
17. Hike Up to Sentinel Dome or Cloud's Rest for Breathtaking Views of Half Dome & High Country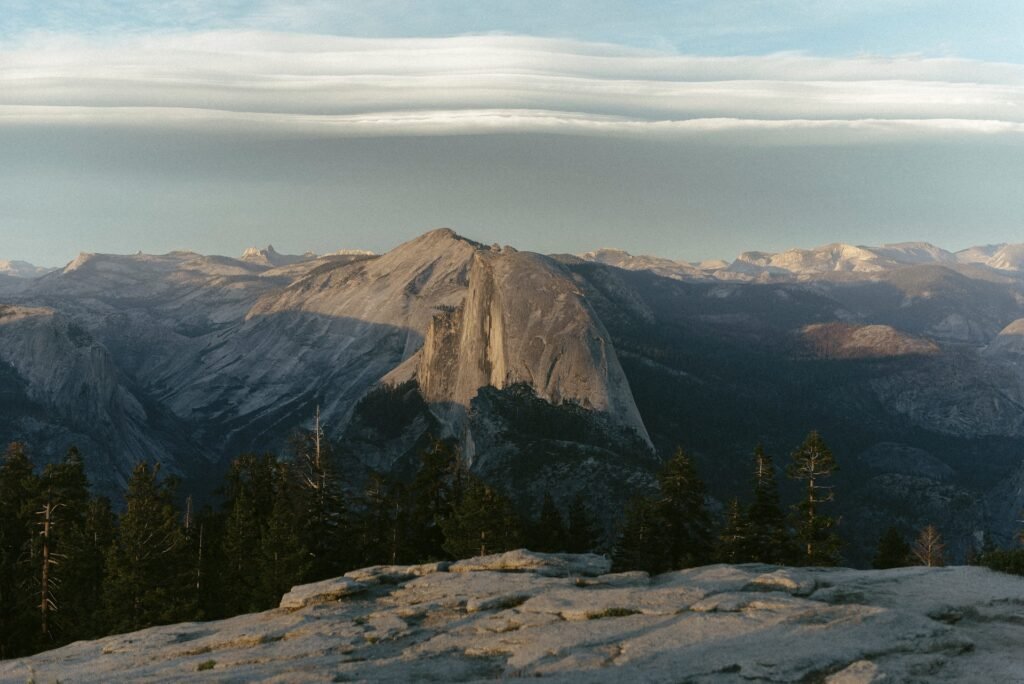 I don't know about you, but when I hear the word "Sentinel Dome" I can't help but imagine a grand, majestic tower overlooking the stunning views of Yosemite Valley.
Well, let me tell you, that's pretty darn close to the real deal! Hiking up to Sentinel Dome or Cloud's Rest is a must-do for any avid nature lover or adventure enthusiast.
With breathtaking views of Half Dome and the high country, it'll leave you in awe and wondering why you haven't done it sooner.
Plus, what's better than getting a little exercise while taking in some seriously breathtaking views?
18. Challenge Yourself With a Climb Up to the Top of El Capitan for an Unforgettable Experience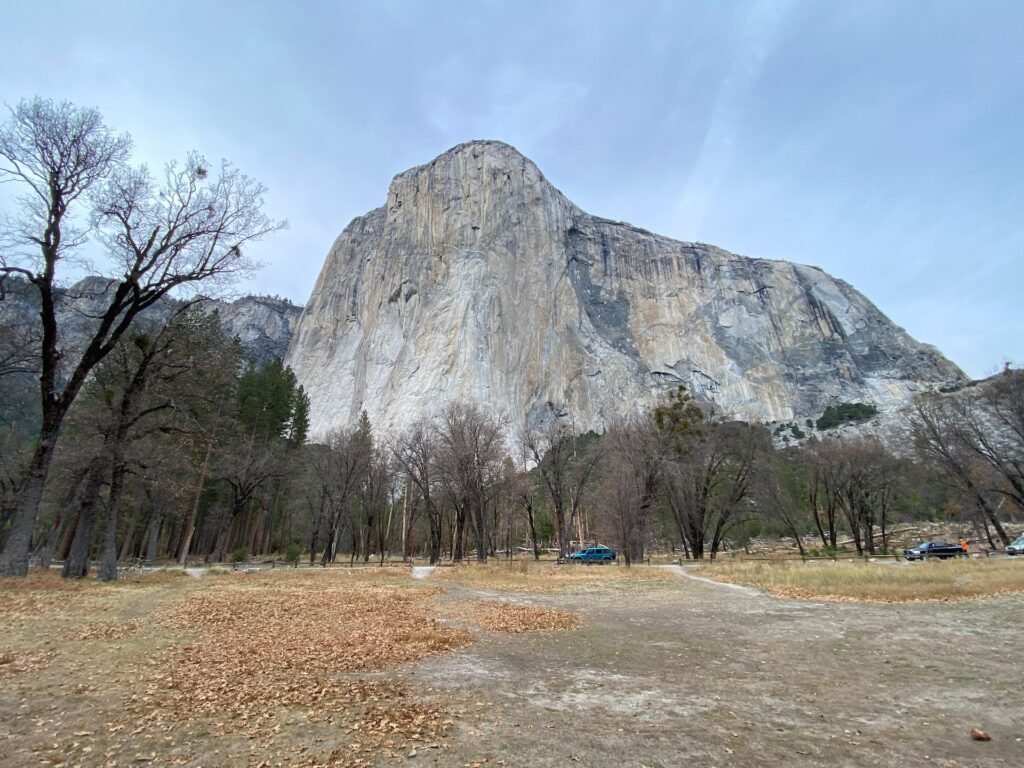 Are you ready to take on the ultimate challenge? It's time to climb to the top of El Capitan!
This majestic rock formation in Yosemite National Park is not for the faint of heart, but if you're up for an adventure, it's an experience you won't soon forget.
Savor the fresh mountain air as you make your way up the rugged terrain, feeling a sense of accomplishment with each step.
Don't forget to take a moment to soak in the stunning views from the top; it's worth every drop of sweat and every muscle ache.
So what are you waiting for? Let's start climbing!
19. Explore the Sequoia Groves and Admire Their Grandeur
Get ready to have your socks knocked off by some serious nature awesomeness!
If you're a fan of grandeur and beauty, you can't miss out on exploring the sequoia groves.
These towering giants are nothing short of breathtaking, and their scale can only be truly appreciated in person.
It's like standing next to a building, but one that is completely alive and has been around for hundreds, if not thousands, of years!
Imagine how your Instagram feed would look decorated with these giant redwood trees.
Trust us, it'll be worth it. Get your explorer hat on and head out to tick this natural wonder off your bucket list!
20. Stargaze From One Of The Many Secluded Spots in Yosemite National Park
Are you ready to have your mind blown? Grab a blanket and some snacks, because we're taking a trip to Yosemite National Park for some stargazing!
Picture this: you're tucked away in one of the many secluded spots in the park, surrounded by nothing but nature and the dazzling twinkle of the stars above.
The silence is deafening, broken only by the occasional hoot of an owl or the rustle of a nearby critter.
It's like you're in your own little world, far away from all the hustle and bustle of everyday life.
This is the perfect opportunity to make a wish on a shooting star or simply bask in the glory of the cosmos. So what are you waiting for? Let's go get lost in the stars!
21. Take a Horseback Ride Along the Merced River
Saddle up, y'all! There are two options to choose from for an unforgettable outdoor adventure.
Want to feel the wind in your hair while enjoying scenic views of the Merced River? Then hop on a horse and let it take you for a ride.
If you prefer a more guided experience, join up with a seasoned ranger who will show you all the best spots on a nature tour.
Whatever your preference, both options are sure to provide a fun-filled day for explorers of all ages. So come on, let's giddy up and get going!
22. Relax at one of Yosemite's Many Hot Springs, Perfect For a Relaxing Day
There's no better way to unwind after a long day of hiking than by soaking in one of the park's tranquil hot springs.
Whether you're looking to soothe sore muscles, calm the mind, or simply bask in the natural beauty of your surroundings, these hot springs are the perfect spot.
Let the steam rise from the warm waters and watch as your worries melt away.
So don't hesitate, grab your swimsuit, grab a friend, and head on over to one of Yosemite's many magical hot springs for a day of pure relaxation.
23. Enjoy an Evening of Camping Under the Stars & Listening to the Sound of Nature
Ready for an unforgettable night? Grab your camping gear and get ready to immerse yourself in the great outdoors.
Leave the hustle and bustle of everyday life behind and enjoy the serenity of nature.
As you settle in for the night, look up and marvel at the millions of stars twinkling in the sky above.
Listen carefully, and you'll hear the sound of a burbling stream or the rustle of leaves as the breeze picks up.
Maybe you'll even catch a glimpse of some nocturnal animals scurrying about.
Camping is more than just sleeping outside; it's a chance to disconnect from screens and reconnect with the world around us.
Don't forget to grab your marshmallows and hot cocoa and get ready to make some unforgettable memories.