Attention nature enthusiasts!
Do you want to witness one of the most stunning natural wonders in California? Look no further than the sunflower fields!
From towering blooms that stretch towards the sky to rows of golden petals swaying in the warm breeze, these fields are a feast for the senses.
In addition to these stunning fields, California is also home to numerous lavender farms and wildflower fields that offer visitors a sensory feast of purple blooms and fragrant aromas.
But with the fleeting nature of these beauties, you'll want to act fast to catch them at their peak.
In this article, we'll share the best time to see sunflowers in California and highlight 18 Must-See Sunflower Fields in northern and southern California, complete with tips for making the most of your visit.
Get ready to be transported to a world of sunshine and happiness!
What's the Best Time to See Sunflowers in California?
If you're looking to bask in the golden glow of California's sunflower fields, then you'll want to plan your visit for mid-summer to early fall. That's when these cheerful flowers are at their peak and putting on their best show.
And if you're lucky, you might even catch a glimpse of some cute critters like bees and butterflies buzzing around, doing their part to keep the flowers thriving.
Tips For Visiting California's Sunflower Fields
If you're planning on visiting California's sunflower fields, get ready for a bright and beautiful adventure!
Here are some tips to help you make the most of your trip:
1. Time Your Visit Right
Sunflowers bloom at different times in different parts of California. Research the best time to visit the sunflower fields in the area you plan to visit, to ensure that you don't miss the peak blooming season.
2. Dress Appropriately
Sunflower fields can get hot and dusty, so dress appropriately in comfortable, lightweight clothing and footwear that can get dirty. Bring a hat, sunscreen, and sunglasses to protect yourself from the sun.
3. Be Respectful of The Flowers
When visiting sunflower fields, it's important to be respectful of the flowers and the environment. Don't pick the flowers or trample on them. Stick to designated paths and don't disturb the wildlife.
4. Bring Water and Snacks
It can get hot and tiring walking around the sunflower fields, so make sure to bring plenty of water and snacks to keep yourself hydrated and energized.
5. Explore The Area
Many sunflower fields are located in scenic areas with other attractions nearby. Take some time to explore the surrounding area and make a day trip out of your sunflower field visit.
Best Sunflower Fields in Northern California Map
1. Swank Farms
Swank Farms
4751 Pacheco Pass Hwy, Hollister, CA 95023
Peak bloom: Early July
Entry: $25
https://www.swankfarms.com
Have you ever had the opportunity to romp through fields of giant sunflowers, their faces turned towards the sun in a cheerful greeting?
Well, let me tell you, a trip to Swank Farms in Hollister, California is just the place for that!
The Swank Farms ranch was purchased by Bill Maggini in 1928 and has undergone many transformations over the years. Originally planted with 30 acres of prune trees and 30 acres of peach trees
Today, The bright yellow petals almost seem to take on a life of their own, swaying in the warm California breeze.
And the best part? You can take home your very own sunflower bouquet!
Grab a selfie and make memories as you stroll through the endless rows of these cheerful flowers.
It may sound like a cliche, but I can honestly say that a visit to Swank Farms was the happiest walk I've ever taken.
2. Andreotti Family Farms Pumpkin Patch
Andreotti Family Farms
800 Cabrillo Hwy N, Half Moon Bay, CA 94019
Peak bloom: September
Entry: $20 for a 50-minute visit for an adult, which includes five sunflowers that you handpick yourself.
https://andreottifamilyfarms.net
Andreotti Family Farms is a family-run business that has been managing their farm for three generations, beginning with their grandparents in 1926.
Imagine wandering through vast fields of towering sunflowers, their golden faces stretching up toward the bright blue sky.
That's exactly what you'll experience when you visit the sunflower fields at Andreotti Family Farms in California.
As soon as you step onto the farm, you'll be surrounded by a sea of yellow, with rows and rows of sunflowers as far as the eye can see.
Whether you're snapping Instagram-worthy photos or simply soaking up the sunshine, a trip to Andreotti Family Farms is a must-do for any sunflower enthusiast.
So grab your camera, don your sunhat, and get ready to bask in the glory of one of nature's most stunning displays.
3. Pedrick Produce
Pedrick Produce
6850 Sievers Rd, Dixon, CA 95620
Peak bloom: Early July
Entry: Free
https://pedrickproduce.com
Pedrick Produce is a family-owned business founded in 1989 that provides locally grown produce, nuts, and specialty items to customers
I recently visited Pedrick Produce in Dixon, California, and let me tell you, it was an experience like no other.
I couldn't help but feel happy and carefree as I wandered through the sunflower fields, surrounded by vibrant yellow petals that reached up to the sky.
The air was filled with the sweet aroma of the flowers and the sound of buzzing bees.
Pedrick Produce only selects the best produce and works directly with the growers to ensure that their products are fresh and full of nutrition, flavor, and vitality.
If you're looking for a fun and unique activity, visiting the sunflower fields at Pedrick Produce is an absolute must-see!
4. Currey Road Sunflower Fields
Currey Road Sunflower fields
Peak bloom: Early July
Entry: Free
8747 Currey Rd, Dixon, CA 95620
It was a sunny day in California and we decided to visit the famous Currey Road sunflower fields.
This field is simple to locate. Look for the Dixon Fruit Market, located at 7808 Batavia Rd, Dixon, CA 95620, and you'll see the fields across the road.
As we approached the fields, we could see the bright yellow blooms stretching out before us like a sea of sunshine.
A feeling of excitement washed over us as we stepped out of the car. Everywhere we looked, there were rows upon rows of towering sunflowers, each one more magnificent than the last.
It was an experience that was both breathtaking and exhilarating and one that we'll never forget
Please note: This is a private Sunflower Field. Walking inside the field might harm their crop, so take photos only from the roadside.
So, if you're looking for a little bit of sunshine in your life, make sure to visit the sunflower fields at Currey Road. You won't be disappointed!
5. Kidwell Exit on Hwy 80
Kidwell Exit on Hwy 80
Entry: Side of the road fied
Peak Bloom: August
Kidwell Rd, California 95620
Picture this: driving down Hwy 80 in California, windows rolled down, hair blowing in the wind, and suddenly you see it- a sea of yellow and green, the Kidwell Exit Sunflower Fields.
Pulling off the highway, you step out of your car and are engulfed in a maze of towering sunflowers.
There's something about being surrounded by these bright and cheerful blooms that just puts a smile on your face.
Whether you're a local or just passing through, a trip to the Kidwell Exit Sunflower Fields is definitely worth the stop- just don't forget your camera and your sense of wonder!
6. The Collins Farm
The Collins Farm
9055 Olmo Ln, Davis, CA 95616
Peak Bloom: End of July
Instagram: the.collins.farm
Visiting the sunflower fields at The Collins Farm in Davis, California was nothing short of an adventure.
I was engulfed in a sea of yellow petals, towering over me like the sunflowers were trying to hug me. Walking through the fields, I felt like a tiny ant in a massive garden.
The experience was exhilarating, especially with the sweet scent of the sunflowers. It was like walking through a candy store and taking a big whiff of all the sugary sweets.
If you're in the area and looking for an unforgettable outing, visiting The Collins Farm sunflower fields is a must!
7. Road 26 and Road 89 Near Winters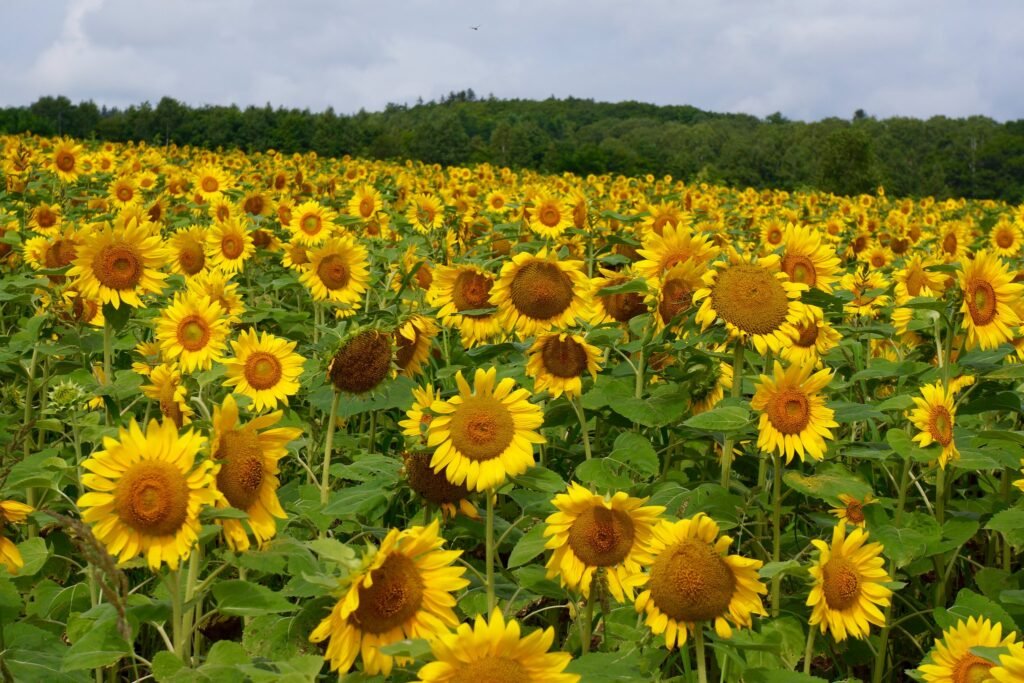 Road 26 and Road 89 near winters
Citrona, CA 95694
Peak Bloom: The Sunflower season lasts from mid-June through late July.
Imagine being surrounded by fields of bright, yellow sunflowers as far as the eye can see!
That's exactly what you'll experience when you visit the sunflower fields at Road 26 and Road 89 near Winters Citrona, California.
You can't help but feel happy and cheerful when you're in the presence of these giant flowers towering over you.
It's the perfect spot to snap some Instagram-worthy photos. And if you're lucky, you might even catch a glimpse of a monarch butterfly fluttering by.
So put on your favorite sun hat and get ready to bask in the sunshine!
8. M Three Ranches
M Three Ranches
Peak bloom: mid-June to mid-July; for the finest show, aim for the first week of July.
Entry: Free, but make arrangements with the owners before visiting
35472 Co Rd 18A, Woodland, CA 95695
https://mthreeranches.com
If you're a fan of bright, sunny vibes, then a visit to M Three Ranches in Woodland, California is a must-do on your bucket list!
M Three Ranches is a family-owned farming operation that utilizes technology and sustainable practices to produce high-quality agricultural products. With over 50 years of experience, they are known for being a top grower of various crops in the Sacramento Valley
The sunflower fields there are simply breathtaking, with rows upon rows of golden blooms reaching up to the endless blue sky.
Walking through these fields of happiness, you'll feel like the star of your very own Instagram-worthy photo shoot.
Prior to visiting the ranch, it is advisable to contact them via email to obtain permission.
the owners will provide you with an address where you can take photographs of the flowers without any legal complications. However, please be aware that picking the sunflowers is not permitted.
Best Sunflower Fields in Southern California Map
1. The Pumpkin Station in Rancho Bernardo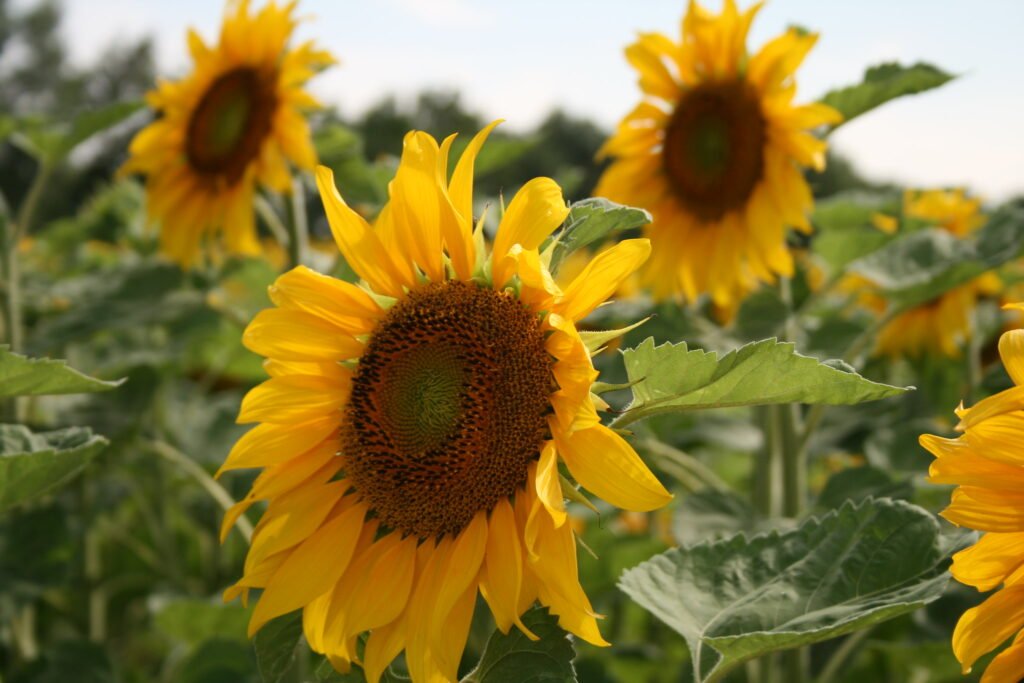 The Pumpkin Station in Rancho Bernardo
13421 Highland Valley Rd, Escondido, CA 92025
Peak Bloom: Early September is the best time to see the flowers.
Entry: Cut-your-own sunflower stems cost $2.
https://www.pumpkinstation.com
If you're looking for a picture-perfect day out in California, a visit to the sunflower fields at the Pumpkin Station in Rancho Bernardo is an absolute must!
The vibrant, yellow blooms stretch out as far as the eye can see, creating an awe-inspiring sight that will take your breath away.
Not only is it the perfect opportunity for an Instagram-worthy photo, but it's also a great way to appreciate the great outdoors and reconnect with nature.
From wandering around the fields to picking your own sunflowers to take home, the Pumpkin Station is a fun and exciting destination for anyone who loves the bright, beautiful colors of nature.
Whether you're a local or a visitor to the area, the sunflower fields are a must-see attraction that promises a memorable day out for the whole family.
2. Carlsbad Strawberry Company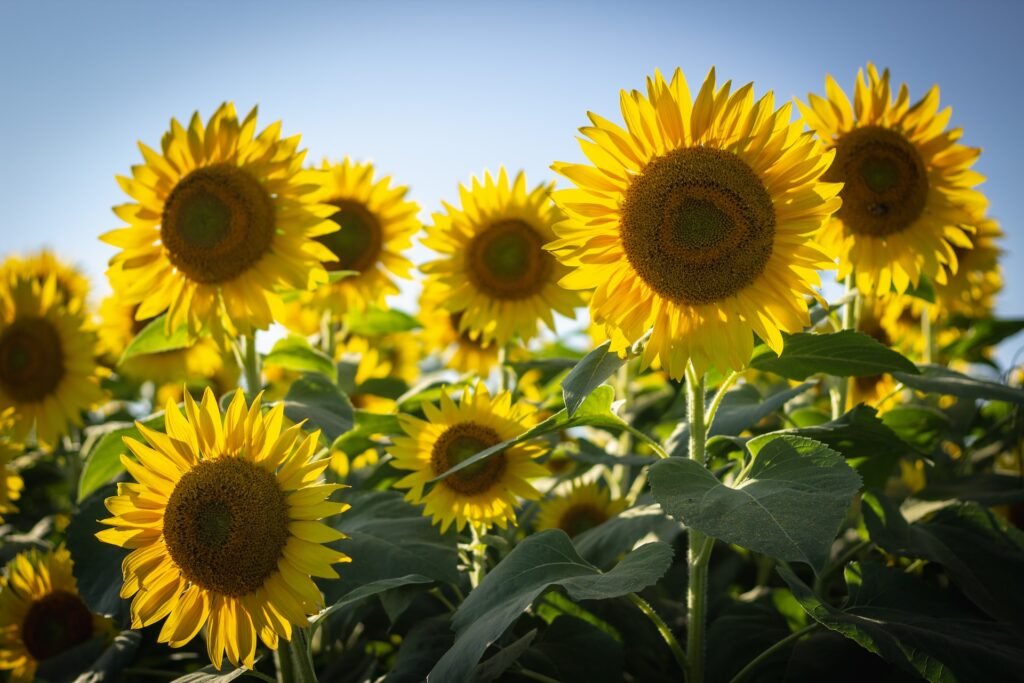 Carlsbad Strawberry Company
1050 Cannon Rd, Carlsbad, CA 92008
Peak bloom: September
Entry: $5 per person
https://www.carlsbadstrawberrycompany.com
As the summer winds down and the weather starts to cool off, there's one place you absolutely must visit before the season ends: Carlsbad Strawberry Company's sunflower fields in California.
Carlsbad Strawberry Company, a family-owned business that has been growing strawberries for four generations, is renowned for producing the most delicious strawberries. They have been an integral part of the Carlsbad community since the 1950s
Unlike the other sunflower fields on this list, Carlsbad Strawberry Company is unique in that the sunflowers are not always the primary draw.
Visitors are mainly attracted to the farm for its delectable strawberries, which are a must-try.
However, they do have a Sunflower maze of bright, beautiful sunflowers stretching as far as the eye can see, their petals turning towards the sun like happy little faces.
3. 1st Fruits Farm
1st Fruits Farm
41625 Altanos Rd, Temecula, CA 92592
Entry: make arrangements with the owners before visiting
https://www.1stfruitsfarm.com
The sunflowers at 1stFruitsFarm in Temecula, California are a sight to behold, and an experience you'll never forget.
You can't help but smile as you pose for selfies surrounded by cheerful flowers, and you leave feeling renewed, recharged, and absolutely exhilarated.
Both Farmer Marty and Farmer Kim grew up in Southern California without much exposure to farming, despite having farming grandparents in the San Joaquin Valley. However, they shared a desire to provide fresh produce for their families and moved to Temecula to pursue their vision.
If you visit during spring to early fall when the sunflowers are in bloom, you can pay a small fee to pick and take home these gorgeous flowers from their beautiful sunflower fields
4. South Coast Farms U-Pick
South Coast Farms
33201 Ortega Hwy., San Juan Capistrano, CA 92675
Peak Bloom: End of September
http://southcoastfarms.com
Visiting the sunflower fields at South Coast Farms U-Pick in San Juan Capistrano, California is an absolutely exhilarating experience.
The farm is situated at Tree of Life Nursery in San Juan Capistrano where they cultivate all their pesticide-free produce.
For an authentic harvesting experience, visitors can handpick sunflowers, strawberries, vegetables, and pumpkins. The farm is open on Fridays, Saturdays, and Sundays from 9 AM to 4 PM until October.
You can take your time strolling through the fields, soaking up the sun and the beauty of nature.
It's the perfect place to relax and get away from the hustle and bustle of everyday life.
There's something truly magical about being surrounded by these beautiful golden blooms; the experience is not to be missed.
5. Hana Field by Tanaka Farms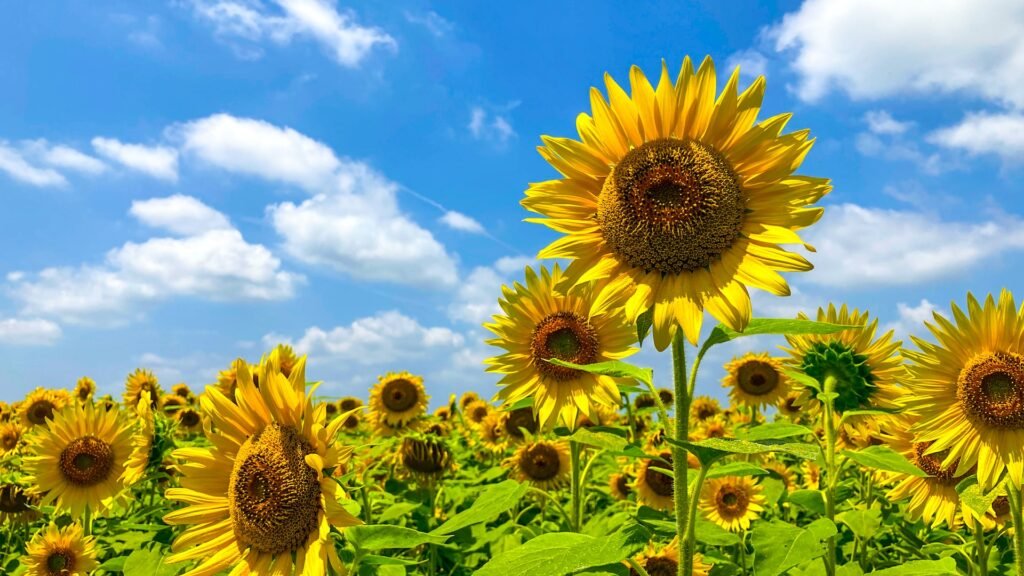 Hana Field by Tanaka Farms
427 Anton Blvd, Costa Mesa, CA 92626
Peak bloom: During the summer and into the fall
Entry: The pumpkin patch entry costs $20, and it's $6 for the flower fields.
https://www.tanakafarms.com
My heart raced as I stepped into the dazzling world of Hana Field by Tanaka Farms in Costa Mesa, California.
The air was thick with the floral scent of these majestic plants, and I felt a sense of awe wash over me as I gazed upon them
Hana means flower in Japanese, and Tanaka Farms' Hana Field in Costa Mesa has acres and acres of lovely seasonal flowers such as sunflowers (all year), marigolds (fall), and more!
Visitors are advised to bring their own cutting utensils and gardening gloves since sunflower stems can be thick and tough, and the farm has a limited supply of cutters for purchase.
HANA FIELD IN COSTA MESA is an operational farm! The fields may get fairly muddy, so wear closed-toe shoes that you don't mind getting dirty
If you ever find yourself in Costa Mesa, be sure to pay a visit to Hana Field – the breathtaking views and unforgettable atmosphere are not to be missed!
6. Los Rios Rancho
Los Rios Rancho
39611 Oak Glen Rd, Yucaipa, CA 92399
Entry: reach out for booking at info@losriosrancho.com
https://losriosrancho.com
If you're looking for a unique and stunning experience in California, Los Rios Rancho in Yucaipa is the place for you!
Los Rios Rancho is a farm with over 10,000 apple trees where that aim to meet the demand for farm fresh produce through U-Pick.
The farm also grows raspberries, strawberries, corn, and pumpkins. They host public and private events in their market barn with a cafe.
Free sunflower picking is available, and they even provide you with the necessary sheers and instructions on how to cut your sunflowers. The farm is best visited in late September through early October.
A visit to Los Rios Rancho is an unforgettable experience that will create memories you'll cherish forever.