Tucked in the breathtaking shadow of the eastern Sierra Mountains, Mammoth Lakes is a dream come true for the outdoor enthusiast.
With endless trails to explore by foot or bike, crisp alpine lakes to picnic beside, and vast ski slopes perfect for any skill level, this California mountain town offers so many thrilling things to do year-round.
Whether you're an adrenaline junkie looking for thrills or an adventure seeker seeking stunning scenery and unique experiences, Mammoth Lakes has something exciting in store!
Here are our top 31 recommendations (in no particular order) on how to make the most of your time in Mammoth Lakes.
1. Stroll Around The Village At Mammoth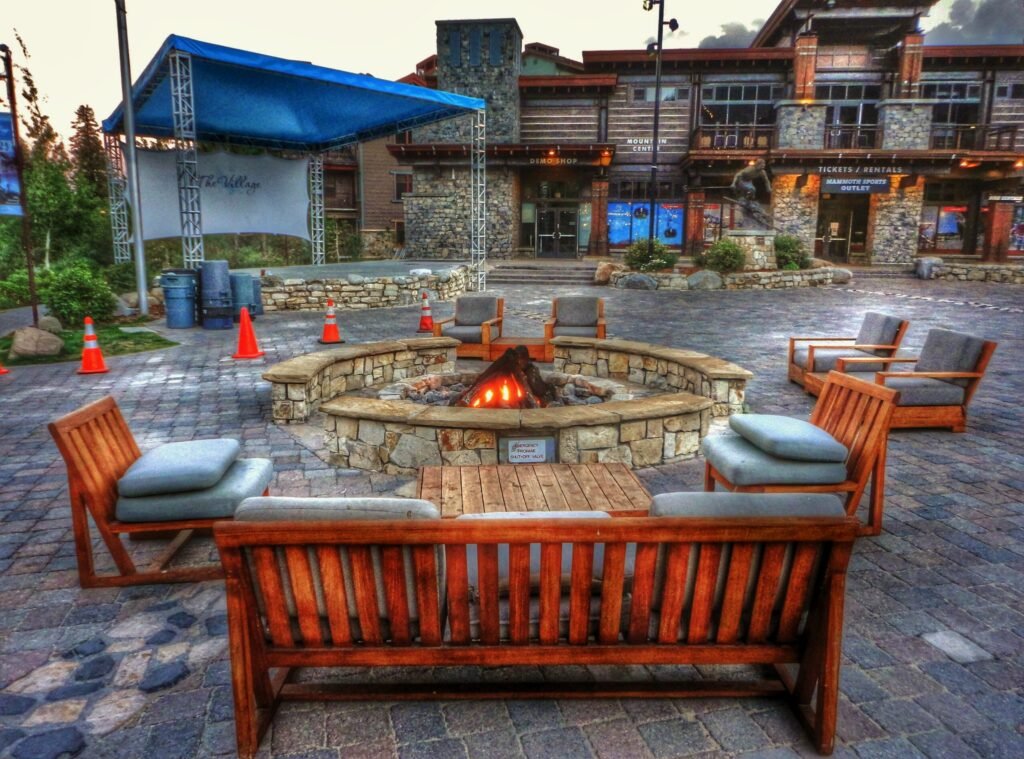 Go on an adventure around the village at Mammoth and explore its many wonders!
Experience the sounds of nature and the peaceful serenity of tucked-away paths.
Get lost in the galleries or unique boutiques for a fun-filled day.
Not only can you go sightseeing, but you can also visit some amazing restaurants and grab food from all around the world!
Don't forget to take in the antique architecture that adds a hint of nostalgia to your stroll throughout town.
Whether shopping, exploring, or just taking a relaxing walk, Mammoth is sure to have something in store for everyone!
2. Witness The Fascinating Devils Postpile National Monument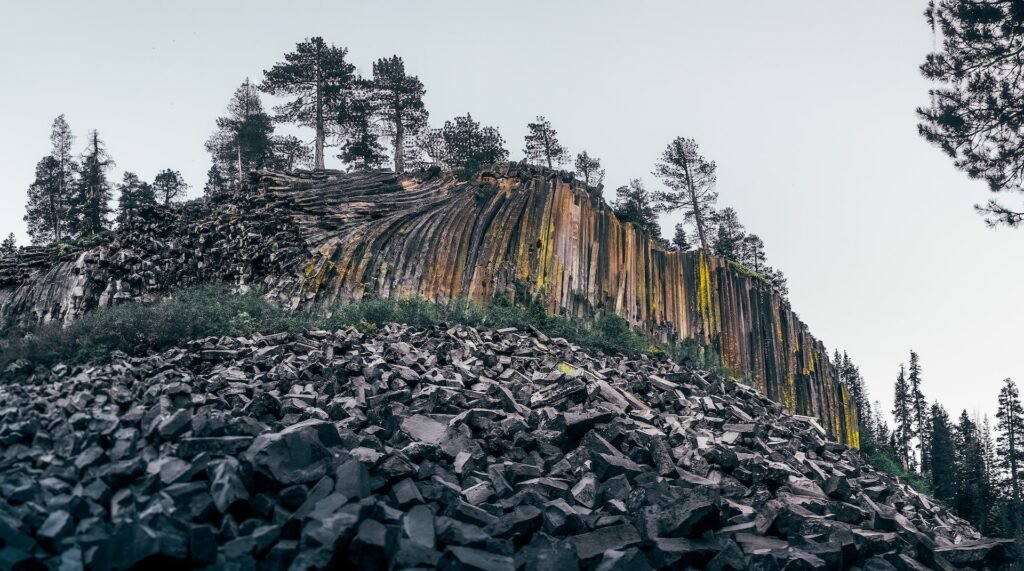 Mammoth Lakes is a small but breathtaking city located in the Eastern Sierra region of California.
While it's home to plenty of things to do, one of its most fascinating attractions is Devils Postpile National Monument.
It is renowned for the dark basalt columns that form the impressive Postpile formation, and you can take the short walk down to Rainbow Falls to take in spectacular views sculpted by glaciers thousands of years ago.
Hikers will enjoy exploring both marked trails and backcountry trails nearby and observing things like ancient Native American petroglyphs and wildlife like birds, marmots, coyotes, and mule deer.
As if that isn't enough, you might even get a chance to see some friendly schist or rhyolite cliffs if you're lucky!
All around Mammoth Lakes, including at the Devil's Postpile, it's impossible not to be amazed at just how incredible nature really is.
3. Explore The Unique Beauty Of Hot Creek Geological Site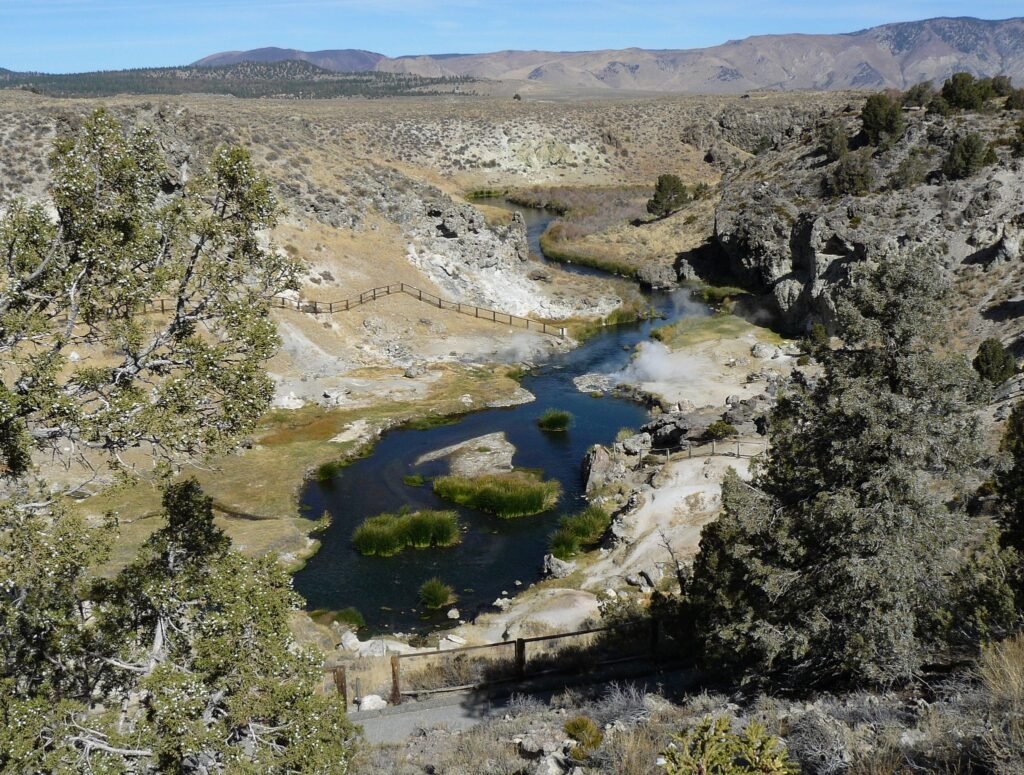 Hot Creek Geological Site in Mammoth Lakes is a destination like no other, offering unique and captivating sights.
There you can explore one-of-a-kind phenomena, including hot spring pools surrounded by vivid green meadows, striking blue waters cascading over canyon cliffs, and fascinating geological formations exclusive to the area.
Once only thought of as an isolated location hidden deep within Mammoth Lakes' natural beauty, the Hot Creek Geological Site is now visited by countless adventurers each year who come to experience its mesmerizing wonders.
If you're looking for an unforgettable journey filled with vibrant colors and dreamlike views, then Hot Creek Geological Site should be your next destination!
4. Visit The Majestic Mammoth Mountain Ski Area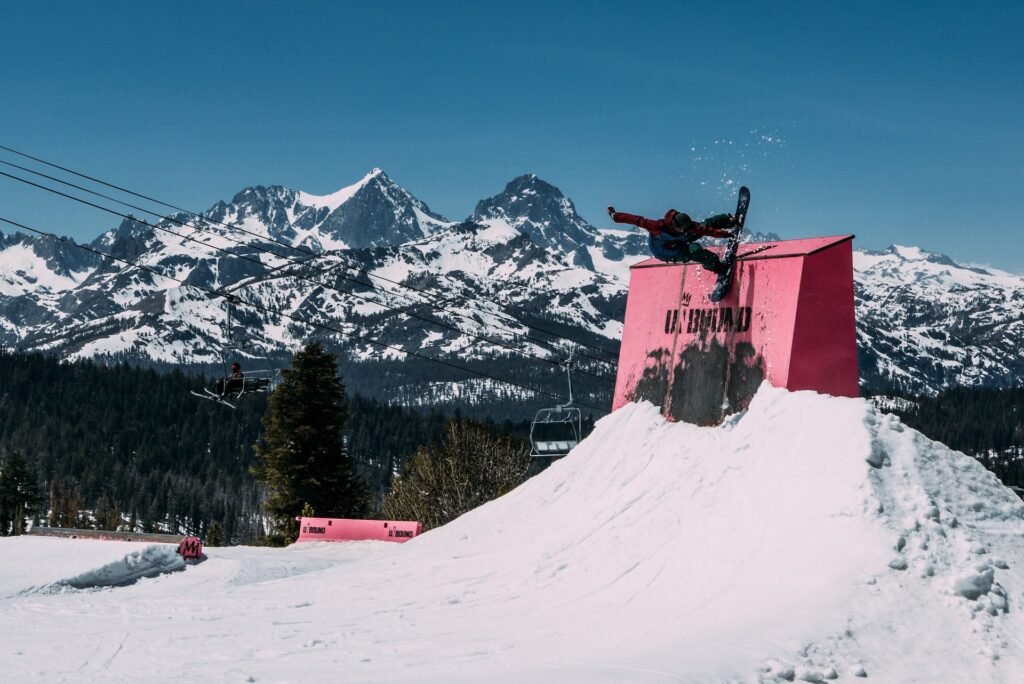 Whether you're a seasoned skier or trying it for the first time, Mammoth Mountain Ski Area is the ultimate winter destination.
With expansive trails ranging from beginner bunny slopes to intense black diamonds, the snow-capped peaks covered in perfect powdery snow beckon for adventure.
Aside from skiing and snowboarding, you can explore numerous hiking trails and marvel at the awe-inspiring natural beauty of Yosemite National Park.
And don't forget about the après ski scene: you can take a dip in modern hot springs or experience a rustic evening of s'mores by the campfire.
Make some memories and venture out to Mammoth Mountain Ski Area!
5. Go For An Exciting Gondola Ride Up Mammoth Mountain
Have you ever wanted to experience a truly unique adventure? Then why not go for an exciting gondola ride up Mammoth Mountain!
You'll get to enjoy unbeatable views of the surrounding mountain peaks and deep valleys as you ascend one of the most beautiful mountain ranges in California.
And, when you reach the top, there's so much to explore, including restaurants, shops, and even pony rides!
So don't wait any longer—set aside some time this weekend for a thrilling gondola ride up Mammoth Mountain.
It promises to be an unforgettable experience filled with laughter, awe-inspiring views, and plenty of memories to last a lifetime!
6. Hike to Minaret Vista for One of the Most Breathtaking Views
If you're looking for an unforgettable experience in Mammoth Mountain, then a hike to Minaret Vista is the perfect way to take in all that nature has to offer.
The stunning mountain range and bright sky provide a breathtaking view that will certainly be one for the books.
For those looking for more of a thrill, adventurous rock climbers will love scaling the cliffs surrounding the vista.
If you're not quite feeling up to it, there are still plenty of exploring opportunities from the overlook, so don't let that stop you!
Come out and get ready for a fun day as Minaret Vista opens your eyes to a truly magnificent setting.
7. Experience The Splendid Vistas At Convict Lake
Located near the Eastern Sierra, Mammoth Lakes offers visitors a unique and spectacular glimpse of nature.
Convict Lake beckons travelers with its glistening blue water and breathtaking vistas, surrounded by the majestic High Sierras.
Bring your binoculars to spot some of the waterfowl that flock to this lovely lake, or bring a fishing pole and see if the legendary monster trout are biting!
Make sure you don't forget your camera either, as one looks at the jaw-dropping beauty of the rugged mountain landscape around Convict Lake promises memories that will last a lifetime.
Visiting Convict Lake is sure to provide an unforgettable, once-in-a-lifetime experience that's simply too good not to take part in!
8. See The Colorful Site Of Rainbow Falls
See the rainbow in full effect at Mammoth Lakes on your visit to Rainbow Falls!
This magnificent site is as much a recreational activity as it is an awe-inspiring place to experience with family and friends, or on a solo outing.
During sunny days, the sunlight refracts across the mist in awe-inspiring patterns of the rainbow.
Whether you are looking for a great photo opportunity or to simply take in this natural beauty, visiting Rainbow Falls will not disappoint.
And after you've finished your perfect view from the shore, why not cool off and have fun swimming in the beautiful waters of this incredible spot?
Make sure to start planning your trip today and enjoy all that Rainbow Falls has to offer at Mammoth Lakes!
9. Take a Dip in Wild Willy's Hot Spring
If you're looking for a unique outdoor adventure, you absolutely can't miss one of the best hot springs in California Wild Willy's Hot Spring!
If you take the short hike through Mammoth's pristine alpine forest, you'll be rewarded with tranquility and rejuvenation alike.
While the spring itself is said to reach temperatures of over 100 degrees – the journey to its gushing fountain of warmth is well worth it.
Bring your friends along or enjoy some solo time in this natural wonderland.
So come take a dip and find out why Wild Willy's Hot Spring has become Mammoth Lake's hidden gem!
10. Go For An Exciting Hike At Reds Meadow Valley
Reds Meadow Valley near Mammoth Lakes is the ultimate hiking adventure!
Not just any regular hike, but an exciting trek through trails along the rugged Sierra Nevada Mountains.
You will experience pristine wildflower meadows, ancient forests, and a refreshing dip in some of the most beautiful and serene lakes around.
On your journey, you'll also have a chance to see exotic birds and animals that have sought their home in this beautiful setting.
The panoramic views that one experiences while hiking through Red's Meadow Valley are breathtaking!
All this makes it more than worth the trip, so why not head over to Reds Meadow Valley near Mammoth Lakes and embark on the thrilling adventure that awaits you!
11. Visit The Ancient Bristlecone Pine Forest
The Ancient Bristlecone Pine Forest is the only place in the world where you can commune with nature and explore a truly ancient ecosystem!
This forest, located in the White Mountains of California, is home to some of the oldest living things on earth, including trees that are over five thousand years old.
Wandering through these lush, sprawling pines is an awe-inspiring experience: these evergreen giants have been alive since before mankind appeared on this planet!
Whether you're searching for a peaceful, meditative walk or an awe-inspiring adventure, visiting the Ancient Bristlecone Pine Forest is sure to leave a lasting impression.
12. Breathe In The Fragrance Of The Wildflowers At June Mountain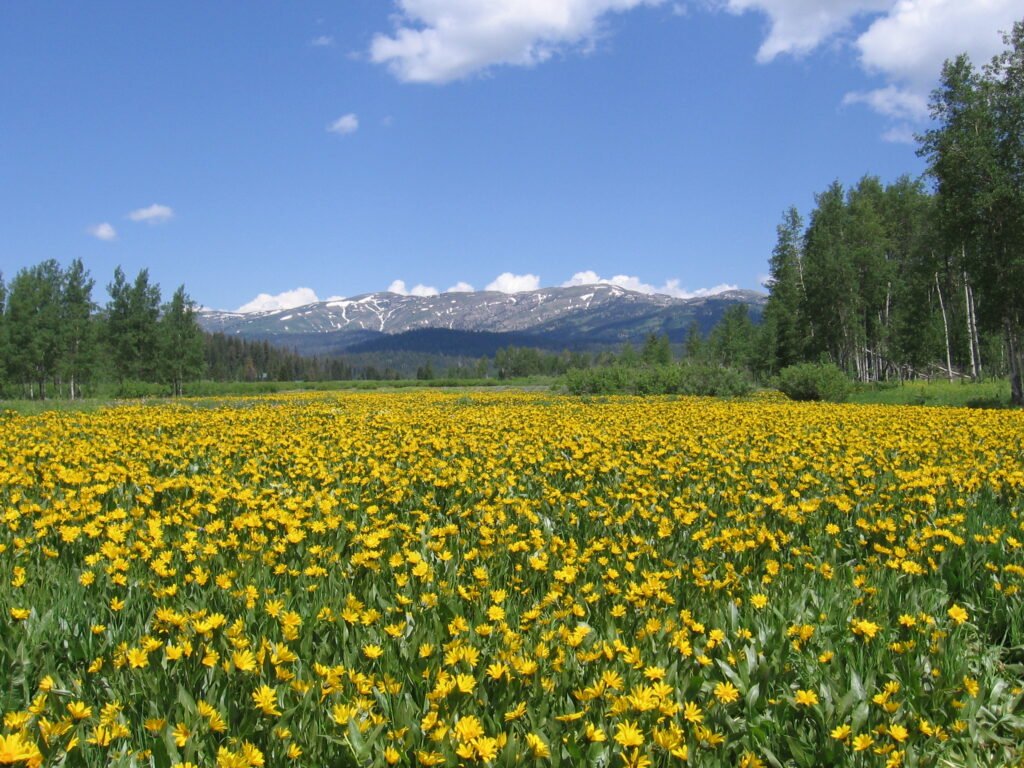 June Mountain is a nature lover's paradise.
Known for its stunning views, delicious local produce, and wildflowers galore, June Mountain is the perfect place to breathe in some fresh mountain air and take in the natural beauty that surrounds you.
The sweet scent of the wildflowers in bloom enhances each new vista, creating an ever-changing landscape with intense floral notes at every turn.
It's the perfect place to escape from the hustle and bustle of urban living, with its serene atmosphere that invites you to relax and rejuvenate amidst a backdrop of vast beauty.
Whether you choose a leisurely stroll or an adventurous hike, take a moment and stop to smell the flowers at June Mountain!
13. Go For An Exciting Hike To Crystal Lake
If you're looking for things to do near Mammoth Lakes, an exciting hike to Crystal Lake should be at the top of your list.
It offers stunning views of alpine meadows and mountain peaks that stretch far into the sky.
Take a short break to snap pictures or simply marvel at the breathtaking sights along your journey.
Be careful as you ascend higher into the peaks, as the terrain can become quite rocky or icy.
Once you reach the idyllic lake at the end of your hike, you'll be rewarded with a vast expanse of crystal blue waters and fragrant wildflowers dotting its shoreline.
14. Tour The Mammoth Lakes Library
The Mammoth Lakes Library is a one-of-a-kind destination located in the heart of the Mammoth Lakes Valley.
The library houses an impressive selection of books, music, and movies, with something to suit every age and interest level.
From studying for exams to simply taking some time to enjoy a good book or movie, the library can provide visitors with a memorable experience.
Touring the Mammoth Lakes Library is an opportunity to explore its resources while also learning more about local history, culture, and literature.
Through guided tours and special events hosted by the library staff, visitors have a chance to discover the richness of this unique library environment.
Plus, it's such a great way to get out of the house and enjoy a unique adventure!
15. Go Mountain Biking In The Mammoth Lakes Basin
Mountain biking in the Mammoth Lakes Basin is an amazing experience that can provide thrills for riders of all abilities.
The trails in this area are beautifully maintained and vary from gently sloping single-track to rugged double-track terrain.
Mammoth Lakes Basin has a number of activity-focused amenities, including bike shops and repairs around the area, as well as plenty of places to rent a bike or get outfitted with gear and accessories.
Whether you are a beginner looking to learn the basics or an experienced rider wanting to take on some challenging ascents and technical descents, there is something here for everyone.
With its stunning views, endless trails, and plentiful conveniences, go mountain biking in the Mammoth Lakes Basin to experience it all yourself!
16. Fish For Trout In The Majestic Mono Lake
Fishers from near and far travel to Mono Lake for trout fishing opportunities.
The lake, revered by Native Americans throughout the centuries, is a beautiful spot located near Mammoth Lakes, California.
Whether a novice or seasoned angler, there is something for everyone at Mono Lake – one of many wonderful things to do within close proximity to Mammoth Lakes.
From fly fishing on the lake shore to trolling skiffs among its deep-water reefs and islands in search of lunker browns.
it's easy to get lost in the beauty of this place, with its ancient rock formations emerging from crystal clear waters like nothing else on Earth.
Come cast your line into Mono Lake and see why it is considered a premier destination for inland freshwater fishers.
17. Explore The Ansel Adams Wilderness On Horseback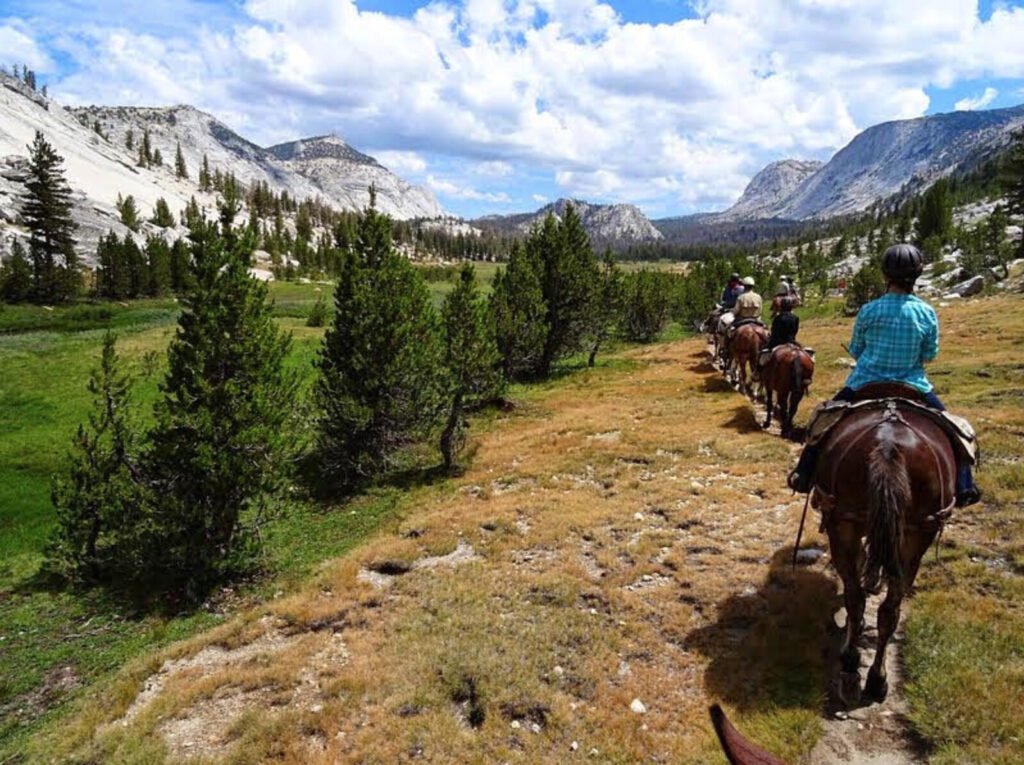 Exploring the Ansel Adams Wilderness in Mammoth Lakes, California, by horseback or hike is an unforgettable experience.
Whether you are an equestrian looking for an outdoor adventure or a nature enthusiast embarking on a memorable journey, Mammoth Lakes is the perfect place to get out and explore one of America's most breathtaking wild spaces.
You can take in incredible views of mountain peaks and lush forests while discovering some of the area's most beloved trails and vistas.
With Mammoth Lakes offering year-round access to remarkable landscapes, from adventurous horseback rides through aspen forests to peaceful hikes along granite ridges and meadows, there is no limit to how far your imagination and exploration can take you.
An excursion through the Ansel Adams Wilderness promises to be both memorable and captivating.
18. Go Off-Roading Through Mammoth Lakes Backcountry
Mammoth Lakes is the ultimate destination for adventurous spirits.
Nestled in the Eastern Sierras, Mammoth's surrounding forests and backcountry provide off-roaders with trails of every difficulty level.
Expertly carved paths through Mammoth can spark incredible awe, especially during more transitional seasons when the landscape vibrates with hints of the vibrant yellow, red, and orange hues of upcoming fall festivities.
For any traveler looking to explore Mammoth Lakes in a new way, taking a 4×4 ride through Mammoth's wild backcountry will make sure to leave you in utter wonderment with the beauty that Mammoth holds.
19. Experience The Thrill Of Rock Climbing at Mammoth Lakes
Mammoth Lakes is the perfect destination for thrill seekers who love rock climbing.
Located in the High Sierra Mountains, Mammoth boasts an amazing array of climbing opportunities that range from beginner routes to advanced climbs.
Climbing can be a difficult sport, but Mammoth's experienced staff will guide you through the basics and provide tips and tricks to help you reach your personal goals.
Whether you're looking for an exciting adventure or simply want to reap the healthful benefits that come with rock climbing, Mammoth Lakes is sure to have something exciting to offer.
Best of all, its breathtaking scenery will take your breath away and make your experience even more memorable!
20. Take A Relaxing Stroll Around Twin Lakes
Twin Lakes is one of the top things to do in Mammoth Lakes.
Taking a relaxing stroll around here is one of the best ways to take-in all of the fun things the area has to offer.
The views are absolutely stunning, with majestic mountains and crystal clear waters that stretch as far as the eye can see.
You'll often spot adorable things like ducks taking an afternoon nap or birds perching near the shoreline.
Plus, there are plenty of paths looping through shaded woods where you can continue your exploration.
So if you're looking to experience a beautiful and relaxing outdoor activity, Twin Lakes is definitely worth a visit!
21. Go For An Exciting Hike Through The Mammoth Crest Trail
If you're looking for an exciting outdoor activity to add a bit of adventure to your routine, then look no further than the Mammoth Crest Trail.
This scenic stretch of land offers stunning views of the Eastern Sierra Nevada Mountains, as well as lush meadows and alpine forests.
The trail is suitable for all ages and skill levels, from the beginner hiker ready to discover nature's wonders up close to the intrepid explorer who would welcome an extra challenge.
Regardless of the purpose of your journey, the Mammoth Crest Trail will provide an unforgettable experience that will stay with you long after your hike is over.
With its scenic routes and immersive wildlife encounters, it's sure to create lasting memories that are worth every step along the way!
22. Witness The Breathtaking Views On The Mammoth Lakes Basin Overlook
Take a break from the hustle and bustle of daily life and experience something truly spectacular.
The Mammoth Lakes Basin Overlook brings you to new heights with its majestic views and natural beauty.
On a clear day, witness unbelievable vistas that stretch for miles in every direction.
Look on in awe as the sun begins to set, casting an orange glow across the expansive landscape filled with towering peaks, glassy alpine lakes, and lush forests.
Whether alone or with a special someone, this overlook is sure to bring about some unforgettable memories.
23. Ride A Dirt Bike Through Mammoth Lakes Trails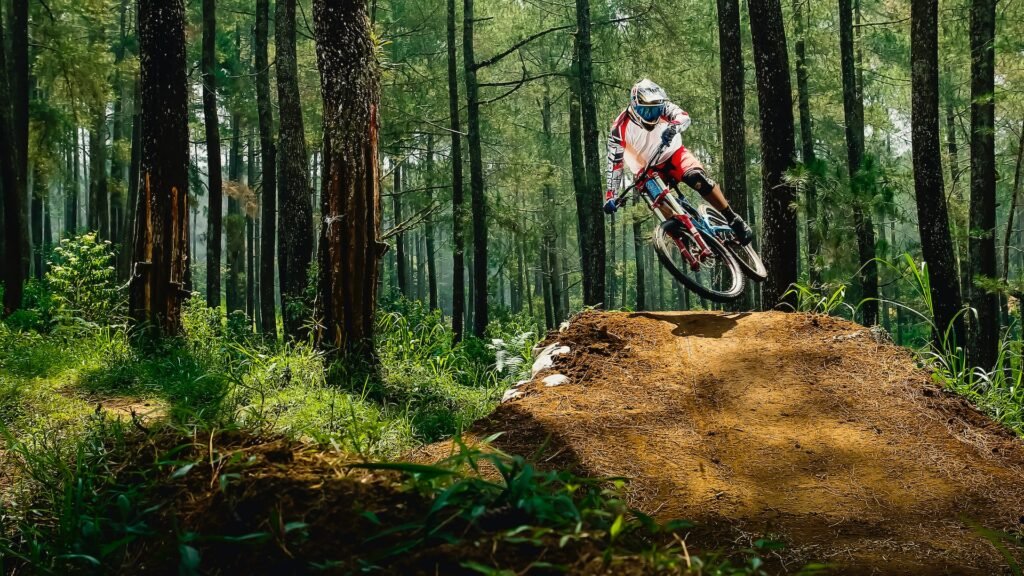 For experienced and adventurous riders, there is nothing better than taking a dirt bike through the trails of Mammoth Lakes.
With miles and miles of cross-country off-road riding in different terrains, you can experience a unique ride every time.
You can go on plenty of single or multi-day trips without ever having to ride the same route twice.
From open roads to winding mountain paths, the beauty of Mammoth Lakes' natural wonders makes it a must-visit destination for any dirt biker.
Additionally, with numerous camping sites around the area, you can extend your journey out across multiple days and push yourself to venture even further into unexplored trails.
So if you're looking for an exhilarating and unforgettable ride, head out to Mammoth Lakes for an adventure you won't forget!
24. Hike To the Summit of Mt. Morrison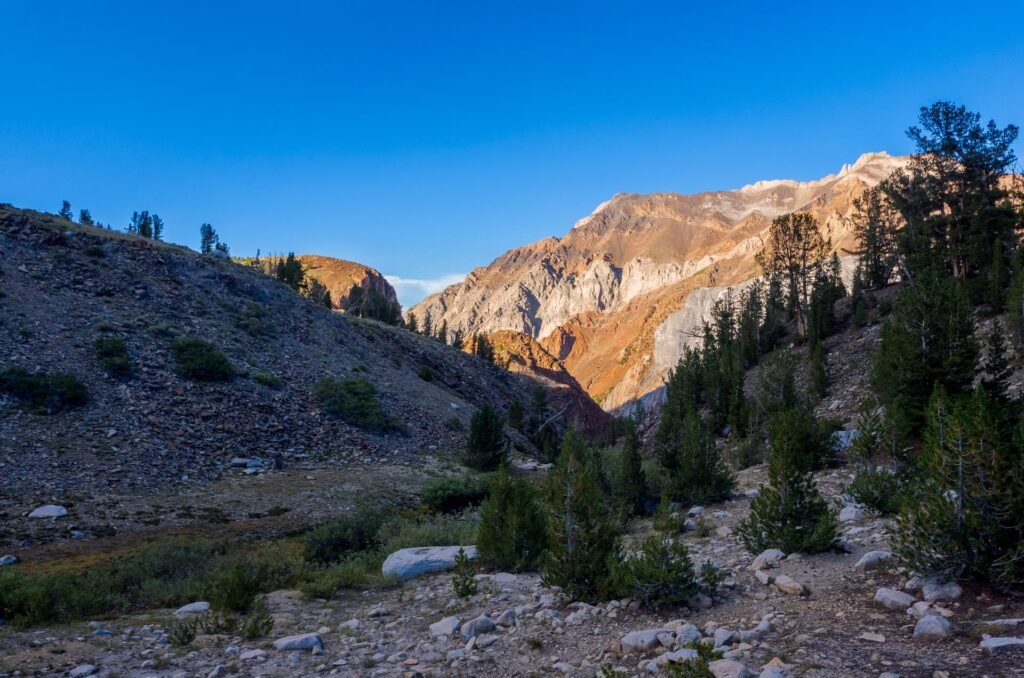 Hiking to the summit of Mt. Morrison near Mammoth Lakes is an experience like none other.
The mountain trails call hikers in with stunning natural beauty and stunning mountain views that can't be found anywhere else.
There are various trails to choose from, each ranging in difficulty, allowing hikers of any skill level and experience to find something that fits their needs.
The longer, more difficult trails included unique challenges and a breathtaking payoff when reaching the summit, making it a worthwhile adventure for anyone looking for a thrilling way to spend their day outdoors.
25. Observe Wildlife At The Hot Creek Fish Hatchery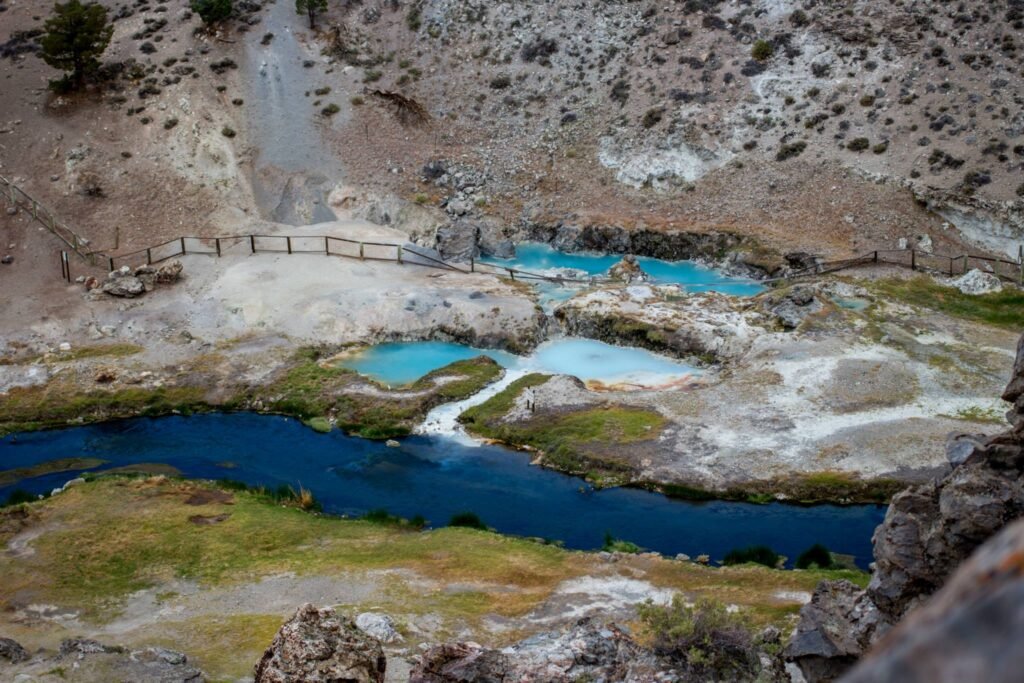 One of the most enlightening activities to indulge in when visiting is observing wildlife at the Hot Creek Fish Hatchery.
This fish hatchery provides an outdoor recreation area, 4 miles east of Mammoth Lakes, that enables guests to view immense varieties of fish and other aquatic life.
With so many species living harmoniously side-by-side, visitors will be able to marvel at the different sizes, shapes, and colors as they move about the hatchery waters.
Whether you are a novice or an experienced outdoorsman, a visit to Hot Creek Fish Hatchery is sure to make your trip to Mammoth Lakes even more enjoyable.
26. Explore Yosemite National Park From Mammoth Lakes
Mammoth Lakes is the gateway to some of California's most spectacular beauty.
From Mammoth Lakes, you can easily explore the wonders of Yosemite National Park, a veritable haven for outdoor enthusiasts.
There are plenty of activities in and around Mammoth Lakes to keep you busy before or after your time in Yosemite.
Spend a day hiking in the Inyo National Forest, fishing in one of many rivers and streams, fly-fishing on Crowley Lake, horseback riding along historic trails, or skiing down the world-famous ski resorts.
With its panoramic views and great outdoor activities, Mammoth Lakes is perfect for an unforgettable adventure to Yosemite National Park.
27. Check Out the Inyo Craters
Nestled near Mammoth Lakes in California's Eastern Sierra, the Inyo Craters are a natural wonder to behold.
The craters were formed by two separate eruptions of steam and gas thousands of years ago, leaving behind two large cinder cones.
Now you can explore these fascinating rock formations by hiking around the trails that traverse them.
Views from the top grant visitors breathtaking vistas of the Mono Basin as well as spectacular views of the stars at night due to its dark sky certification.
It is truly a place for all seasons: take in splendid wildflower blooms in the springtime, gather Christmas tree-shaped junipers during winter, observe a variety of leaping lizards that call it home, or simply relax beneath the shaded branches of far-reaching pines.
Exploring the magnificent Inyo Craters is nothing short of awe-inspiring!
28. Witness the Marvelous Crowley Lake Columns
Mammoth Lakes is a nature lover's paradise, and one of the top spots to visit is Crowley Lake Columns.
This unique attraction offers visitors a stunning view of monoliths resulting from years of erosion through thousands of years of different weathering events.
There are no trails to the formations, but visitors eager for an adventure can explore this unusual site by either kayaking or taking a boat out on the lake.
It's well worth the effort, as those who make it there will witness majestic spires of granite and limestone emerging from the lake.
Nearby are other attractions worth visiting, including fishing, hiking, enjoying hot springs, and more.
A visit to this area is sure to please anyone seeking adventure in a beautiful natural setting.
29. Discover Local History at the Mammoth Museum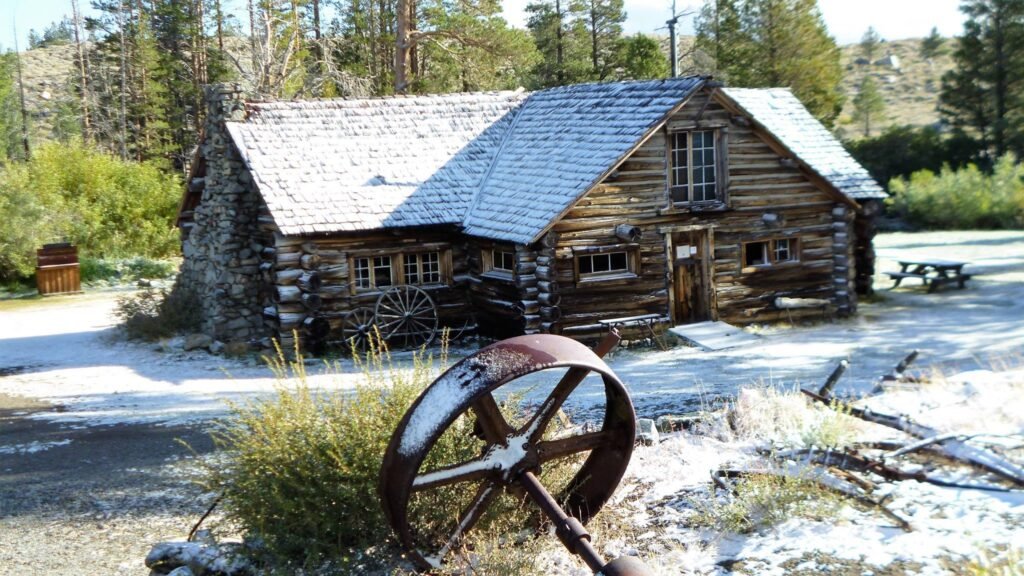 The Mammoth Museum is the perfect place to become immersed in local history.
Located in the heart of downtown, this museum offers a unique look into the incredible history of the city that surrounds it.
From its remarkable collection of ancient artifacts and fossils to its interactive exhibits and knowledgeable staff, the Mammoth Museum has something for everyone.
Whether you're a fan of natural science or just curious about what makes your city so special, there's no better way to learn than by discovering all that the Mammoth Museum has to offer.
Come today and experience what makes this museum unique!
30. Check Out The Split-apart Rock of Mammoth Lakes Earthquake Fault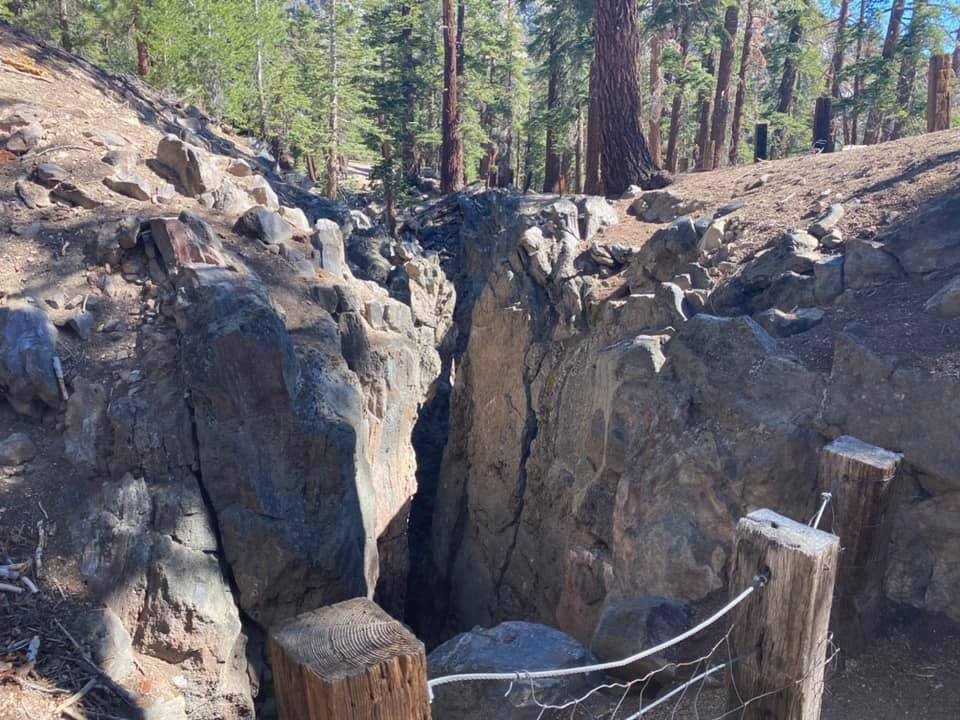 Located in the Sierra Nevada mountain range near Mammoth Lakes, California, is an earthquake fault that encircles the entire city.
The fault is considered to be the longest active fault in California and, due to its slow slip rate, is known as a 'sleeping giant.'
One of the most famous faults within this line, known as the "Split-Apart Rock," has fascinated geologists for generations.
Not only does it show evidence of steady movement over many years, but it also bears witness to a massive 8.3-magnitude earthquake event from over 200 years ago!
A stroll down to its location provides interested visitors with an amazing opportunity to see first-hand just how powerful and impactful earthquakes can be on our planet's geology.
31. Take a Joy Drive Around the Mammoth Scenic Loop
Mammoth Lakes is the perfect setting for a joyous drive around the Mammoth Scenic Loop.
The breathtaking views of the Eastern Sierra Mountains, the Inyo National Forest, and Mammoth's own volcanic domes make this adventure both memorable and scenic.
The loop features tunnels and bridges for some added excitement, as well as plenty of opportunities to pull over and explore unique photo spots.
Whether you're looking for a short morning drive to get your day started with stunning natural beauty or a long weekend getaway, Mammoth Lakes' Mammoth Scenic Loop was crafted with your enjoyment in mind!