Anaheim, California, is an amazing city full of fun and adventure.
From Disneyland to Adventure City, there are countless attractions to explore and activities to do with family and friends alike.
Anaheim also offers wonderful restaurants and dynamic shopping opportunities at the nearby Outlets at Orange.
When you're in the mood for some sun and sand, take a 15-minute drive to Newport Beach or Huntington Beach and relax on the shoreline.
Whether you're looking for action or an evening out on the town, Anaheim is guaranteed to provide the ultimate California experience!
With that said, here are 24 things to do in Anaheim California.
1. Explore Anaheim's Crown Jewel-Disneyland Park
Anaheim's crown jewel is Disneyland Park, the first of its kind and home to familiar characters and classic attractions that bring joy to all ages.
Whether you want to float through a classic tale as old as time with the Haunted Mansion ride or embark on exciting adventures with Indiana Jones, Anaheim offers endless excitement for visitors of all ages.
Take a break from it all by sharing stories during fireworks night at the castle, munching on treats beneath the neon lights of California Adventure, and taking pictures with Mickey in front of Sleeping Beauty Castle.
One of the most convenient ways to experience the magic of Disneyland is by staying in hotels within walking distance of Disneyland.
This way, you can easily access the park's rides and attractions without worrying about parking or transportation
From immersive experiences inside themed lands to rides designed for every thrill level, Disneyland Park is your ultimate destination for an unforgettable day in Anaheim!
2. Indulge in Some Fine Dining at Anaheim Packing House
If your taste buds are craving something new and exciting, look no further than Anaheim Packing House.
This fine dining locale offers delectable dishes prepared with the freshest ingredients meant to tantalize your taste buds!
Get ready to indulge in a culinary explosion while you explore their diverse array of delectable eateries.
No matter what type of food you're in the mood for, Anaheim Packing House has something that is sure to satisfy even the most refined palate.
From vegan options to classic American fare, this restaurant has it all!
So grab a friend and take a break from your ordinary meal routine by trying out some of the magnificent eats offered at Anaheim Packing House!
3. Attend a Game at Angel Stadium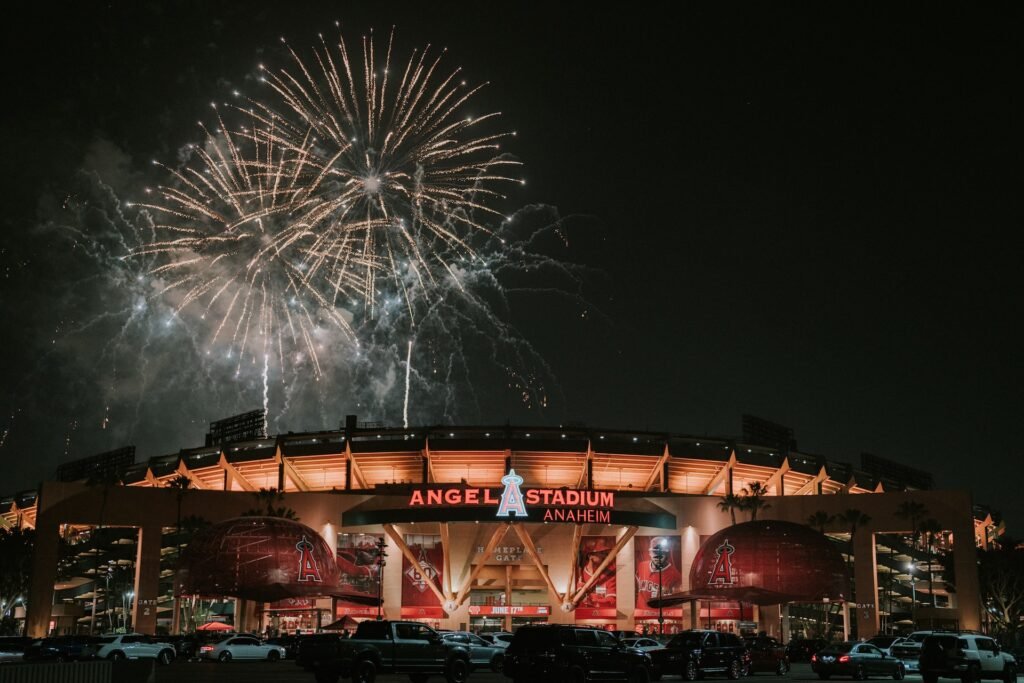 Going to a game at Angel Stadium is always a memorable experience!
Whether you're looking for family fun, an action-packed adventure, or just a day out with friends, there's something for everyone to enjoy.
The atmosphere inside the stadium is electric, and you can almost feel the collective excitement of all the fans in attendance.
Whether you find yourself cheering on the home team or wanting to show your visitor pride, there's no better place for entertainment than Angel Stadium.
Plus, you never know who you might run into in the stands; it could be one of your favorite players or maybe even some notable celebrities taking in the game themselves.
So if you want an exciting and unforgettable day of Los Angeles Angels baseball, Angel Stadium should definitely be at the top of your list!
4. Discover the Natural Beauty of Anaheim Hills
Located in California's Orange County, Anaheim Hills is a stunning destination full of natural beauty.
With views of the Santa Ana Mountains, the area boasts lush greenery, parks, and trails that provide activities and exploration for nature lovers.
From hiking loop trails to seeing wildlife up close, there are endless moments of awe and inspiration to be experienced in Anaheim Hills.
For those with a sense of adventure, off-roading can also be done as an exhilarating activity while enjoying the breathtakingly beautiful landscape that changes with each season!
Whether it's a day trip or an overnight stay, there's no shortage of ways to immerse yourself in the allure of Anaheim Hills, guaranteed to leave even the most seasoned adventurers feeling refreshed.
5. Relax With a Day at Yorba Regional Park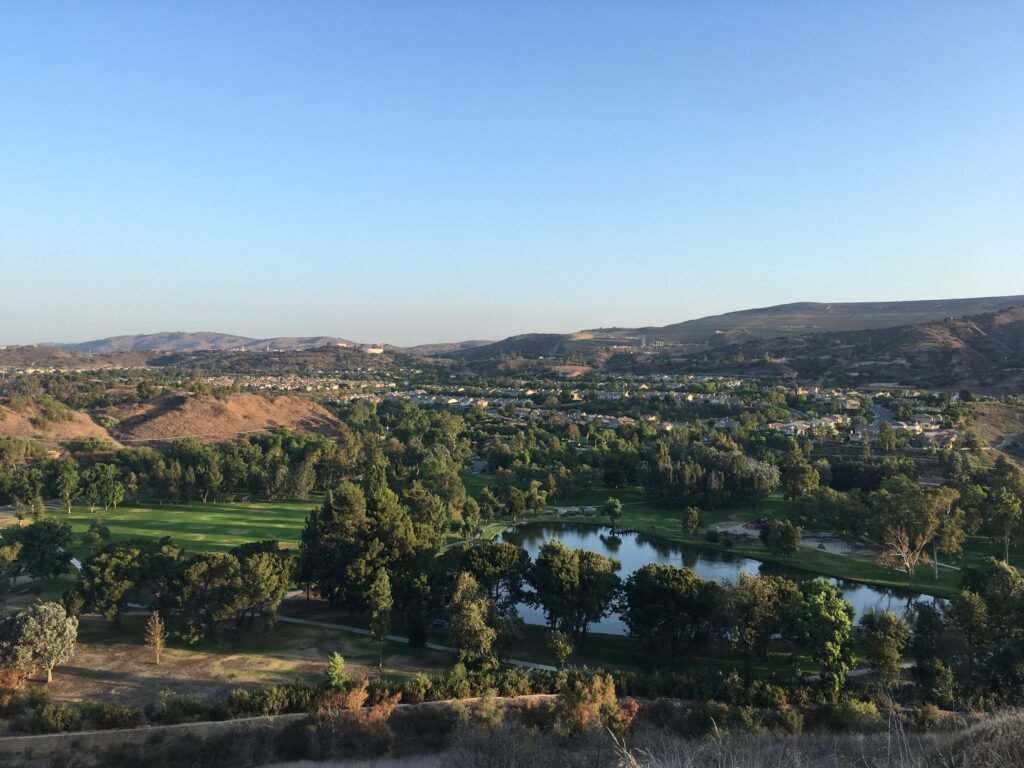 Ready for an escape from the day-to-day hustle and bustle? Yorba Regional Park is just the place!
With plenty of fun activities and spectacular amenities, you'll be instantly at ease.
Take a stroll on the park's peaceful walking trails or ride around on a bike.
Enjoy a leisurely picnic as you watch the ducks swim by in the lake, or play Frisbee with friends.
There's even an archery range to hone your skills—what could be more relaxing?
So come on down to Yorba Regional Park and prepare yourself for an enjoyable day of tranquility and serenity!
6. Experience Fine Dining at the Anaheim White House
Looking for a luxurious dining experience? Look no further than the Anaheim White House!
This iconic California restaurant offers an unforgettable culinary experience like no other.
With exquisite dishes and Michelin-style dining, this eatery is the epitome of five-star cuisine.
Whether you're just looking for a special night out or you want to impress that special someone, Anaheim White House can make your wildest gastronomical dreams come true!
Don't miss out on this amazing opportunity, head to the Anaheim White House tonight and let them show you why they are counted among the most sought-after restaurants in town.
7. Check Out the Art Scene at The Muzeo Museum and Cultural Center
Are you an art aficionado looking to explore and experience your favorite works in person?
If so, the Muzeo Museum and Cultural Center in Anaheim is a fantastic place to visit.
Situated within the Historic Colony District, this museum boasts an array of interactive and innovative experiences to engage with the artwork.
From sculptures and pictures to artifacts, every corner holds something new.
There are also special exhibitions and events such as artist talks, open conversations, and parties that allow library patrons to get closer to a creative epiphany.
With regular programming arranged around the museum's collections and suggested donations being truly affordable, the Muzeo Museum is definitely the place to be for any art enthusiast looking for a fun evening out!
8. Take the Kids to Adventure City for a Fun-filled Day
Adventure City is the destination for families in search of a fun-filled day.
With its exciting rides, interactive attractions, and family-friendly eateries, there's something for everyone to enjoy.
Adventure City ensures that each family member is well taken care of, whether it's speeding through loops on a roller coaster or cooling off with delicious ice cream!
An added bonus is their special events held throughout the year, which provide an extra boost of excitement, like holiday festivals and party nights.
So come join the universe of adventure that awaits you at Adventure City—it'll be a one-of-a-kind experience for the entire family!
9. Stay at Disneyland Hotel for a Whimsical Experience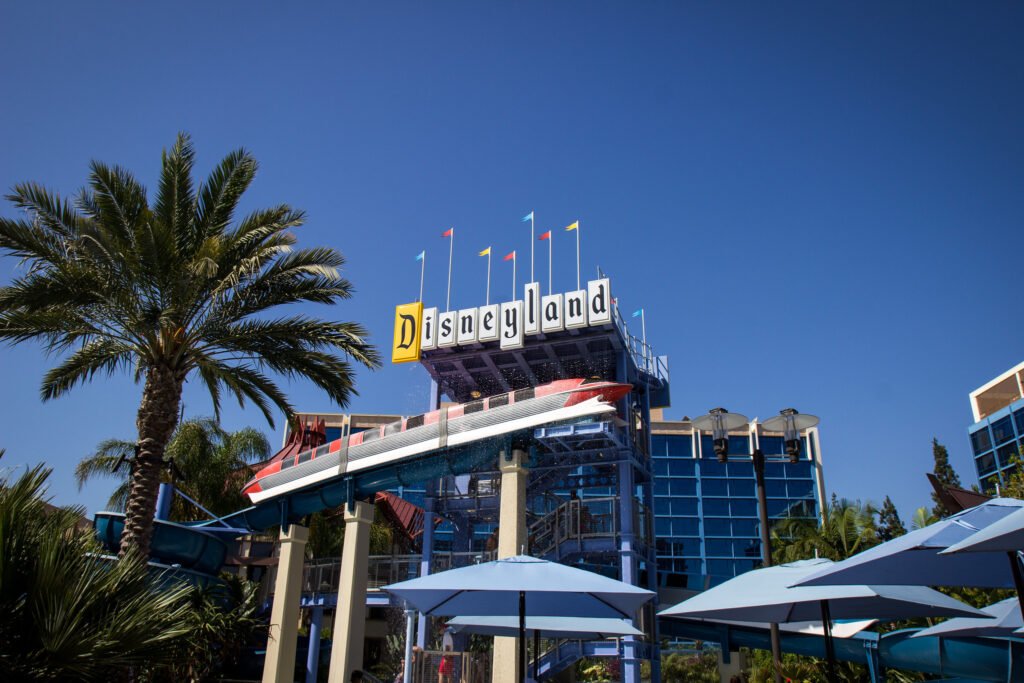 Are you ready for a dreamy and magical experience?
Then it's time to check into the iconic Disneyland Hotel, a luxurious accommodation that offers its guests a truly whimsical stay!
Every aspect of the room, from the décor to the amenities, has been carefully considered to provide an extraordinary and unique experience.
You will feel like every day is an adventure waiting to happen as you take advantage of the convenient access to all of the park attractions and enjoy stunning views from your balcony.
Whether you're looking for rest and relaxation or lively entertainment, you can be sure that a stay at the Disneyland Hotel will bring out your inner child in no time!
10. Stroll Around the Astonishing Downtown Disney District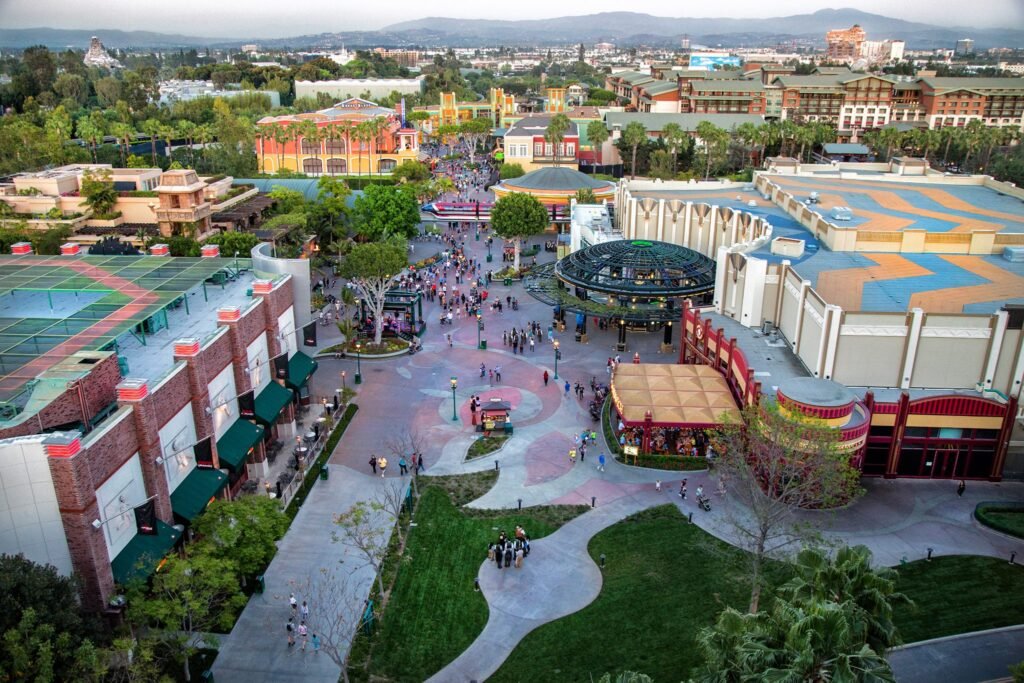 A stroll through the awe-inspiring Downtown Disney District promises a fun-filled day of entertainment and exploration.
Start your visit off with a bite to eat at one of the many delicious restaurants, which range from quick snacks to fine dining experiences.
Once you're ready, take a journey of discovery down the winding sidewalks that pass by unique shops full of collectibles and gifts.
To top it off, get a ticket to catch a show or movie at the AMC Theater for an unbeatable finish to your day.
Whether you're visiting alone or with friends and family, there's something for everyone at Downtown Disney District!
11. Jump, Spin, Flip, and Play at the Anaheim Sky Zone Trampoline Park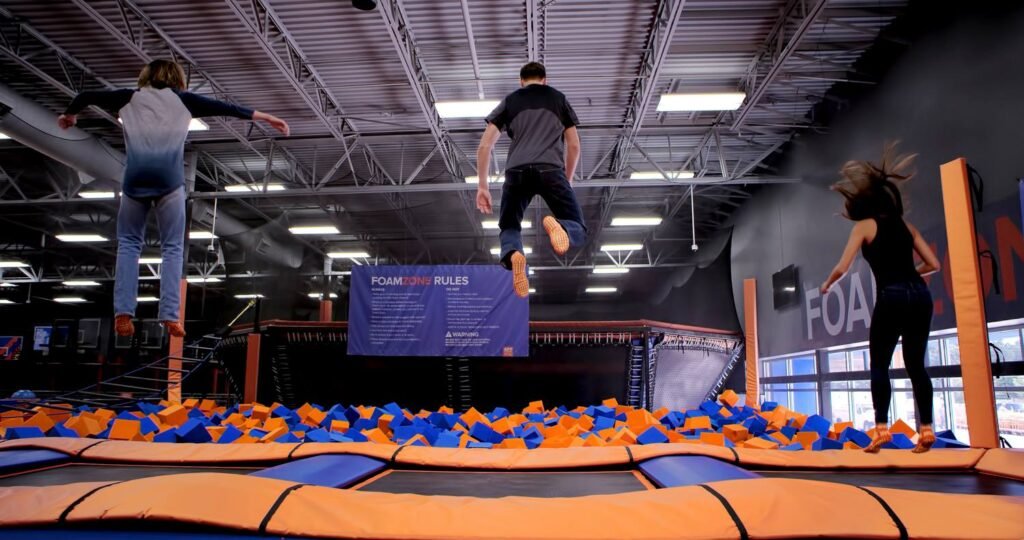 Ready to get your feet off the ground and have some serious fun? Come to Sky Zone Trampoline Park in Anaheim!
Whether you want to jump, spin, flip, or just camp out on a trampoline for a few hours, this place has it all.
With over 30.000 square feet of connected trampolines and tons of game options, it's impossible not to have a good time.
From dodgeball tournaments to parkour nights, there is truly something for everyone here.
Put on your best flips and come join the neighborhood in flipping around a world unlike any other—Sky Zone.
12. Spend the Day at Knott's Berry Farm Theme Park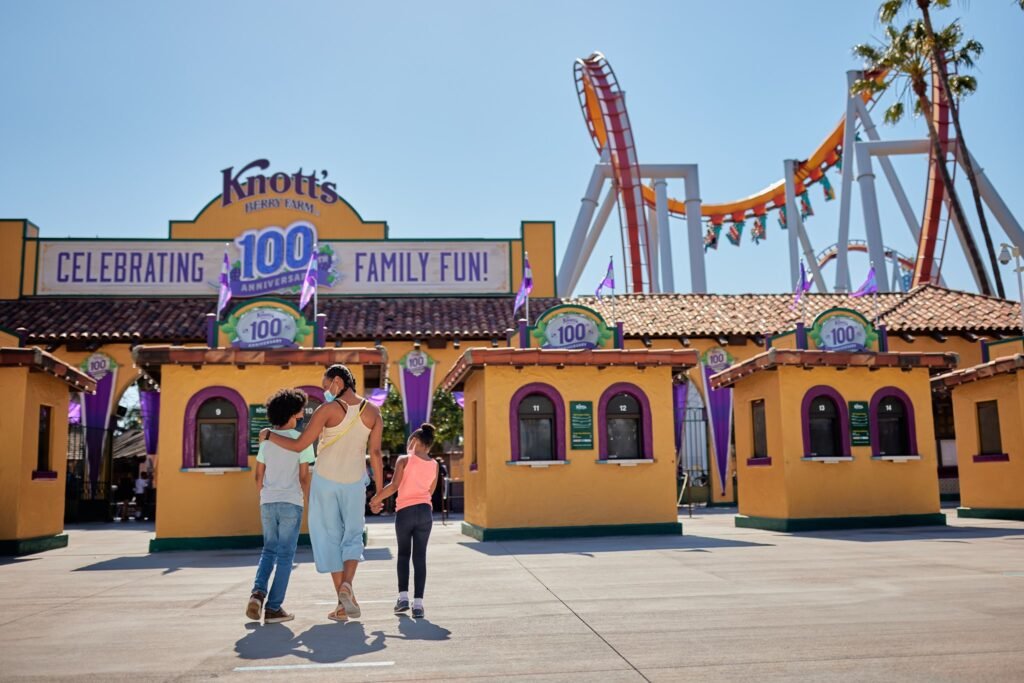 Spend the day at Knott's Berry Farm Theme Park for a wild ride of fun and excitement!
Fly through the air on Xcelerator as it rockets you from zero to eighty-two miles an hour in seconds.
Or take a spin on the classic GhostRider, California's longest and tallest wooden roller coaster.
With dozens of rides and activities, there's something for everyone at Knott's Berry Farm.
From thrilling rollercoasters to immersive 4D experiences, you can explore mud-filled swamps, search hidden tombs, or ride high-speed bumper cars.
Come join in on the fun with food galore, carnival-style games, some shopping, edible delights, live entertainment, and more!
Spend your day at Knott's Berry Farm and make memories that will last forever!
13. Test Your Luck at the Orange County Fair and Event Center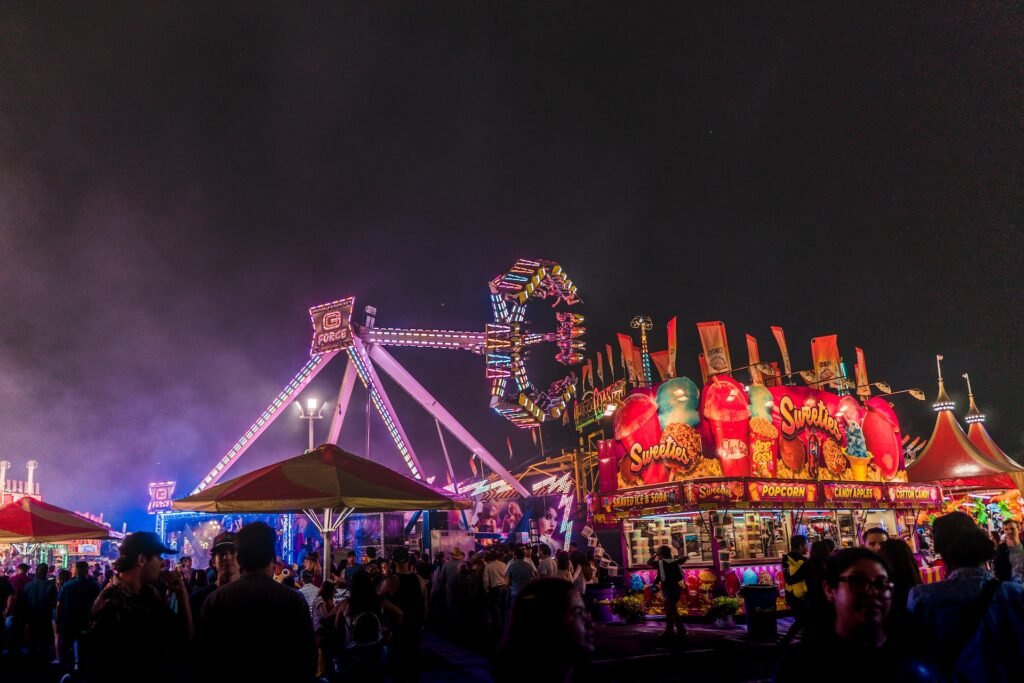 Riverside residents now have the chance to see just how lucky they really are at the Orange County Fairgrounds and Event Center!
The Center is currently offering an array of gaming activities for everyone to enjoy, from classic carnival games to exciting contests of skill and new attractions that no one has ever seen before.
It's the perfect place for thrill-seekers and those feeling a bit luckier than usual – so why not take a chance today?
Whether you're playing for fun or high stakes, the OC Fair and Event Center is sure to provide an unforgettable experience that will bring entertainment, fun, and some potentially lucky rewards!
14. Check Out the Innovative Exhibits at the Discovery Cube Orange County
Have you ever wanted to explore physics, chemistry, biology, and geology all in one place?
With the Discovery Cube Orange County, now you can! The interactive exhibits allow visitors of all ages to delve into the wonders of science.
From robots that teach about animal habitats to augmented reality experiences – there are countless innovative activities for learning.
Voted one of the top 10 attractions in Santa Ana by Trip Advisor, the Discovery Cube encourages visitors to not only learn but to have fun while doing it.
So why not make a day trip out of it and discover just how exciting science can be?
15. Get a Taste of the Mediterranean at Little Arabia
For a taste of the Mediterranean without leaving Anaheim, Little Arabia is the place to be.
There you'll find a range of dishes from across the Mediterranean, like falafel, shawarma wraps, and hummus.
But don't skip out on the delicious desserts either—Baklava and Kanafi are always must-haves!
Plus, with its unique atmosphere and live music, it's an ideal spot for a night out on the town or even an afternoon gathering with friends.
Go ahead and take a bite out of Little Arabia to experience a taste of the Mediterranean right in your backyard!
16. Shop Until You Drop at Anaheim GardenWalk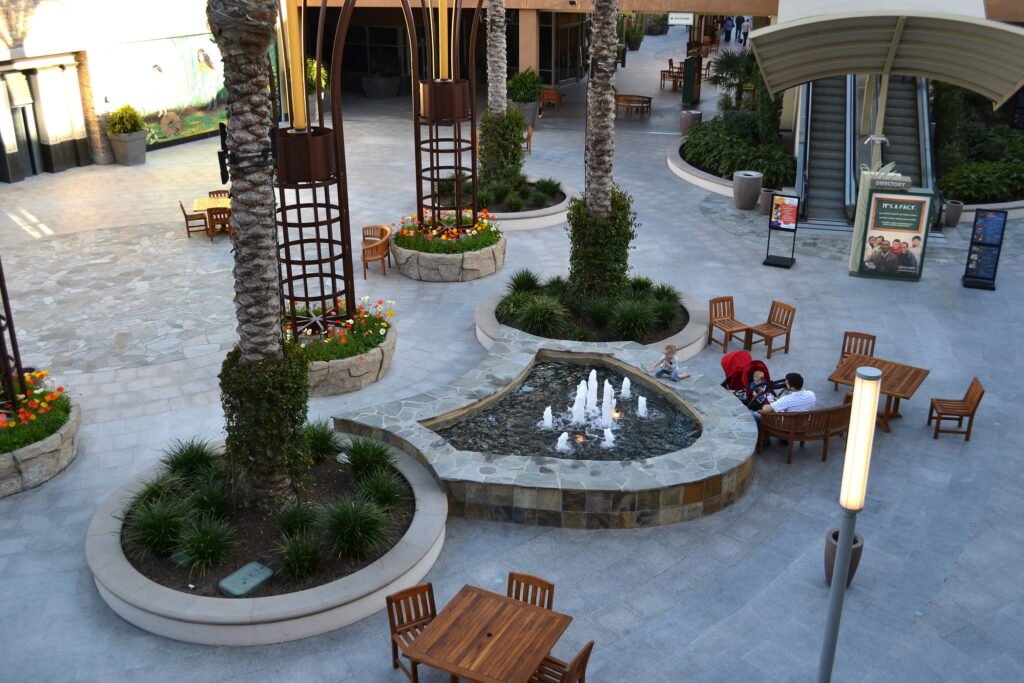 If you're in the mood for some serious shopping, Anaheim GardenWalk has got you covered!
Whether you're a shopaholic who loves designer labels or an eco-conscious spender who prefers natural, locally sourced products, this open-air shopping center is jam-packed with something for everyone.
You can spend hours going from store to store, testing out different fragrances, trying on the latest trends, and finding one-of-a-kind items that will make your friends jealous.
No visit to Anaheim would be complete without stopping in at the GardenWalk – so what are you waiting for?
Put on your coziest shoes, grab your shopping bag, and get ready to shop 'til you drop!
17. Visit the Anaheim Regional Transportation Intermodal Center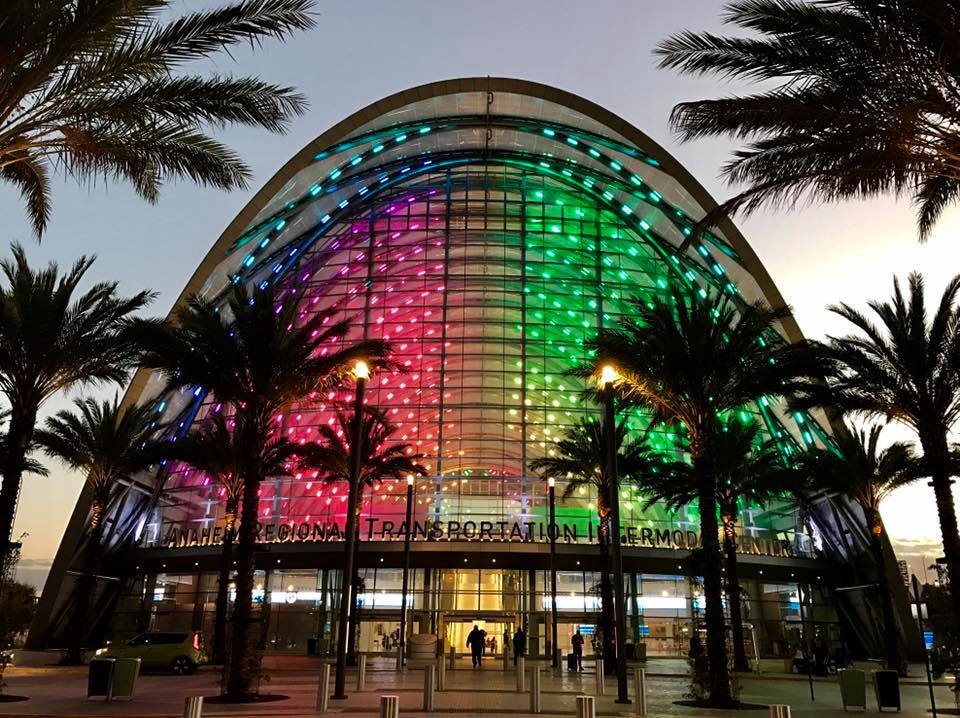 Visiting the Anaheim Regional Transportation Intermodal Center is an experience like no other!
It's bustling with activity and allows visitors to pick from a variety of transportation options.
From traditional buses and taxi cabs to light rail and Amtrak trains, there's something for everyone!
Plus, the center provides travelers access to amenities such as coffee shops and convenience stores.
Whether you are getting on the move or just exploring the center, it's sure to be a fun adventure.
So don't miss out—grab your ticket and come check out what this incredible hub has to offer!
18. Take a Walk Through Pearson Park for Incredible Views of the City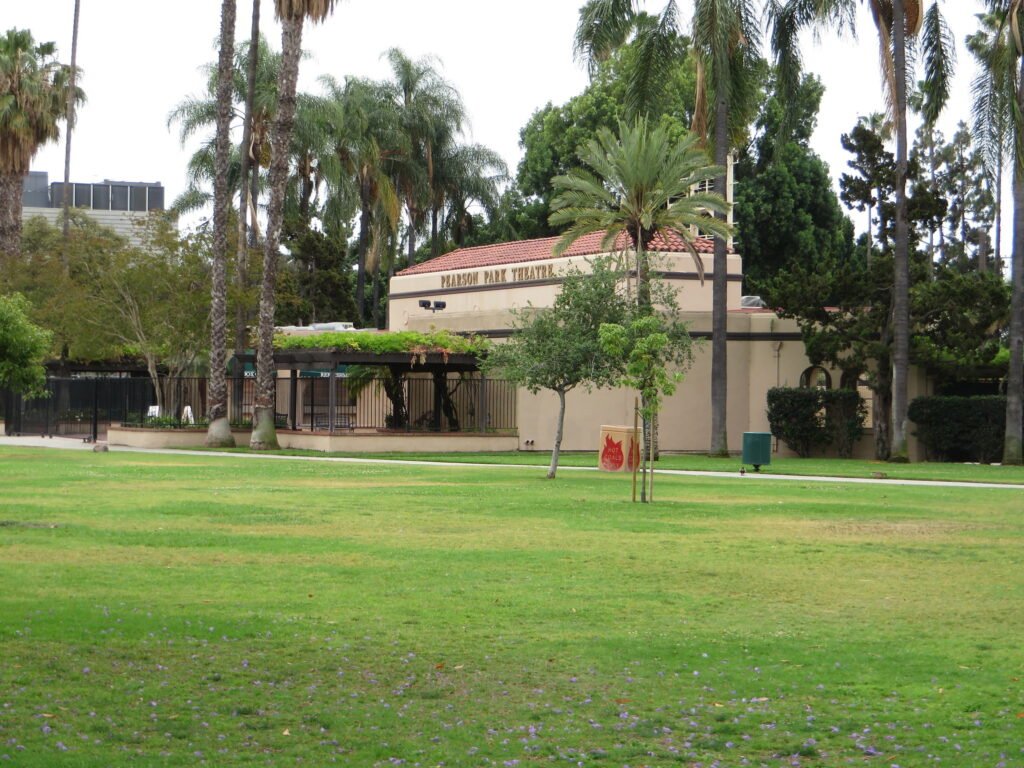 Looking for breathtaking views of the city of Anaheim? Take a stroll through Pearson Park!
This park has everything you need for the perfect walk: gentle trails, luscious greenery, and stunning views of the city skyline.
It's a great way to enjoy a sunny day with family and friends, take in the beauty of nature, and appreciate Orange County's largest corner in all its glory.
Bring your camera so you and your friends can capture the amazing view or even picnic in one of the clearings—this park truly has it all! Stop by Pearson Park today for an unforgettable day.
19. Spend a Day at Disney California Adventure Park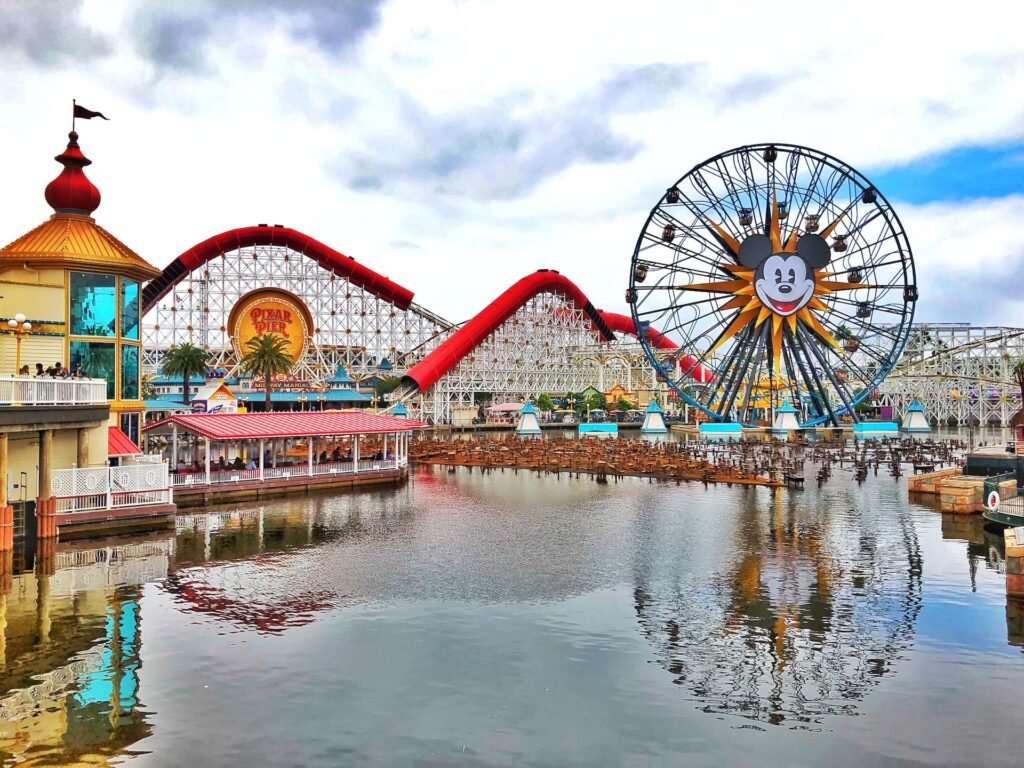 A day at Disney California Adventure Park is something many of us instantly dream about!
From the thrilling rides to the exciting shows, there's always something to do.
Whether you want to explore Pixar Pier and try out the Incredicoaster or take a cruise around Cars Land on Luigi's Casa Della Tires, your experience will be unforgettable.
Looking for a more relaxed pace? Then stopping by Paradise Bay's scenic beach lagoon or heading over to Grizzly Peak Airfield for some incredible views is definitely a must-do.
End your magical adventure with an awe-inspiring performance like "World of Color," one that will definitely leave you wanting more!
With so much awaiting at Disney California Adventure Park, it's no wonder why this joyous adventure remains one of our favorite places to explore!
20. Learn Something New at the Children's Museum at La Habra
La Habra's Children's Museum is the perfect spot for little learners to explore and discover something new!
Young kids can take part in a variety of hands-on activities, from creating art projects to experimenting with science experiments.
Plus, each activity offers fun educational opportunities that will be an amazing learning experience.
Who knows, you may even have a chance encounter with a genius idea as you try to figure out how some of the exhibits work! At La Habra's Children's Museum, learning can be both inspiring and exciting.
Stop by today and see what creative knowledge awaits!
21. Catch a Performance at Great Moments With Mr. Lincoln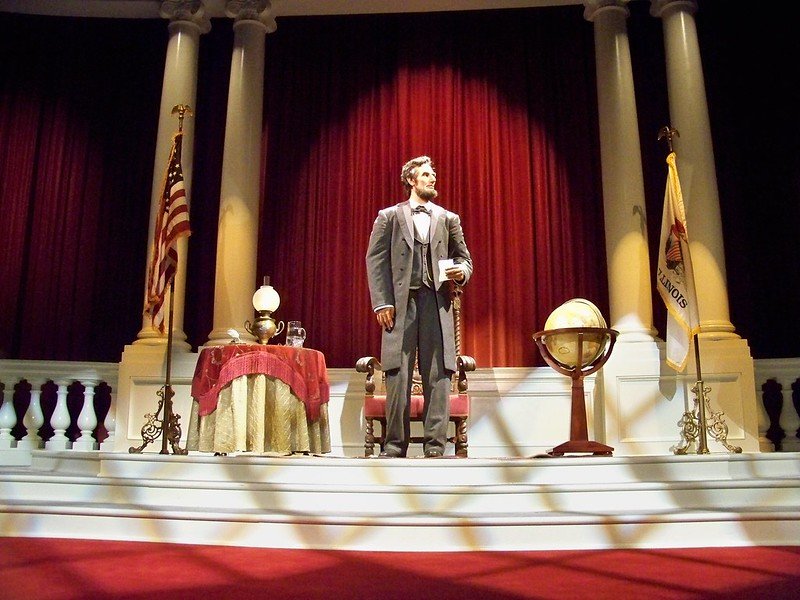 Great Moments with Mr. Lincoln is a theater show located at Disneyland that delivers a unique experience to visitors.
An iconic figure comes alive as Abraham Lincoln presents a fifteen-minute presentation on the most pivotal moments in his life and legacy.
If you're looking for an interactive and educational way to learn more about the 16th president of the United States, this dazzling theatrical performance is the way to go.
Although it's an attraction rooted in history, the performance has something for everyone—both kids and adults alike can laugh along with Mr. Lincoln as he tells amusing stories about his days growing up in Illinois or talks about how he changed history with the Emancipation Proclamation of 1863.
So don't miss out on your chance to witness Great Moments with Mr. Lincoln—grab your tickets and enjoy a fun-filled afternoon!
22. Enjoy a Day of Festivities and Fun at the Orange International Street Fair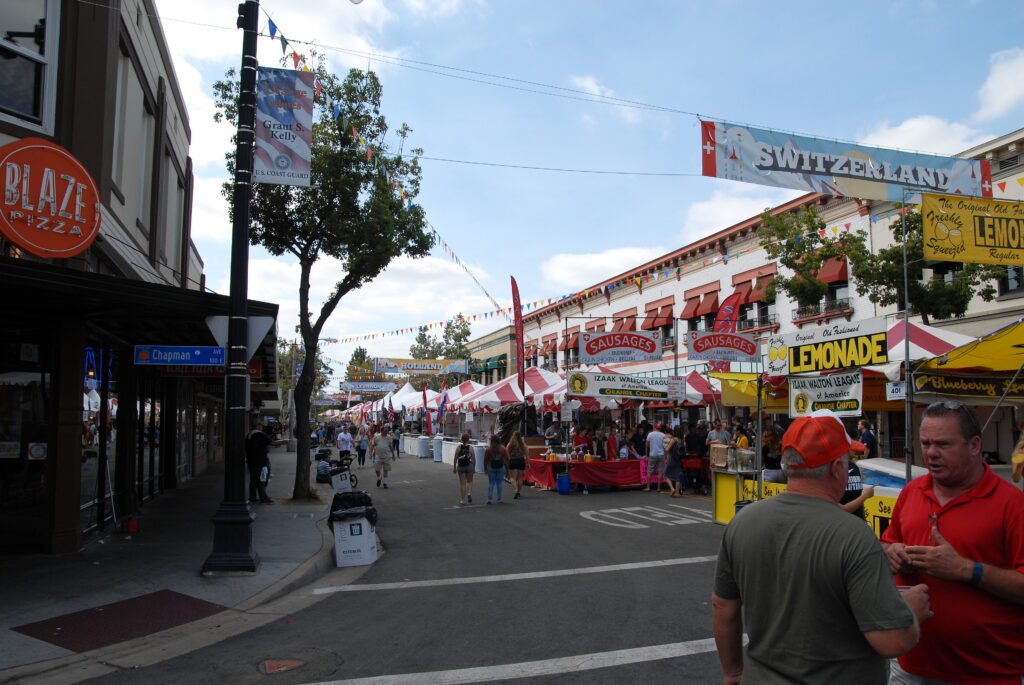 Who's ready for a day of fun and festivities? The Orange International Street Fair has all the excitement you could want!
With over 400,000 visitors from all around the world, there's something here for everyone.
Stroll through the outdoor marketplaces to explore local arts and crafts and savor distinct international flavors while delicious aromas fill the air.
Guests can also learn more about different cultures through live music, dance performances, artistic displays, and other interactive activities.
Enjoy a unique experience in the heart of Orange County—come join in on the festivities at the Orange International Street Fair!
23. Attend a Show at the City National Grove of Anaheim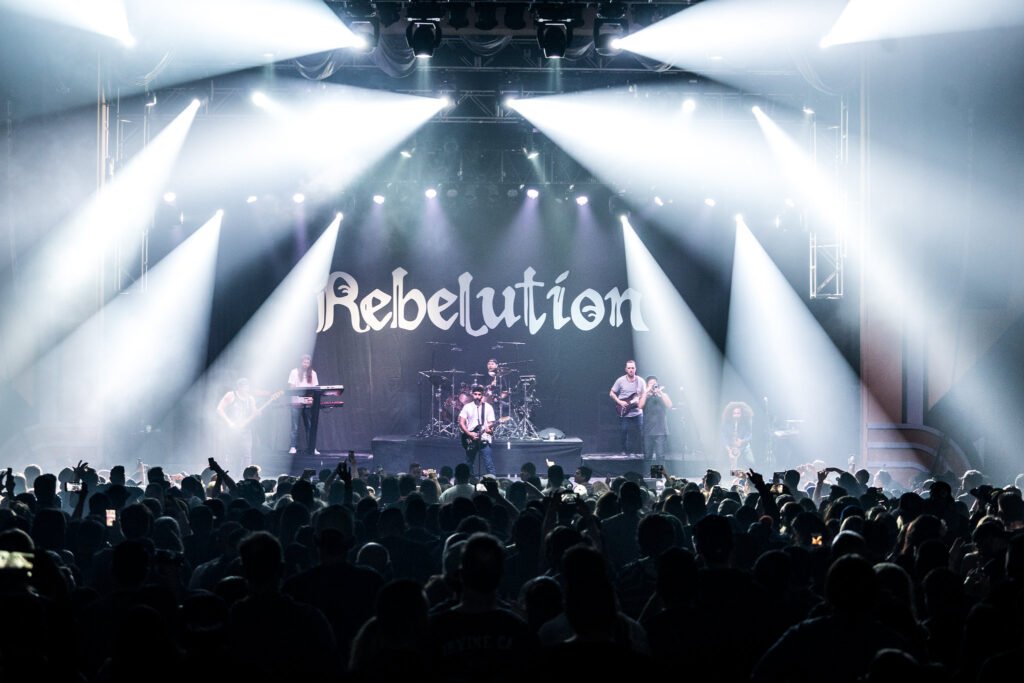 Looking for a good time in the heart of California? The City National Grove of Anaheim has you covered.
Whether you are searching for a wild night on the town filled with entertainment, or simply looking to relax and enjoy a little bit of culture, the City National Grove of Anaheim has something for everyone!
From music legends to up-and-coming stars, at this amazing theater, you are sure to find an unforgettable show that will have you singing and dancing along in no time.
Don't wait any longer – make plans to experience the City National Grove today!
24. Check Out the Ice Rink at The Rinks Anaheim ICE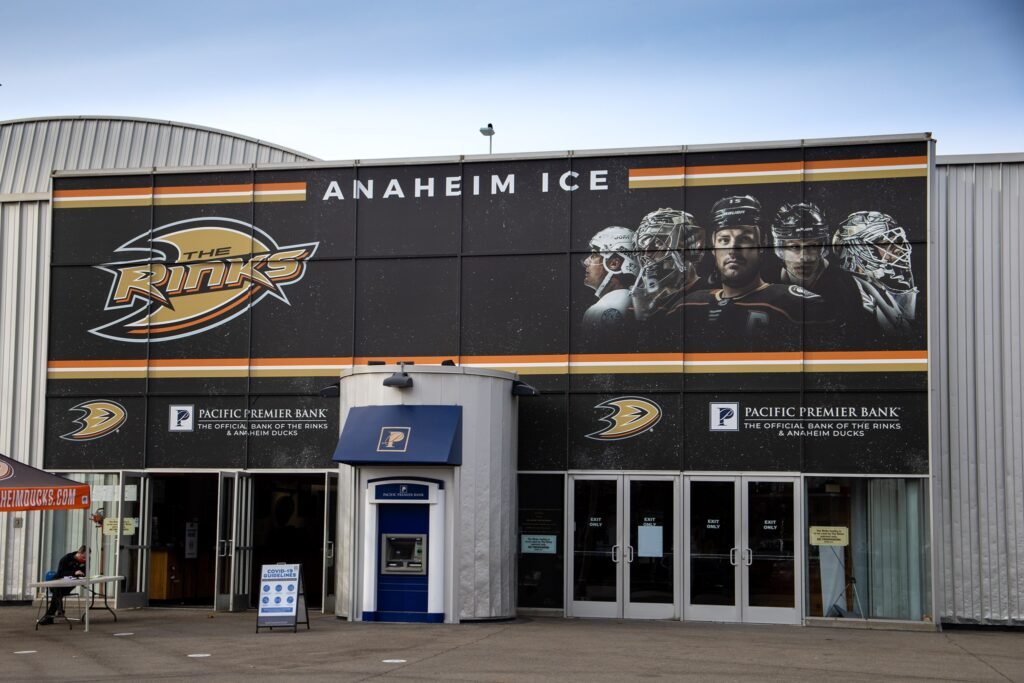 If you're looking to add some fun and excitement to your life, a trip to the Anaheim Ice Rink is just what you need!
The Rinks at Anaheim Ice, with a state-of-the-art Olympic-sized ice skating rink, provides skaters of all ages with a prime location to enjoy one of the oldest leisure activities on the planet: ice skating!
So slip on those skates and glide down the pristine sheet of ice in a safe and relaxed environment.
Whether it's recreational or competitive, The Rinks at Anaheim Ice can guarantee an unforgettable time for all.