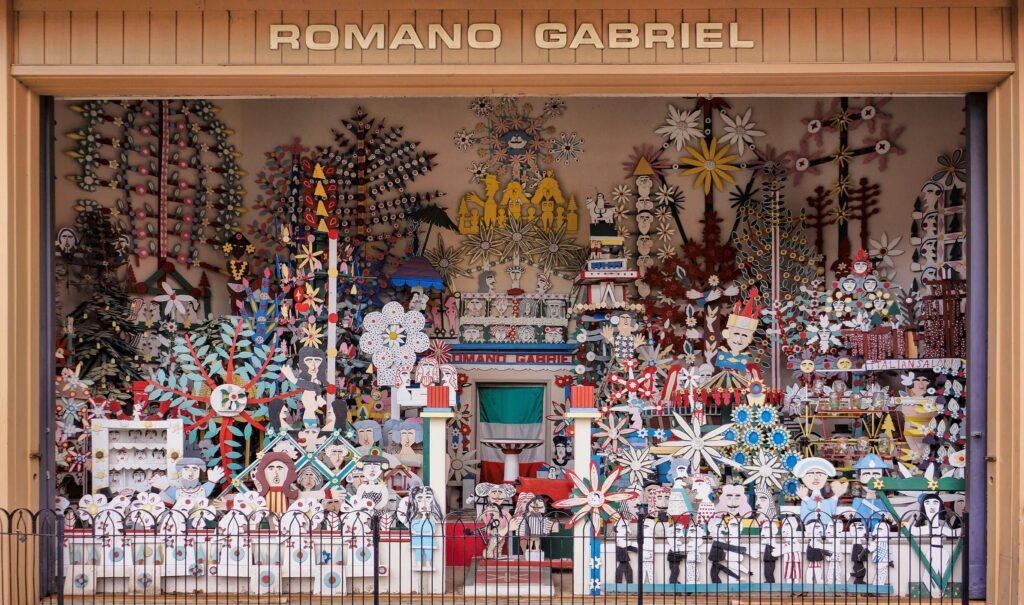 Hand-Crafted Wood Art Made from Vegetable Crates
Romano Gabriel spent nearly three decades creating the hundreds of beautiful sculptures that decorate his Eureka home's front yard.
He noted that Eureka's climate, with its salty air and cloudy skies, was unsuitable for growing organic flowers, so he fashioned flowers out of wood.
Gabriel constructed his vividly painted trees and flowers out of produce crates, embellishing them with funny faces and figures.
Romano's Wooden Garden appeared to be a mishmash of tangled objects: tall sculptures in the back, smaller ones out front, set out in the approximately 30 X 60-foot yard, behind the picket fence for passers-by to see and admire.
History Of Romano Gabriel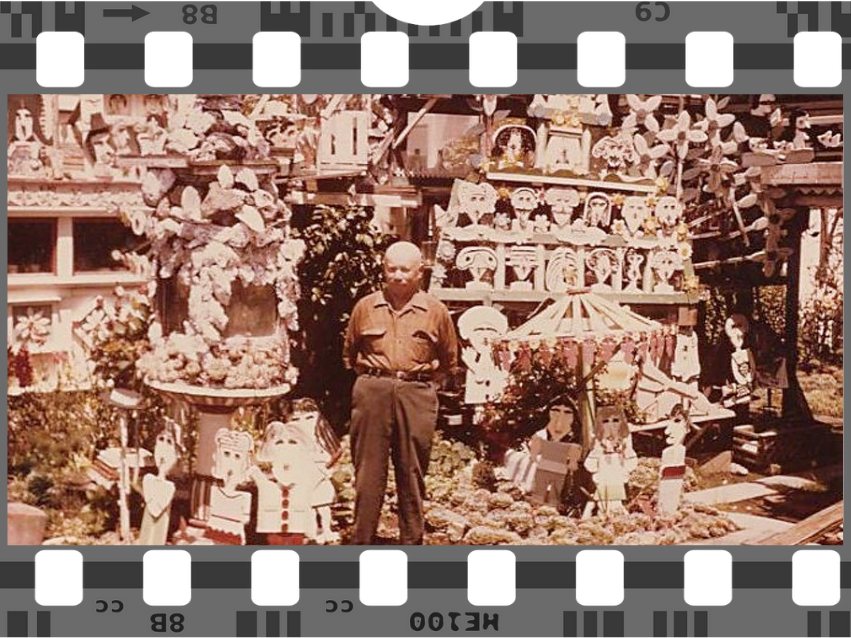 Romano Gabriel was born in Mura, Italy, in 1887 and worked as a furniture maker with his father until immigrating to America in 1913.
After arriving in the U.S., the artist served in World War I, then settled in Eureka, where he worked as a carpenter and gardener and built as many as six houses during the 1950s.
Romano's models were inspired by his travels, recollections of his hometown, as well as his favorite books and magazines.
He was known to be an introvert, possibly communicating with the outside world through his "Wooden sculptures."
Romano Gabriel spent 30 years creating vivid and stunning wooden sculptures that now stand in front of his Eureka house on Pine Street.
Assembly of The Wooden Sculpture Garden

Gabriel began to expand his garden, adding carousels, quirky animals, fantastic trees, Roman soldiers, nurses, priests, statues of Italian salami, and cartoons of celebrities.
He expressed his political and anti-papal sentiments through signs printed in Italian and pope statues.
His structure was made from scrap lumber and the ends of fruit crates; He designed scaffolding for figures that extended above the roof and could withstand wind.
Gabriel's garden grew over the years until it almost concealed his house, becoming a tourist attraction earning national and international attention.
The sculptures have been exhibited at Harvard and M.I.T. and have appeared in magazines like Architecture Plus and Art News.
The Garden After Romano Gabriel's Death
Romano predicted his garden would become famous worldwide.
Sadly, Gabriel was confined to a nursing home in the 1970s and had no idea his prediction had come true.
Although he wanted to donate the garden to the City of Eureka, he died in 1977 without a will, so the property was acquired privately and the garden removed.
Local preservationists stepped in and claimed the carpenter's sculpture garden, and a large amount of Gabriel's garden was restored and reassembled.
Today, Romano's sculptures are permanently displayed in a public exhibition in Eureka's "Old Town."