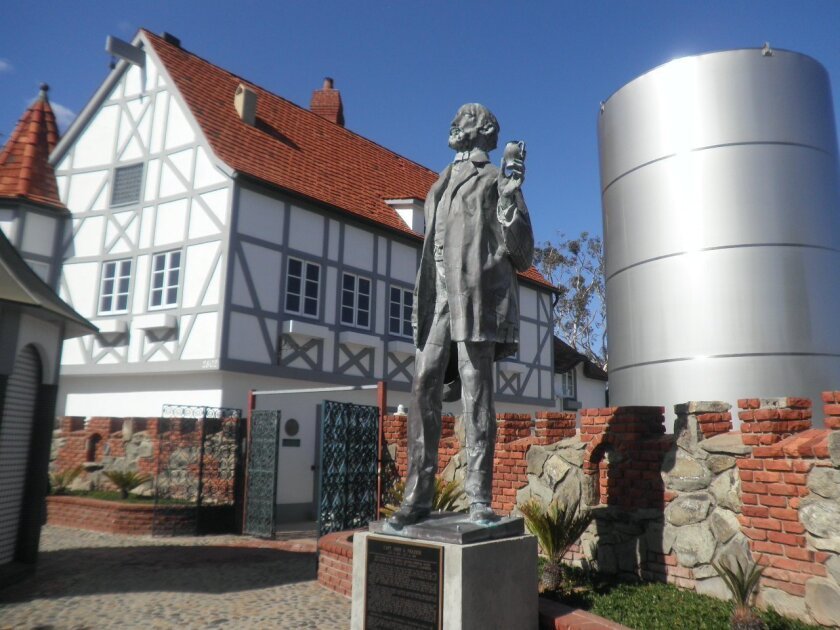 Carlsbad, California, is home to the renowned mineral spa Alt Karlsbad.
It is situated on the outskirts of Carlsbad's downtown area. This mineral water is believed to be therapeutic, and It is one of the best places to go when you want to treat yourself to a unique spa experience.
History of Carlsbad Alkaline Mineral Water
Captain John Frazier, former sea captain, found Carlsbad Mineral Water in 1882 while drilling a well for his farm near the seashore.
Alkaline mineral water treated a stomach condition that Captain Fraizer had suffered from for many years. Astonished with his miracle cure, Fraizer sent water samples to two separate New York and Chicago labs for testing.
His water was incredibly similar to the healing spring mineral waters found in Karlsbad, a well-known European spa resort in Karlovy Vary, Czech Republic.
Capt. Frazier sketched out his land for a city he envisioned to call Carlsbad.
He erected a massive Victorian hotel in 1930 near his original well. Stars and celebrities came from all over the world to drink and bathe in the miracle alkaline water.
Eventually, he began bottling the mineral water of Carlsbad and distributing it across the country.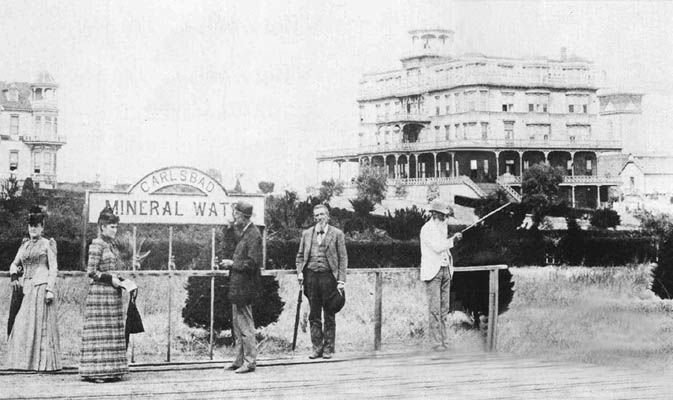 Carlsbad mineral water continued to thrive until the Great Depression, the water well required maintenance, and was closed due to a lack of resources.
Rediscovery & Restoration
The well was rediscovered after 60 years in 1955 by Chris & Kay Christiansen, who took an interest in reviving it.
They finally accomplished their dream of restoring the well in 1991 with the help of Ludvik & Veronica Grigoras.
Astonishingly, Ludvik was born in Karlovy Vary, formerly Karlsbad in Bohemia, the city Capt. John Frazier named the north county city after.
Ludvik commissioned renowned sculptor Vaclav Lokvenc of Karlsbad, Czech Republic, to create a 13-foot bronze statue of Capt. John Frazier was shipped from Europe in 1994, erected at the Alt Karlsbad Historic Site.
Veronica and Ludvik personally designed the interior to replicate the ambiance of early Egypt and Rome. Famous artist Robin Wallenfang hand-painted all artwork, paintings, and furniture.
The year 1996 marked the return of the once-famous therapeutic Carlsbad Alkaline Water to the public.
Is Carlsbad Alkaline Water Good For You?
People have claimed health benefits from drinking alkaline water for hundreds of years. This mineral water was discovered more than a century ago due to its distinct clean and bold taste.
According to Grigoras, this mineral water can help people suffering from chronic diseases, acne, weight issues, migraines, arthritis, skin problems, heartburn, and more.
People use it for hot or cold drinks and also as a body spray.
Does Carlsbad Alkaline Water Have Fluoride?
Carlsbad Alkaline Water is not municipally filtered water.
It naturally flows from the deep reservoirs into the wells. Carlsbad Alkaline Water is non-fluoridated, non-chlorinated, sodium-free, non-carbonated, highly alkaline (not acidic), and meets or exceeds FDA bottled-water quality standards.
What is The pH of Carlsbad Water?
Carlsbad water has a distinct pH of 8.76 and a TDS range of 50-70.
The California Department of Public Health has licensed the source-artesian well and vending machines, and they are monitored and tested weekly as mandated by FDA, federal, and state statutes.
Are There Minerals in Alkaline Water?
Alkaline water has a higher PH than tap water and contains alkalizing minerals such as magnesium, calcium, bicarbonate, potassium, and other trace elements.