The best beaches in California are a dream come true.
Picture yourself on the golden sands, watching the waves crash as you sip on a cool glass of iced tea.
This is what you'll experience at these 13 California beaches that have been rated among the best in the state.
The golden state has a winning combination of white powdery sand, turquoise waters, and charming beach towns. It's the ideal year-round destination for those looking to relax and enjoy nature.
When it comes to the best beaches in the United States, California is king.
From the pristine sands of San Diego to the breathtaking views of Big Sur, here are the top 13 beaches in California.
La Jolla Cove Beach – San Diego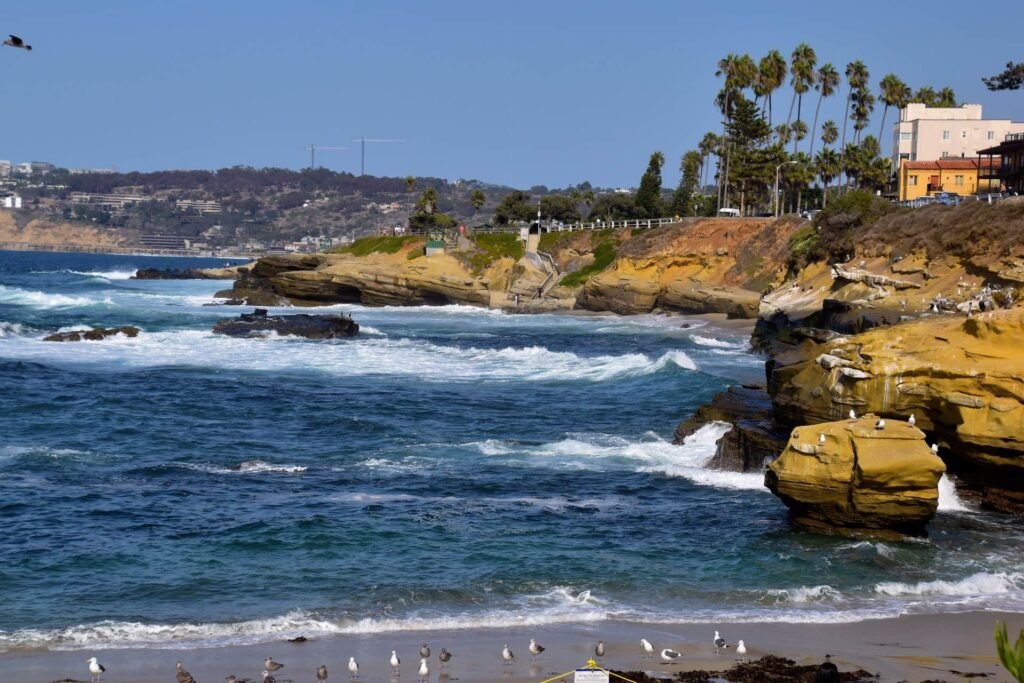 La Jolla is one of California's most popular beach destinations – and it's easy to see why.
The crescent-shaped beach of La Jolla sits between two massive sandstone cliffs providing mesmerizing views of the Pacific Ocean.
It is well-known for its seals and sea lions basking under the sun on the beach and rocks.
La Jolla Coves Beach is home to a variety of marine life, so it is worth renting snorkeling equipment when visiting the beach.
This lovely town sparkles with sights and attractions in a peaceful environment wrapped in a laid-back atmosphere for you to enjoy.
La Jolla offers a wide range of accommodations from luxury hotels to casual coastal retreats, along with museums, art galleries, and a fantastic dining experience.
Best Attractions Near La Jolla Cove Beach
Zuma Beach – Malibu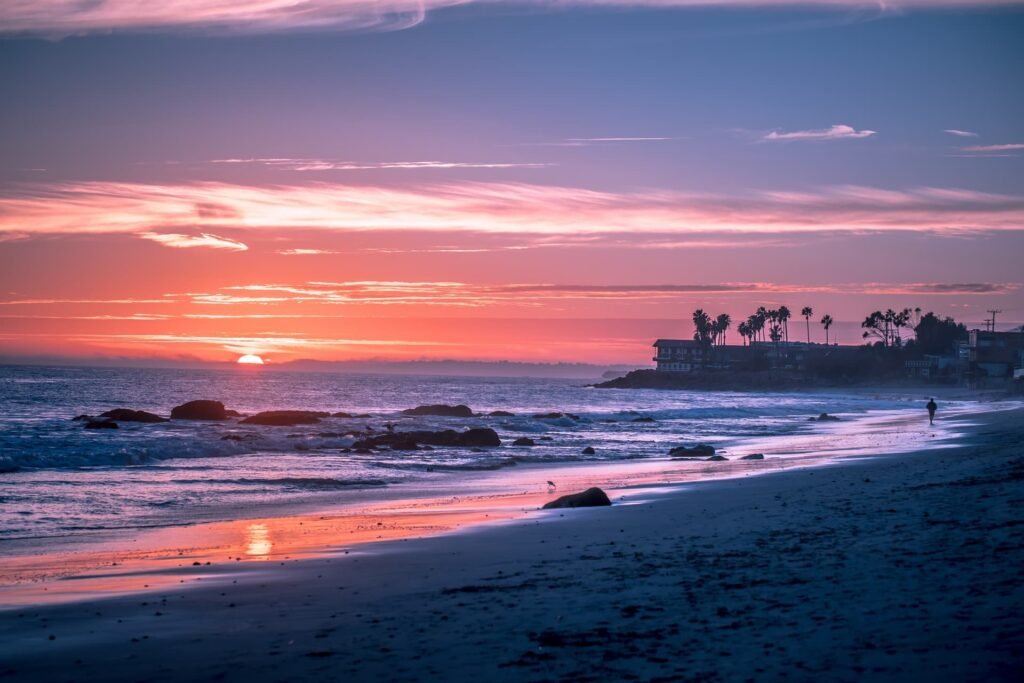 Malibu, California is the perfect place to spend a day at the beach. The city has some of the most beautiful beaches in the world.
No matter what type of beach you prefer, Malibu has it all: from long, serene stretches of sand to small coves with rocky cliffs and hidden harbors.
Zuma Beach is a long beach that extends for over two miles and covers more than 100 acres.
Surfers frequent the beach, which has lifeguard stands every few hundred yards, as well as restrooms and snack stands.
The northern end of the beach is a popular spot for kitesurfing when the weather conditions are right. The calm waters make it ideal for surf fishing and diving, and the soft sand is perfect for beach volleyball.
Best Attractions Near Zuma Beach
Pfeiffer Beach – Big Sur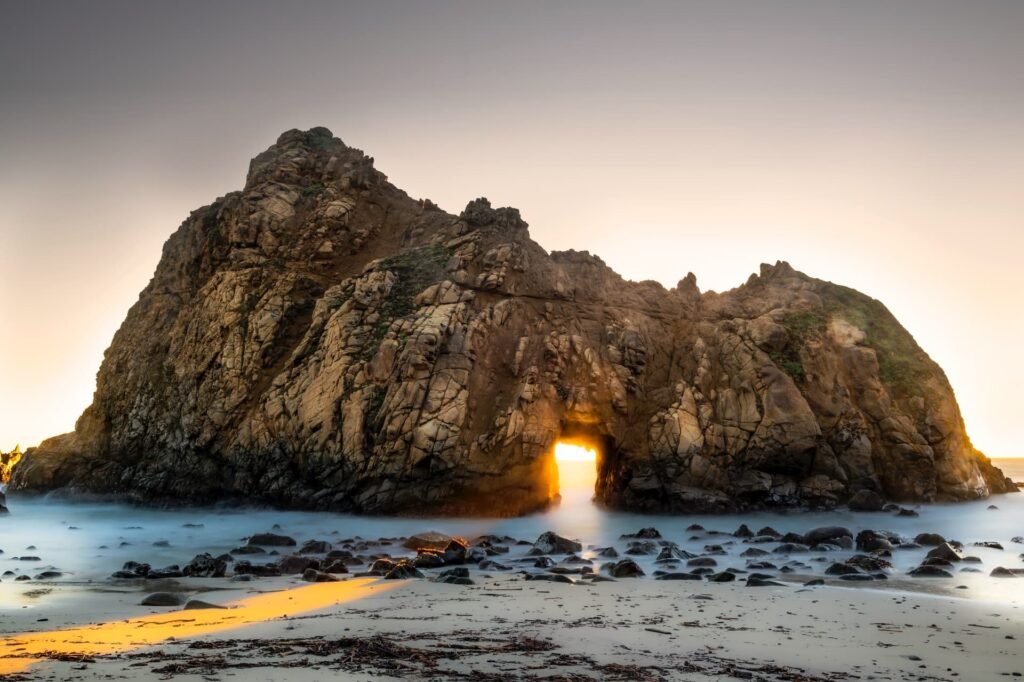 Pfeiffer Beach is one of the most beautiful and secluded beaches in Big Sur.
It is located 10 miles southeast of Andrew Molera State Park. The cliffs and rock formations are breathtaking as the waves crash against them, creating a beautiful natural spectacle.
The drive to the beach is an adventure in itself, with majestic giant redwood trees lining the road.
Pfeiffer Beach is not only one of the most gorgeous beaches in Big Sur, but it's also one of the most unusual.
Purple sand, towering boulders, and a hidden location make this beach truly unique.
If you're looking for an amazing Big Sur experience, Pfeiffer Beach is certainly a spot worth visiting!
Best Attractions Near Pfeiffer Beach
Thousand Steps Beach – Laguna
Have you ever wanted to get lost in a sea cave and admire the beauty of an aqua tide pool? If so, then Thousand Steps Beach is perfect for you.
This private beach is best known for its natural sea caves and exquisite aqua tide pools.
Although the 1000 steps sound quite intimidating, in reality, they are just over 220 very steep steps.
As you descend the stairs into the park, a colorful sign guides you through the thick vines and trees to your destination. It's easy to feel like you've been transported to another world.
Thousand Steps Beach is a fantastic beach for surfing, and it's rarely busy. It's a great spot to explore the hidden gems of the area, or even just sit back and enjoy the view.
Best Attractions Near Thousand Steps Beach
Capitola Beach – Capitola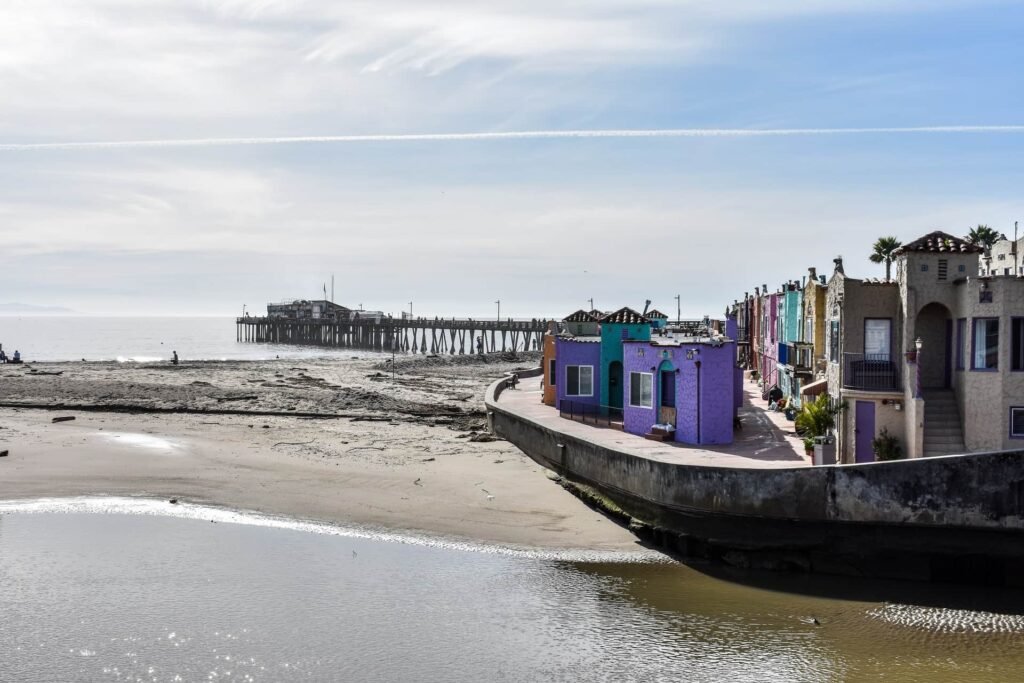 Southern California has long been a magnet for tourists, but it's not just the weather that draws visitors.
The Capitola Beach waterfront village is one of the most charming destinations in the state.
With its colorful houses and lush Mediterranean landscape, it's like a little slice of Spain or Italy, but with the sunny weather of California.
Capitola Beach is a small coastal town in Santa Cruz, California. Its most popular attractions are its gorgeous waterfront village and the Mediterranean climate.
The sandy beach is a perfect spot for sunbathing, and beach volleyball. The waters are calm, making it a great place for beginner surfers. And the waves are gentle since the beach is tucked away in a small cove.
Best Attractions Near Capitola Beach
Coronado Beach – San Diego
Coronado Island is a small island off the coast of San Diego that is home to a large naval base on one side and a charming town with magnificent beaches on the other.
Driving across the 200-foot-high Coronado Bridge offers one of the finest views of the San Diego skyline, as you descend upon the captivating oceanfront community of Coronado.
Coronado Beach is one of the most beautiful beaches in California for its sparkling soft sand, warm surf, and picturesque surroundings.
This enchanting town is only 15 minutes away from downtown San Diego. It has a sophisticated, yet mysterious feel that was constructed in harmony with nature.
The beach is a great place to spend the day. It has mild waters that are suitable for swimming, boogie boarding, and surfing.
Best Attractions Near Coronado Beach
Hermosa Beach – Los Angeles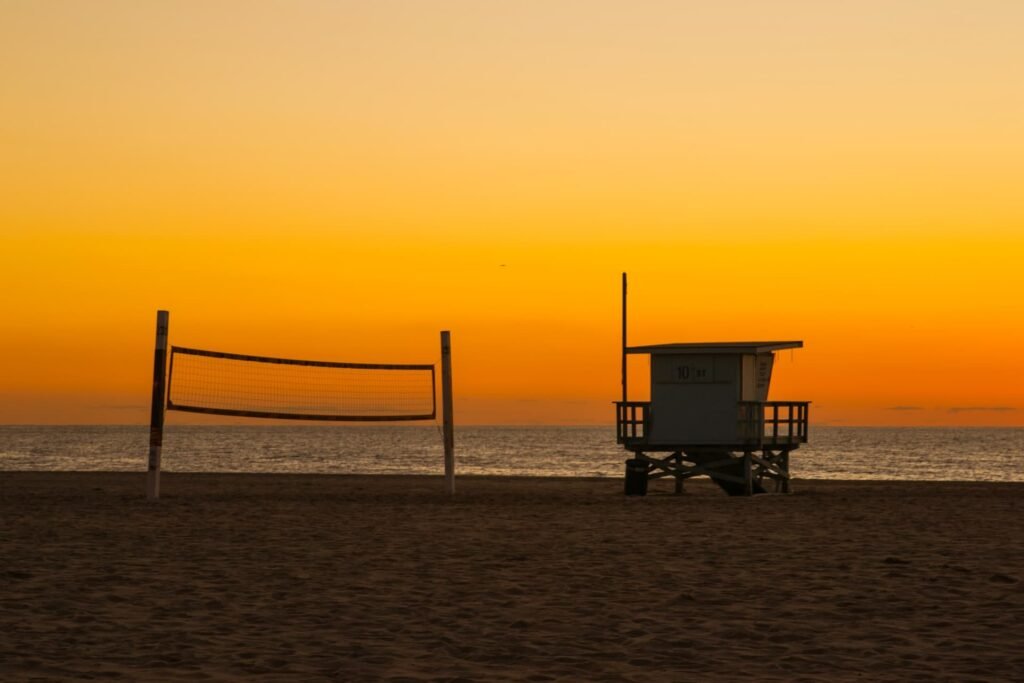 If you're looking for a laid-back getaway in Los Angeles, look no further than Hermosa Beach.
Located just south of the city, it's a small beachfront community that is perfect for beachgoers and sunbathers.
The city is only 18 blocks long and has two miles of excellent, sandy beach that is ideal for beach volleyball, picnics, building epic sandcastles, and relaxing under the sun.
Hermosa Beach is a great place to visit if you are looking for a nice stretch of sand and an excellent beach boardwalk. The pier is particularly scenic, especially during sunset.
Best Attractions Near Hermosa Beach
Santa Monica Beach – Santa Monica
Santa Monica is a coastal city in Southern California, known for its iconic pier and boardwalk stretching out into the ocean.
You can enjoy the stunning view of the Pacific Ocean and take a stroll on the boardwalk.
Santa Monica is also home to many trendy restaurants and shops that are just a short walk from the beach, ensuring that you always have something to do.
The beach is best enjoyed on wheels, so rent a bike and cycle the area's paved path.
You may also surf, sunbathe, or play some beach volleyball. Then, end your day on a high note by enjoying the sunset from the pier's famous Ferris wheel.
Best Attractions Near Santa Monica Beach
Baker Beach – San Francisco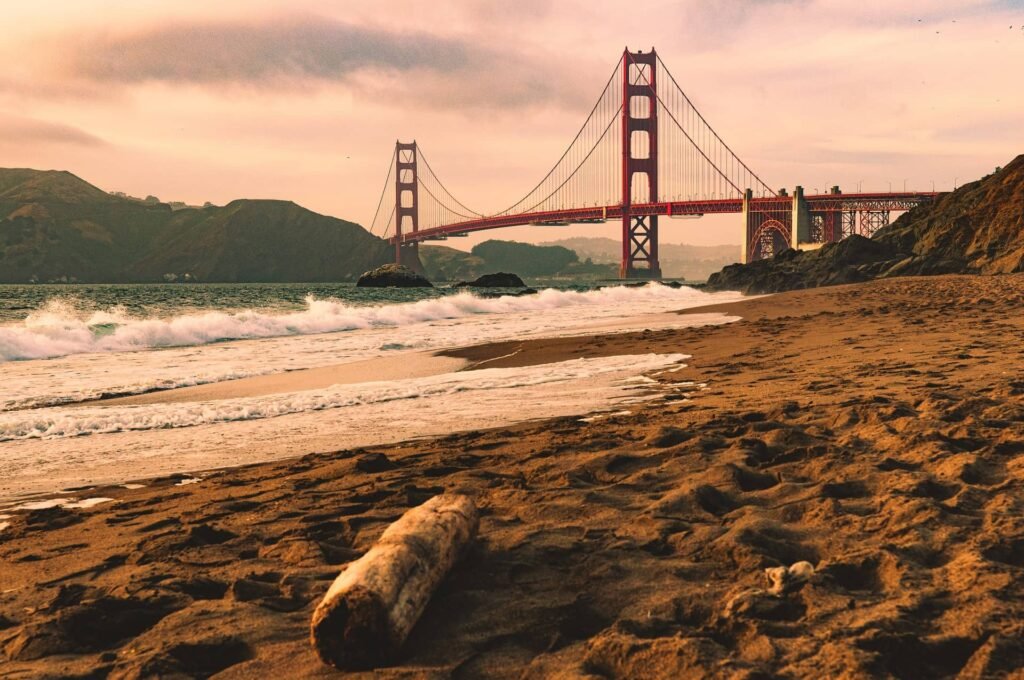 Baker Beach is one of the best places to watch the sunset in San Francisco.
The view of the Golden Gate Bridge and the Marin Headlands is breathtaking, especially when the sky is painted with vibrant colors as the sun slowly sets.
Baker Beach is the perfect place to have a picnic and watch the waves roll in. While the water is too cold and rough for swimming, it's a great spot for walking, or even playing fetch with your dog.
The shoreline is also home to wildflowers that bloom year-round. You'll find sea stars on the rocky shores and majestic grey-green serpentine cliffs.
There are many reasons to visit Baker Beach, but one of the best things is the breathtaking views.
Whether you're watching a sunset or admiring the Golden Gate Bridge, these soothing views are unforgettable.
Best Attractions Near Baker Beach
Carmel Beach – Carmel-by-the-Sea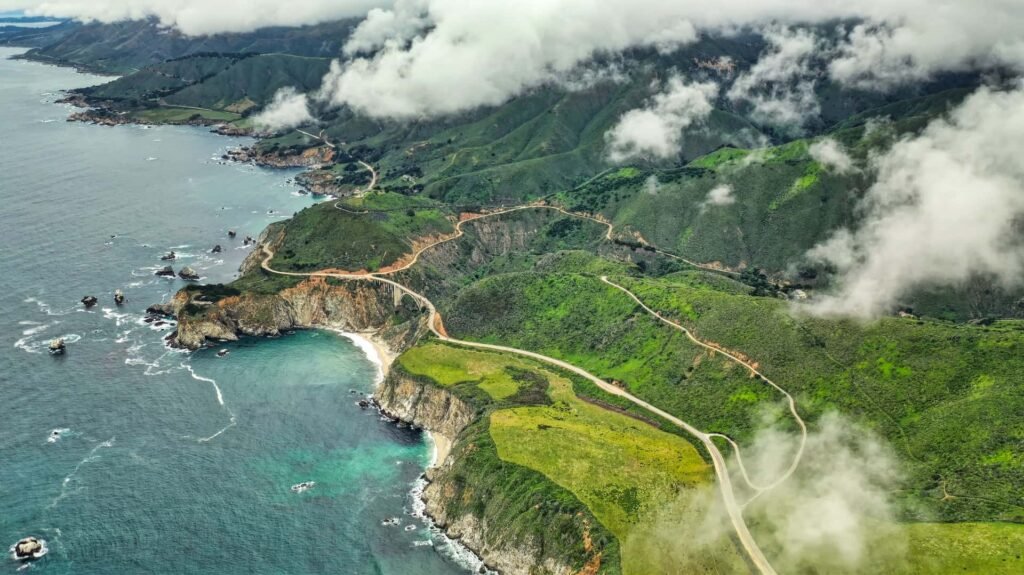 Carmel-by-the-Sea is one of the most charming coastal towns in California. Its winding lanes, unique boutiques, and century-old cottages give it a whimsical feel.
This 1-mile-long beach is a popular destination for the state's residents. It is located on a secluded part of the coast right by the mountains.
Carmel Beach has the world's most pristine turquoise waters and is one of the most beautiful beaches in California.
The beach is lined with green hills, and the rolling landscape creates a picturesque setting as the ocean stretches out into the distance.
Despite the beautiful scenery, visitors should be aware that swimming is not recommended at Carmel Beach.
Besides the cold temperature, the ocean conditions can be dangerous due to rogue waves and rip currents.
Best Attractions Near Carmel Beach
Huntington Beach – Orange County
Huntington Beach, known for its surf and beach life, is an internationally renowned beach resort.
You can't beat the waves at Huntington Beach, one of California's most famous beaches.
The city is known as "Surf City USA", and is a popular destination for both long-time surfers and those who want to learn how to ride the waves.
Huntington Beach offers a beach experience unlike any other in California due to its soft sand shoreline, historic boardwalk, and spectacular views.
The beach is a great place to do some fishing and sightseeing, and there are plenty of local restaurants in the area for a nice night out.
Best Attractions Near Huntington Beach
Venice Beach – Los Angeles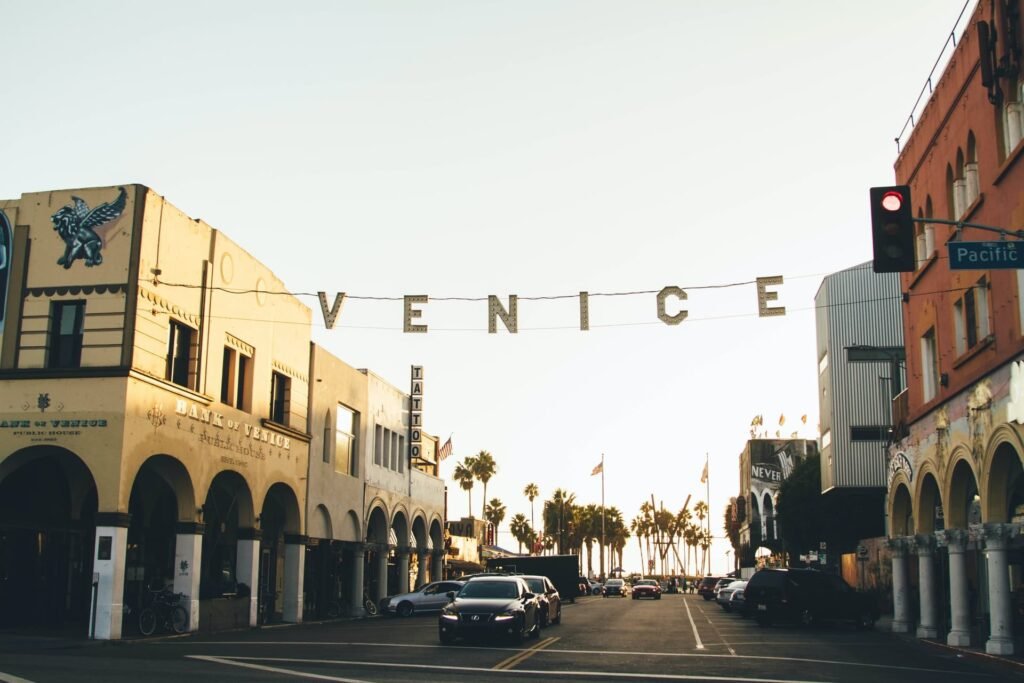 Venice Beach is a unique place that allows you to immerse yourself in the California lifestyle.
It's a must-see attraction in Los Angeles, but it also has a reputation for being one of the most fascinating places to visit in the entire country.
One of the things that set Venice Beach apart from other beaches is that, while it is a beach town, there is so much more to do than just sit on the sand or in the water.
Venice Beach is the perfect place to spend a day, no matter what you're looking for.
You can get your workout in at Muscle Beach or take your family to enjoy the sights along the boardwalk. The culture is something special—there's never a dull moment around here!
Best Attractions Near Venice Beach
Pismo Beach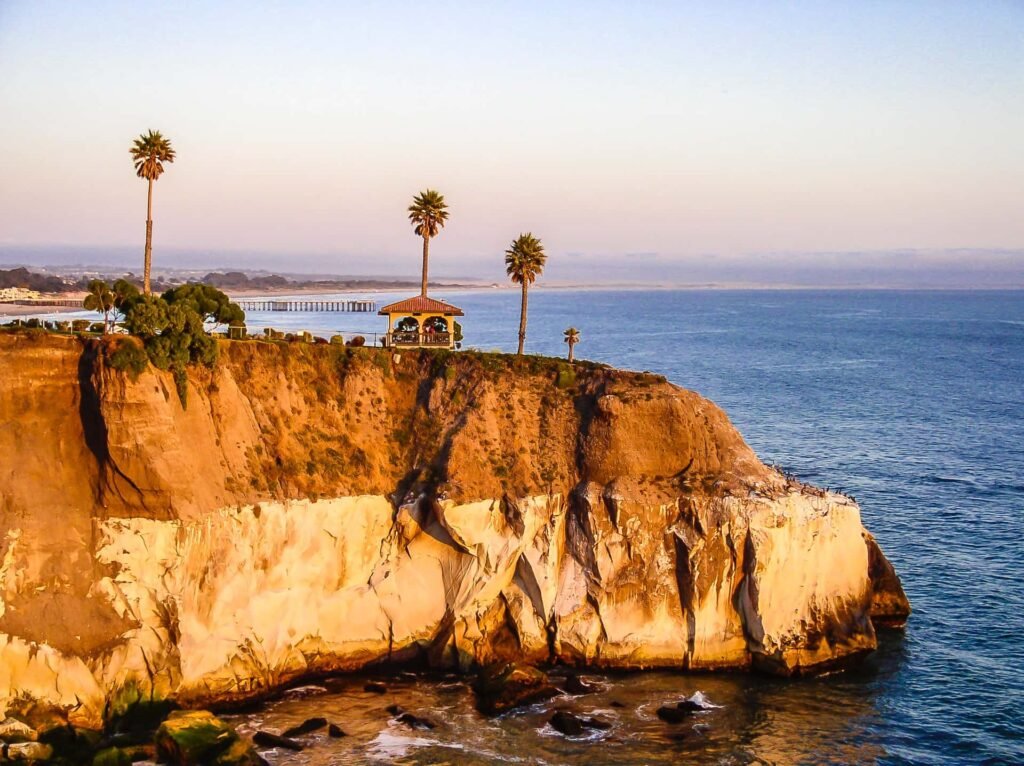 Pismo Beach is a coastal city on San Luis Obispo County's beautiful Central Coast.
It was established in 1855 and has been an iconic part of this area ever since. From its stunning ocean views to its downtown, Pismo Beach is a must-see for any California traveler.
You will be amazed by the incredible views of the Pacific throughout your trip, from the sweeping dunes of Oceano to the dramatic cliffs that plunge into the sea.
Though you don't have many options for leisure, the serene surroundings will reinvigorate you with its scenic views and meditative atmosphere.
Best Attractions Near Pismo Beach